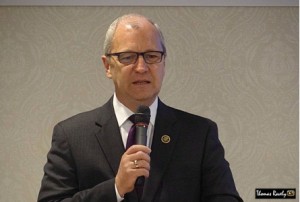 BISMARCK, N.D. (AP) —  North Dakota Rep. Kevin Cramer has officially launched his U.S. Senate campaign at an evening rally in Bismarck.
Cramer's formal announcement Friday night amid party faithful comes about a month after he first passed up the Senate race.
The Republican is a staunch advocate of President Donald Trump and has been considered the GOP's best hope of beating Democratic Sen. Heidi Heitkamp.
The only other declared candidate, Tom Campbell, a second-term state senator, trailed Heitkamp badly in name recognition and money, and had drawn little enthusiasm from the GOP.
Cramer told The Associated Press that Trump had personally encouraged him three times to run for the seat, including twice after he said he wouldn't.
BISMARCK, N.D. (AP) — Republican Rep. Kevin Cramer's shift to the North Dakota Senate race is setting off a GOP scramble for the state's lone congressional seat.
State Sen. Tom Campbell is expected to run for his place in the House now that Cramer is in the Senate race. But the wealthy potato farmer has failed to energize much support from party faithful.
Tiffany Abentroth is a declared GOP candidate in the race. The former Marine and Iraq war veteran from eastern North Dakota only recently entered the public arena.
The wild card is state Sen. Kelly Armstrong, who also heads the state Republican Party. Armstrong confirmed Friday that he was "considering" a bid.
Former state lawmaker Ben Hanson of Fargo is the Democrats' only declared candidate.