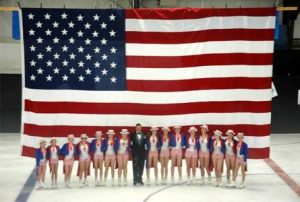 Jamestown  (CSi)  With one more competition this weekend in Fergus Falls, the James River Figure Skaters have had another very successful season of competition skating.
On Thursday's Wayne Byers Show on CSi Cable 2, Judy Jorgensen said, among the successes, the Club's three senior skaters all qualified for the Archie Vraa Artistic competition in Moorhead, Minnesota, as only the top two skaters in each group are chosen to compete.
This season the Club attended  five competitions.  Over all the skaters won 135 metals this season, with 12 fourth place finishes, 23 third place, 33 second place, and 67 first place.
Judy pointed out that competitive skaters test before a panel of judges in three competitive disciplines, include the categories of moves in the field (figure skating) free skate and dance.
Also on our show, Judy said this year's Ice Show's theme is "Magnificent Musicals."
Show dates and times at John L. Wilson Arena are:
Friday March 16th at 7-p.m.
Saturday March 17th 2-p.m., and 7-p.m.
Sunday March 18th  2-p.m.
Tickets are available in advance at $8 for adults, $6 for students, and two dollars more at the door.
Elementary school students are being given tickets allowing free admission if accompanied by a paying adult.
Judy added that this year's Ice Show will feature six alumni skaters, returning, and Jamestown High School Hockey players number on the program.
Judy will return to the show on March 14th joined by Coach Mark Vasarhelyi.