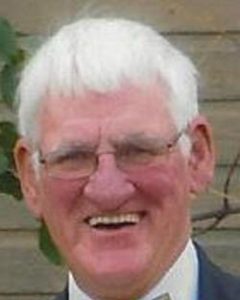 Frank DeBolt, 73, of Jamestown, passed away Thursday morning, March 8, 2018 at Ave Maria Village, Jamestown.
Frank was born May 30, 1944 in Jamestown, the son of Frank and Edith (Hill) DeBolt. He grew up on the farm east of Carrington and attended Rosehill grade school, graduating from Carrington High School in 1962. A New Year's kiss led to the marriage of Ada Anderson on October 2, 1965. Frank worked for the North Dakota State Highway Dept., putting in many hours during the blizzard of 1966. In 1969, he began working for Tri-County Electric of Carrington, retiring in 2006.
Frank was very active in the Elk's. He was elected State President, performed on the ritual team at many national conventions, and very active at Camp Grassick. Frank loved to golf, belonging to Hillcrest and Jamestown Country Club.
Frank is survived by his wife of 52 years, Ada DeBolt; sons, Rick (Cindy) DeBolt, Lynn Haven, FL, Randy DeBolt, Jamestown; daughter, Rhonda (special friend, Darin Kelstrom), Jamestown; grandchildren, Colby, Tyler, and Abby; brother, Jerry (Kathy) DeBolt, Edgeley; sister, Kris (Mike) Hastings, Wishek, ND; sister-in-law, Doris Fornshell, Carrington; brother-in-law, Don Anderson, New Rockford, ND; and many nieces, nephews, and friends.
He was preceded in death by his parents.
Funeral Service: 11:00 a.m. Tuesday, March 13, 2018 at St. Paul's United Methodist Church, Jamestown, with Pastor Joel Winckler officiating.
Visitation: 1:00 p.m. to 5:00 p.m., Monday, March 12, 2018 at Williams Funeral Home, Jamestown.
Prayer Service: 7:00 p.m., Monday, March 12, 2018 at St. Paul's United Methodist Church, Jamestown.
Interment: 2:00 p.m., Wednesday, March 14, 2018 at the North Dakota Veterans Cemetery, Mandan, ND.