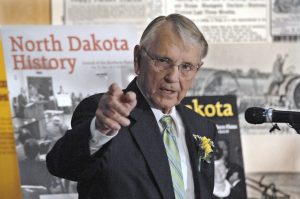 FARGO, N.D. (AP) — Funeral services are scheduled for former North Dakota Gov. George Sinner. Sinner died Friday at age 89. A funeral Mass will be held Friday at 10 a.m. at Nativity Church of Fargo. A prayer service will be held Thursday from 7-9 p.m., also at the church. Sinner, a Democrat, served as governor from 1985 through 1992. A private burial is planned in Casselton, where he grew up.
Previously..
FARGO, N.D. (AP)  Former ND Gov. George Sinner, who led the state during turbulent economic times, has died. He was 89.
His son, George Sinner Jr., confirmed his death Friday.
The Fargo native studied philosophy in college and considered becoming a priest. But family and public service beckoned.
The father of 10 children became a well-known Democrat, serving in the Legislature before defeating an incumbent Republican governor.
His administration, from 1984 through 1992, spanned a rough periods in North Dakota's economy, including drought and slumping oil prices. Sinner even endorsed a special day of prayer for rain.
He vetoed what would have been the country's toughest abortion law in 1991, saying he agreed with the Roman Catholic view that abortion was wrong but believed the issue was the role of law.