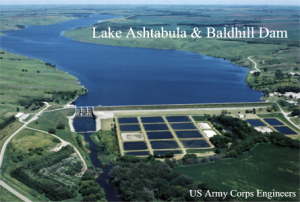 St Paul, Minn  (USACE)  The U.S. Army Corps of Engineers, St. Paul District, is lowering its reservoir elevations within the Red River of the North basin in anticipation of spring snow melt.
The Corps is currently lowering the elevation of Lake Ashtabula, located near Valley City, North Dakota. The current elevation is 1,262.3 feet, and it will be further drawn down to 1,257 feet.
Also…
Elevation at the Homme Dam, near Park River, North Dakota, is currently at 1,075.1 feet, and, based on winter snow pack, the reservoir will be drawn down to at least 1,074 feet.
Lake Traverse, near Wheaton, Minnesota, is currently at 976.9 feet and will be drawn down to an elevation of 976 feet.
There is no plan to drawdown water levels at Orwell Lake, near Fergus Falls, Minnesota, as determined by current snow conditions.
Drawdown releases may degrade river ice downstream of the reservoirs and care should be taken for those recreating or working in these areas.
Spring drawdowns are done in concurrence with snow surveys, which are nearing completion. Surveys help determine how much water is contained within the snow to help determine drawdown levels.
The nearly 600 U.S. Army Corps of Engineers, St. Paul District, employees working at more than 40 sites in five upper-Midwest states serve the American public in the areas of environmental enhancement, navigation, flood damage reduction, water and wetlands regulation, recreation sites and disaster response. Through the St. Paul District Fiscal Year 2016 $78 million budget, nearly 1,250 non-Corps jobs were added to the regional economy as well as $120 million to the national economy. For more information, see www.mvp.usace.army.mil.