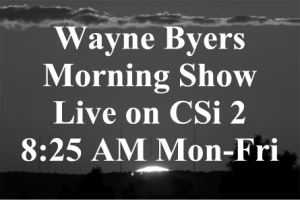 CSi Weather…
.REST OF TODAY…Sunny.  Highs in the mid 30s. Southwest winds around 10 mph.
.TONIGHT…Mostly clear. Lows 15 to 20. Southwest winds around 10 mph.
.WEDNESDAY…Sunny.  Areas of fog in the morning.  Highs in the mid 30s. North winds around 10 mph.
.WEDNESDAY NIGHT…Partly cloudy. Lows 15 to 20. Northeast winds
around 10 mph.
.THURSDAY…Mostly sunny. Highs in the lower 30s. East winds
around 10 mph.
.THURSDAY NIGHT…Partly cloudy. Lows around 15.
.FRIDAY…Mostly sunny. Highs in the lower 30s.
.FRIDAY NIGHT…Partly cloudy. Lows 15 to 20.
.SATURDAY…Partly sunny. Highs in the mid 30s.
.SATURDAY NIGHT…Mostly cloudy. Lows 15 to 20.
.SUNDAY…Partly sunny. Highs in the mid 30s.
.SUNDAY NIGHT…Mostly cloudy. A 30 percent chance of snow after
midnight. Lows 15 to 20.
.MONDAY…Mostly cloudy. A 30 percent chance of snow in the
morning. Highs in the lower 30s.
Jamestown  (CSi)  The City of Jamestown has released an official statement concerning the distribution of recycling carts and the start of residential recycling in Jamestown.
The City of Jamestown's recycling contractor, Recycle North Dakota, began delivering recycling containers last week.  The recycling containers are owned by Recycle North Dakota.
Recycling will be collected by Recycle North Dakota beginning on Monday, April 2, 2018. Recycling will be collected every other week on your regular collection day. Garbage is still collected every week on your collection day. This is explained in the packet included in your recycling container.
For more information about the recycling program, go to www.recyclenorthdakota.com.
If you have any questions or concerns about the recycling program or your recycling container, please contact Recycle North Dakota at 701-320-9218 or email info@recyclenorthdakota.com. Provide your name, address and contact information.
GARBAGE
Automated garbage collection will also begin Monday, April 2, 2018, on your regular collection day.  Please have your garbage container at the collection point with the arrows on the lid facing the roadway.
All garbage must be in the new, brown garbage container with the lid closed. After April 1, 2018, waste that is outside the new, brown garbage container will not be collected.
Jamestown  (CSi)  The Jamestown Public School Board, Monday approved the 2016-2017 Superintendent's annual report, and gave Robert Lech a satisfactory superintendent rating.
The board also approved the  revised James Valley Career and Technology Center Agreement to reflect the addition of Gackle-Streeter Public School.
Lech pointed out that a search committee has reviewed 15 candidates for the principal position at Louis L'Amour Elementary School.
The committee will begin an interview process with a recommendation at the April 8th school board meeting
Also approved were two recommendations  for the next negotiations from the co-curricular committee from the previous negotiation session.
Items include a base pay increase for the department chairs from 16 percent to 18 percent, and to add and  chairs of the art and consumer science departments to the increase, retroactive to the 2017-18 school year.
The school board meeting was recorded by CSi 10 The Replay Channel with showings starting on Tuesday.
St Paul, Minn  (USACE)  The U.S. Army Corps of Engineers, St. Paul District, is lowering its reservoir elevations within the Red River of the North basin in anticipation of spring snow melt.
The Corps is currently lowering the elevation of Lake Ashtabula, located near Valley City, North Dakota. The current elevation is 1,262.3 feet, and it will be further drawn down to 1,257 feet.
Also…
Elevation at the Homme Dam, near Park River, North Dakota, is currently at 1,075.1 feet, and, based on winter snow pack, the reservoir will be drawn down to at least 1,074 feet.
Lake Traverse, near Wheaton, Minnesota, is currently at 976.9 feet and will be drawn down to an elevation of 976 feet.
There is no plan to drawdown water levels at Orwell Lake, near Fergus Falls, Minnesota, as determined by current snow conditions.
Drawdown releases may degrade river ice downstream of the reservoirs and care should be taken for those recreating or working in these areas.
Spring drawdowns are done in concurrence with snow surveys, which are nearing completion. Surveys help determine how much water is contained within the snow to help determine drawdown levels.
WEST FARGO, N.D. (AP) — Police in West Fargo say a man has been fatally shot by an officer following a high-speed chase.
Chief Heith Janke says the pursuit began about 8 p.m. when the man refused to pull over for a traffic stop. Janke says the suspect rammed a squad car and eventually stopped in a driveway.
KFGO reports the Red River Valley SWAT Team and negotiators were called to the scene. Janke says police believed the man had weapons in his truck. The chief says the suspect eventually got out of his vehicle and "presented himself as an imminent threat to the SWAT officers" who shot and killed him.
Police haven't said whether the man was armed. He has not been identified. The North Dakota Bureau of Criminal Investigation has taken over the case.
FARGO, N.D. (AP) — Fargo police say a man has been arrested for terrorizing after pulling a gun on a man with whom he was fighting and using it to smash a window on the victim's vehicle. Authorities say the disturbance took place about 2:30 a.m. Monday. Police say the suspect fought with the other man, retrieved the gun from his apartment and chased the man out to the parking lot where he smashed the window.
BISMARCK, N.D. (AP) — The North Dakota Legislature's Administrative Rules Committee has signed off on proposed rules for the state's developing medical marijuana program. The rules approved by the State Health Council in January cover such things as testing, security and transportation requirements. The Health Department can now move forward with application periods for medical marijuana manufacturers, dispensaries, patients and caregivers. The agency is aiming to have the drug available to patients late this year.
BISMARCK, N.D. (March 12, 2018) – Gov. Doug Burgum has directed all state agencies to fly the United States and North Dakota flags at half-staff on Friday, March 16, as a mark of respect for the memory of former North Dakota Gov. George "Bud" Sinner, who passed away Friday at age 89.Individuals and businesses also are encouraged to fly the flags at half-staff from sunrise to sunset on Friday. Funeral services for Sinner will be held at 10 a.m. Friday at Nativity Church of Fargo, 1825 11th St. S."Bud Sinner deserves our deepest gratitude for his lifetime of service to improving the lives of all North Dakotans through many different leadership roles and with an unwavering love for his state, his community and his family," Burgum said. "We ask that all North Dakotans honor his remarkable life and legacy."
BISMARCK, N.D. (AP) — The North Dakota Department of Health is inspecting the site of a crude oil spill in McKenzie County. The department was notified Sunday, the day the spill was discovered. Officials say the spill resulted from equipment failure in the treater unit on a well pad. Initial estimates indicate about 6,720 gallons of crude oil were released from the treater unit. Of that amount, an estimated 1,008 gallons affected agricultural land. The Health Department will continue to monitor the investigation.
BISMARCK, N.D. (AP) — The North Dakota Oil and Gas Division says an oil spill has been contained at an oil and gas well in northwestern North Dakota. Slawson Exploration Co. reports an estimated 10,584 gallons of oil was released, contained and recovered when a recycle line failed to the tanks Saturday. The spill happened north of Noonan near the Canadian border. All of the leaked oil was contained within the tank diking. A state inspector has been to the site and will monitor any additional cleanup. 
In sports…
Valley City  (CSi)  The VCSU Foundation has announced a fundraising campaign to secure resources for a major renovation of the track and field facilities at Lokken Stadium on the university campus.
VCSU Foundation, Executive Director, Larry Robinson says, "We are experiencing both surface and sub-surface issues with the track. Although short term repairs have been made in recent years, we intend to do a complete makeover during the summer of 2018."
The North Dakota State Board of Higher Education has authorized the foundation to conduct the campaign to cover the costs of the renovation, estimated to exceed $1 million.
Robinson reports that a private party has committed $800,000 to the project, with fundraising efforts to cover the remaining balance already underway.
Read more at www.vcsu.edu/news/news.htm?id=10603 or stop by the Foundation Office to learn more about this giving opportunity.
JAMESTOWN  (uj.edu) —Jenna Doyle (JR/Princeton, MN), Paige Emmel (SR/Bismarck, ND), Jory Mullen (JR/Pierre, SD), and McKayla Orr (SR/Ypsilanti, ND) were named as 2018 Daktronics NAIA Division II Women's Basketball Scholar-Athletes, the national office announced Monday.
Two hundred seventy-eight student athletes were honored during the 2017-18 season.
In order to be nominated by an institution's head coach or sports information director, a student-athlete must maintain a minimum grade point average of 3.5 on a 4.0 scale and must have achieved a junior academic status.
2018 Daktronics-NAIA Division II Women's Basketball Scholar-Athletes (PDF)
University of Jamestown men's basketball players Sam Johnson, Christian Kvilvang and Jon Purintun were also  named 2018 Daktronics NAIA Division II Scholar-Athletes.
Keenun- Broncos
ESPN    ESPN reports, free-agent quarterback Case Keenum intends to leave the Minnesota Vikings and sign with the Denver Broncos when free agency officially opens on Wednesday, according to multiple reports.
ESPN first reported the news early this morning, adding that the Broncos also considered Washington Redskins quarterback Kirk Cousins and had conversations about Vikings quarterback Teddy Bridgewater before zeroing in on Keenum.
The deal is expected to be a short-term agreement, suggesting it won't preclude the Broncos from taking a quarterback with the fifth overall pick in next month's draft if they so choose. His signing cannot be made official until the new league year opens at 4 p.m. ET on Wednesday.
NBA-SCHEDULE
UNDATED (AP) — There's now a two-game spread between the Houston Rockets and Golden State Warriors for the NBA's top record.
James Harden returned from a one-game absence and scored 16 of his 28 points in the third quarter to lead the Rockets to their 19th victory in 20 games, 109-93 over the Spurs. The All-Star guard provided eight straight points to ignite a 16-4 run that put Houston ahead 82-57 with about 3 ½ minutes left in the third period.
The NBA scoring leader had 12 points by halftime after sitting out Sunday's win over Dallas because of a sore left knee.
Chris Paul's 19 points and nine assists helped the Rockets improve to a league-best 53-14.
Checking out Monday's other NBA action:
— Damian Lillard's 32 points and 10 assists carried the Trail Blazers to their 10th consecutive victory, 115-99 over Miami. Lillard hit a huge 3-pointer after the Heat went on an 18-2, fourth-quarter run to get within three points. Jusuf Nurkic added 27 points and 16 rebounds for the Blazers, who have the longest current winning streak in the NBA and a two-game lead over Oklahoma City for the No. 3 seed in the West.
— Russell Westbrook posted his 20th triple-double of the season and 99th of his career to highlight the Thunder's 106-101 verdict over the Kings. Westbrook had 17 points, 10 boards and 11 assists to help Oklahoma City take over fourth place in the West. Paul George and Carmelo Anthony each scored 21 points for the Thunder, who finished the game without Steven Adams because of a left hip contusion suffered in the third quarter.
— The Grizzlies absorbed their 18th consecutive loss as Khris Middleton contributed 24 points and Giannis Antetokounmpo (YAH'-nihs an-the-toh-KOOM'-poh) added 20 to lead the Bucks' 121-103 rout of Memphis. Brandon Jennings finished two rebounds shy of a triple-double, delivering 16 points and 12 assists after signing a 10-day contact on Saturday. Milwaukee is 5 ½ games ahead of Detroit for the final Eastern Conference playoff berth.
NBA-NEWS
UNDATED (AP) — Celtics rookie Daniel Theis is likely out for the rest of the season with a torn meniscus in his left knee.
Theis got hurt during the final minute of Boston's 99-97 loss to the Pacers on Sunday.
Coach Brad Stevens told reporters Monday that the center is weighing his surgical options.
In other NBA news:
— Hawks guard Kent Bazemore will miss the remainder of the season with a bone bruise in his right knee. Bazemore is Atlatna's second-leading scorer at 12.9 points a game. He left Sunday's loss to Chicago with the injury.
NHL-SCHEDULE
UNDATED (AP) — Alex Ovechkin reached a major NHL milestone while the Washington Capitals were regaining first place in the Metropolitan Division.
Ovechkin scored his 599th and 600th NHL goals before Evgeni Kuznetsov (kooz-NEHT'-sahv) furnished the overtime goal that gave the Caps a 3-2 win against the Winnipeg Jets. Ovechkin became the 20th player in league history to score 600 goals, and one of four players to do it in under 1,000 games. Only Wayne Gretzky, Mario Lemieux and Brett Hull did it faster than Ovechkin's 990 games.
Ovechkin's goal 3:53 into the second period was his 42nd of the season as he tries to hit 50 for the eighth time.
Washington blew leads after each Ovechkin goal before Kuznetsov beat Connor Hellebuyck (HEH'-leh-buhk) 4:11 into the extra session, allowing the Caps to move one point ahead of Pittsburgh in the division race.
Patrik Laine (LY'-nay) notched his 41st goal for the Jets, who remain six points behind the Central Division-leading Nashville Predators.
Elsewhere in the NHL:
— Marc-Andre Fleury became the 13th netminder in NHL history with 400 wins by stopping 38 shots in the Golden Knights' 3-2 win at Philadelphia. Ryan Carpenter broke a two-all deadlock with 2:40 remaining to send the Pacific Division leaders to their third straight win.
— Eric Fehr's (fehrz) first goal as a Shark put his new team ahead to stay in a 5-3 victory against the Red Wings. Chris Tierney added an empty-netter and had an assist as San Jose stayed in second place in the Pacific Division, two points ahead of Los Angeles.
— The Kings have moved into third place in the Pacific after Jonathan Quick turned back 35 shots in a 3-0 win over the Canucks. Tyler Toffoli (tah-FOH'-lee), Anze Kopitar (AHN'-zhay KOH-pih-tahr) and Tanner Pearson provided the scoring to back Quick's fourth shutout of the season and help Los Angeles win for the fifth time in seven games.
— The Ducks fell to fourth in the Pacific as Ivan Barbashev had a goal and an assist to help the Blues knock off Anaheim, 4-2. The Blues have followed a 1-7-2 stretch with consecutive wins to get within one point of the second wild-card spot in the West.
— Seth Jones scored two first-period power-play goals, and the Columbus Blue Jackets won their fifth straight, 5-2 over the Canadiens. Alexander Wennberg had three assists for Columbus, which moved past the Devils for the first Eastern Conference wild-card berth and pulled within two points of the third-place Flyers in the Metropolitan Division.— Florida's eight-game home winning streak is over after Matt Duchene (doo-SHAYN') scored twice, including the tiebreaking goal with three minutes left in the Senators' 5-3 victory over the Panthers. Magnus Paajarvi (pah-YAHR'-vee) also had two goals for Ottawa, which kept the Panthers three points behind the Devils for the second Eastern Conference wild-card slot.
— Jemmy Vesey (VEE'-see) notched a hat trick and Mats Zuccarello scored twice as the Rangers doubled up the Hurricanes, 6-3 to end a three-game losing streak. Backup goalie Alexandar Georgiev made 41 saves for his second win of the season.
COLLEGE BASKETBALL POLL
Virginia tops final AP poll
UNDATED (AP) — Virginia remains the unanimous No. 1 team in the final Associated Press men's basketball poll, an honor that will become hollow if the Cavaliers don't win the real national championship.
The Cavs earned all 65 first-place votes to remain on top for the fifth straight week. Virginia is 31-2 and winners of both the ACC regular season and tournament titles.
Villanova is second, followed by Xavier, Kansas and Michigan St. The Jayhawks moved up five spots after winning the Big 12 Tournament.
Cincinnati, Michigan, Gonzaga, Duke and North Carolina round out the top 10.
Meanwhile, UConn finishes No. 1 in The Associated Press women's basketball poll for the fifth straight year.
The Huskies enter the NCAA Tournament as the lone unbeaten team and went wire-to-wire as the unanimous top team. They received all 32 votes from the national media panel Monday.
Baylor, Louisville, Mississippi State and Notre Dame followed UConn in the poll. Oregon, South Carolina, Texas, UCLA and Ohio State round out the first 10 teams.
WOMEN'S BASKETBALL-NCAA TOURNAMENT
NEW YORK (AP) — Connecticut has been given the first overall seed in the NCAA women's basketball tournament as the Huskies go for their 12th national championship. The 32-0 Huskies enter the NCAA Tournament as the lone unbeaten team and went wire-to-wire as the unanimous top team.
Last season, UConn came into the NCAAs as the overwhelming favorite before losing to Mississippi State in the Final Four.
Notre Dame, Louisville and Mississippi State are the other No. 1 seeds.
MLB-NEWS
UNDATED (AP) — Free-agent infielder Neil Walker is returning to New York after working out a one-year contract with the Yankees.
The 32-year-old hit .265 with 14 homers and 49 RBIs last year for the Mets and Milwaukee, who acquired him Aug. 12. Walker is a lifetime .272 hitter with 130 home runs, 522 RBIs, 204 doubles and 521 runs scored.
Walker likely will start at second base, while newly-acquired Brandon Drury will play third.
In other MLB news:
— The Rockies have finalized a one-year, $5 million deal with three-time All-Star outfielder Carlos Gonzalez, a deal that includes another $3 million in bonuses based on days on the active roster. The 32-year-old Gonzalez is coming off a down year in which he batted .262 with 14 homers and 57 RBIs in 136 games.
— The Athletics have landed a new starting catcher by finalizing a one-year, $6.5 million contract with free agent Jonathan Lucroy. The 31-year-old, two-time All-Star batted .265 with six home runs and 40 RBIs in 123 games last season for Texas and Colorado, which acquired him on July 30.
— The Twins have finalized a one-year, $12 million package with right-hander Lance Lynn, who made 33 starts last year following Tommy John surgery. Lynn went 11-8 with a 3.43 ERA for the 2017 Cardinals, five years after being named to the National League All-Star team.
NFL-NEWS
UNDATED (AP) — The Buffalo Bills and Cincinnati Bengals have swapped draft picks in a deal that also sends a lineman to Southern Ohio.
A person familiar with the deal tells The Associated Press the Bills get the 12th overall selection and a sixth-round pick from the Bengals for the 21st selection and a fifth-rounder. Cincinnati also gets high-priced left tackle Cordy Glenn, who had been a Bills starter since his rookie season in 2012.
In other NFL news:
— A person familiar with the decision tells The Associated Press the Chiefs are releasing longtime linebacker Tamba Hali, one of the franchise's career sack leaders. Hali has spent his entire 12-year career in Kansas City, piling up 89 1/2 sacks and at one point going to five consecutive Pro Bowls.
— Saints right tackle Zach Strief says he's retiring after 12 NFL seasons. The 34-year-old Strief was a regular reserve during much of his first five seasons and became a starter in 2011 on an offense that set an NFL single-season record with 7,474 yards.
— The Seahawks have re-signed safety Bradley McDougald to a three-year contract, two days before he would have become a free agent. McDougald finished the 2017 season with 67 tackles and four passes defensed.
— Kicker Dustin Hopkins has re-signed with the Redskins, and backup offensive tackle Ty Nsekhe was given a second-round tender worth about $2.9 million. Hopkins missed half of last season with a strained hip muscle.
— The Raiders are releasing cornerback Sean Smith to create more salary cap room heading into free agency. A person familiar with the move said Smith was told Monday that he will be let go before the start of the new league year on Wednesday. Smith signed a four-year, $38 million deal two years ago.
— The Giants have re-signed linebacker Mark Herzlich and guard Jon Halapio, two days before the start of free agency.
— Denver Broncos defensive end Adam Gotsis has been charged with rape in Atlanta. An incident report says a woman went to police headquarters on Feb. 1 and told an investigator Gotsis had raped her in March 2013. The Broncos said in a statement that they were aware of allegations of an incident that allegedly happened when Gotsis was attending Georgia Tech.
In world and national news…
WASHINGTON (AP) — A draft report from the Republican-led House Intelligence Committee concludes there was no collusion or coordination between Donald Trump's presidential campaign and Russia.
Texas congressman Mike Conaway says the committee has finished interviewing witnesses and will share the report with Democrats on Tuesday.
In a preview of the report, Conaway said Monday the investigation found what might be considered some bad judgment, inappropriate meetings and inappropriate judgment in taking meetings. But he said there was no evidence found to support the charge of collusion.
Trump used all-capital letters to tweet his approval of the report's conclusion. Democrats are expected to issue a separate report with far different conclusions.
The top Democrat on the intelligence panel, Adam Schiff of California, suggested that by wrapping up the probe Republicans were protecting Trump.
SAN DIEGO (AP) — Rallies for and against Donald Trump's "big beautiful border wall" with Mexico are expected to mark his first visit to California as president amid growing tensions between his administration and the state over immigration enforcement.
On Tuesday, Trump will visit eight towering prototypes of his planned wall before addressing Marines in San Diego and attending a fund-raiser in Beverly Hills.
Protests are also planned across the border in Tijuana, Mexico, when Trump visits the wall prototypes built along the international border to fulfill his signature campaign promise. Trump has insisted Mexico pay for the wall but Mexico has adamantly refused to consider the idea.
Trump's visit comes just days after his Justice Department sued to block California laws designed to protect people living in the U.S. illegally.
JACKSONVILLE, N.C. (AP) — Even as the U.S. military confronts rape in the ranks, it frequently fails to protect or provide justice to the children of service members when they sexually assault one another.
That's according to an Associated Press investigation which found that assaults reported on military bases often die on the desks of prosecutors. Other cases don't make it that far because military investigators shelve them, despite requirements they be pursued.
Instead of punishment or rehabilitation, offenders may be shuffled into the civilian world.
The Pentagon doesn't know the scope of the problem. AP documented nearly 600 sex assault cases among military kids on base since 2007 in the U.S. and abroad.
Officials said they take seriously "any incident impacting the well-being" of service members or families and promised to take "appropriate actions."
CARNEGIE, Pa. (AP) — Polls are open in western Pennsylvania as voters settle a high profile special congressional race being watched for clues to the upcoming midterm elections.
Republican Rick Saccone is trying to stave off an upset by Democrat Conor Lamb in a Pittsburgh-area district that backed President Donald Trump by 20 percentage points in 2016.
Former Republican Rep. Tim Murphy had represented the area. He resigned last fall.
Democrats need to flip 24 Republican-held seats for a House majority, and they'd not been counting on Pennsylvania's 18th Congressional District.
Trump has put his full force behind Saccone.
Lamb has a run as a moderate with considerable union backing. That's a key group in this industrial region. Lamb has also promised not to back Democratic leader Nancy Pelosi for House speaker.