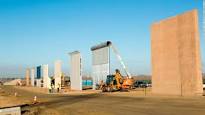 (AP) — President Donald Trump arrived in California on Tuesday to view prototypes for his "big beautiful border wall" amid protests and growing tensions between his administration and the state over immigration enforcement.
Chanting "No ban! No wall!" demonstrators were cheered on by honking cars and buses at the San Ysidro port of entry in San Diego, the nation's busiest border crossing.
Trump's visit coincided with an escalating war of words between his administration and the liberal state, which Democrat Hillary Clinton easily carried in the 2016 presidential election. California officials have defiantly refused to help federal agents detain and deport immigrants in the U.S. illegally, and the Justice Department sued the state last week over three of its immigration laws.
The president, who arrived in San Diego on Tuesday afternoon, planned to inspect eight towering prototypes for the wall in an area of the border heavily cordoned off and far from the rallies on the U.S. side. He was then expected to address Marines before attending a high-dollar fundraiser in Los Angeles, where he'll be staying overnight.
Protests were planned on the Mexican side, too, in Tijuana. Semitrucks were parked in between the row of prototypes and the border, blocking the view from Mexico.
Demonstrators said they planned to later line up and greet people walking into the United States at the San Ysidro crossing to show Americans welcome immigrants.