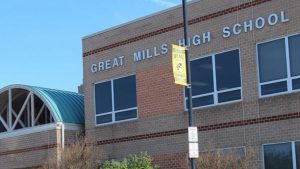 GREAT MILLS, Md. (AP) — A teenager with a handgun shot a girl and boy inside his Maryland high school Tuesday before he was fatally wounded during a confrontation with a school resource officer, a sheriff said.
The officer and the teenager both fired a single shot at that point, and it wasn't immediately clear whether he took his own life or was killed by the officer's bullet, St. Mary's County Sheriff Tim Cameron said. The other students were hospitalized in critical condition, and the officer was unharmed.
"When the shooting took place, our school resource officer, who was stationed inside the school, was alerted to the event and the shots being fired. He pursued the shooter and engaged the shooter, during which that engagement he fired a round at the shooter," Cameron said.
"Simultaneously the shooter fired a round as well. So, in the hours to come, in the days to come, through a detailed investigation, we will be able to determine if our SRO's round struck the shooter."
This latest shooting comes as lawmakers nationwide face pressure to take action against gun violence following the Valentine's Day killings of 17 people at a Florida high school by a teenager with an assault weapon. Maryland's Senate joined the House Monday night to ban bump stocks, which enable a semi-automatic rifle to mimic a fully automatic weapon.
Outside the school, a line of about 20 school buses formed on the street in front of the building. Ambulances, fire trucks and other emergency vehicles crowded the parking lot and the street. No students or parents could be seen outside at midmorning.
The St. Mary's County Public Schools said the situation was "contained" after the shooting at Great Mills High School, which has about 1,600 students and is near the Patuxent River Naval Air Station, about 65 miles (104 kilometers) southeast of Washington.
Agents with the FBI and the Bureau of Alcohol, Tobacco, Firearms and Explosives joined deputies at the scene. The county sheriff said parents or guardians should stay away, urging them to go instead to Leonardtown High School to reunite with Great Mills students there.
Great Mills High School Principal Jake Heibel told parents that school officials interviewed two students in February who were overheard mentioning a school shooting and found that they posed no threat. His letter was posted on the local news site The Bay Net.
But Heibel said the school still increased its security after social media posts about a possible school shooting "circulated quite extensively."