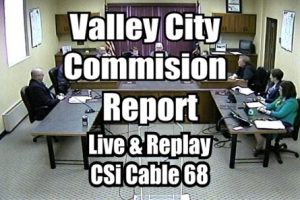 Valley City  (CSi)  The Valley City Commission met in Regular Session, Tuesday evening, at City Hall.  All members were present.
Mayor Carlsrud recognized Commissioner Magnuson who received an achievement recognition through the North Dakota League of Cities.
APPROVAL OF CONSENT AGENDA
Approved Raffle Permits for Valley City Trap Club
Approve Electrician, Plumber and/or Mechanical Contractor licenses for
All American Plumbing & Heating
Bakkegard & Schell, Inc.
Engles Electric
Enterprise Electric, Inc.
Grotberg Electric, Inc.
Grotberg Electric, Inc. dba Triton Mechancial
Hi-Line Electric, Inc.
Home Heating, Plumbing & A/C, Inc.
John's Refrigeration & Electric, Inc.
Keith's Air Conditioning, Refrigeration & Heating, Inc.
Kohn Electric, LLC
Manning Mechanical, Inc.
Moorhead Electric, Inc.
Peterson Mechanical, Inc.
Red River Electric, Inc.
Ryan Mechanical, Inc.
Scott's Electric, Inc.
Sheyenne Mechanical
Sheyenne River Repair
Wrigley Mechanical, Inc.
And all license applications received before April 1, 2018 approved by the Auditor's Office.
Approve House Mover licenses for a. Carrington House Moving, Inc.
Liechty Homes Inc.
Schmit Incorporated
And all license applications received before April 1, 2018 approved by the Auditor's Office.
HEARING FROM THE AUDIENCE:  No one spoke
RESOLUTIONS
Approved a Resolution to Designate Authorized Representative for the City of Valley City as a Member of Missouri Basin Municipal Power Agency d/b/a Missouri River Energy Services. City Administrator Schelkoph said the designation is on an annual basis.
Approved a Resolution Accepting Final Plans and Specifications for Project No. UGP-SU-2-990(057) [Central Ave – Concrete Pavement Repair, Curb & Gutter, Sidewalk, Storm Sewer Modifications, Decorative Lighting and Traffic Signals], and authorizing Engineer to Advertise for bid.
KLJ noted the project includes the StreetScape work.
City Attorney Mertins says an order to prohibit the StreetScape project is scheduled for a court hearing on April 11th.  She said the StreetScape project could be eliminated from the Resolution approval if the court so decides on the prohibition.
NEW BUSINESS
City Commissioners approved 2019-2021 Project Information and Planning Forms (Permanent Flood Protection, Water Main and Mill Dam Rehabilitation) for submittal to the State Water Commission. KLJ said a cost share is in place between the city and State Water Commission.
The City Commission approved using the Infrastructure Renew and Replacement Fund for a portion of the Final Payment to NDDOT for 9th Ave NW Reconstruction Project  City Administrator Schelkoph said the balance is $28,000.
City Commissioners approved a VCBC Development Corporation Request to Retain 0% Loan Funds.  Director Jennifer Feist requested the retention to put toward funds to make additional dollars available for economic development projects.
Commissioners approved the 2018 City Forester Contract. City Administrator Schelkoph the contract contains a 2.3 percent increase in annual wages.
Also approved by City Commissioners was an Application for Property Tax Exemption for Improvements to Commercial Building, Grotberg Electric, at 1109 Main Street West.  City Assessor Hansen recommended approval.
Approved was a Special Alcohol Beverage Event Permit for Valley City Eagles 2192 at North Dakota Winter Show Event Center March 26 – 28, 2018, the John Deere Seeding, Annual Meeting.
CITY ADMINISTRATOR'S REPORT
Dave Schelkoph gave and update on improvements to the waste water treatment plant upgrades.
He said he and Mayor Carlsurd traveled to Washington, DC to visit with the North Dakota congressional delegation concerning utility regulation, with the trip paid for by Missouri River Energy.
He reminds residents that Main Street will remain closed for most of the next ten months, with the permanent flood control project.  He said there is still access to business along the way.
He said the Mill Dam elevator demolition is nearly completed.
The cost of $164,00 is being paid for at 25 percent for the city's share, or $41,000, under the permanent flood control project.
With another snow storm in the forecast this weekend, he reminded residents not to push snow into city streets.
CITY UPDATES & COMMISSION REPORTS
Mayor Carlsrud recapped Senator Heitkamp's visit to Valley City.
He noted an upcoming meeting between the City Commission, the County Commission and Valley City Public School Board.  He noted some of the topics will include, the jail issues along with law enforcement, and mental health concerns.
City Fire Chief Retterath reminded residents to check to see that their sump pumps are in operating conditions.
He gave an update on the State Fire Convention to be held in Valley City in June, including a change in the agenda and format, and noted a parade in being planned.
The meeting was shown live on CSi Cable 68 followed by replays.