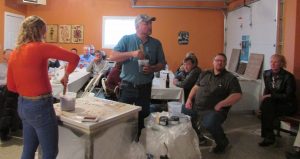 Jamestown  (Jamestown Chamber)  The March Business After Hours was hosted by Pioneer Painting and Decorating, located at 712 Evergreen Circle.  Those who attended enjoyed wonderful hospitality and food from Randy and Teri Kleinsasser, owners of this business.  We were privileged to watch a demonstration of how they can update counter tops, furniture, table tops, walls, etc. with an interesting epoxy process.  Randy and Teri also provide services to cover concrete and other hard surface floors with an epoxy product, and Randy showed examples of the different ways this can be done.  These products can be used to update existing surfaces in your home, without the cost of replacing cabinets, floors, furniture or walls.  Painting and decorating services are also provided by this team of artists, and Teri showed off some of her refinished furniture pieces at the event.  Stop by to wish them well or contact them at 701-252-4084 for information about their services.
The Chamber Ambassadors and Young Professionals of Jamestown, along with other chamber member businesses attended this event. The $50 chamber gift certificate door prize was won by Corey Bayer of Marvel Homes, door prizes provided by Pioneer Painting and Decorating went to four guests at this event.  The business drawn for the business chamber bucks was Ave Maria Village in the amount of $350.00 and Tim Burchill was there representing this business, so congratulations to Ave Maria Village.
Chamber Business After Hours events are hosted to provide an opportunity for a business to showcase products and services, a new location, or for expansions or remodeling.  The Chamber Ambassadors and staff assist the businesses who host the Business After Hours event to reach out to the community and chamber members to encourage more awareness of the what is new or updated in the community.  If your business is a chamber member and you wish to host a BAH, please call the chamber for more information at 701-252-4830.  We are setting up BAH events for 2018, so call today to ensure your business has this opportunity.