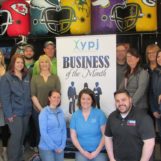 Jamestown  (Jamestown Chamber)  Members of the Young Professionals of Jamestown recently presented a Business of the Month Award to Orriginals, Inc. of Jamestown for their outstanding customer service and continued commitment to the community.  This business is located at 216 1st Avenue South in Jamestown and they can be reached at 701-252-6406.  Len and Penny Orr, owners and their staff Lisa Barnick, Brent Giesler, and Curt Graves joined the Chamber Young Professionals and the Chamber Ambassadors for the presentation.
The nomination stated, "My mother wasn't aware that Orriginals isn't generally open on the weekends when she called on a Saturday.  Penny Orr happened to answer and my mom asked her about getting a shirt printed as a special birthday present.  Penny didn't skip a beat or tell my mother they were not open.  She simply called one of her screen printers, had them come in and within a couple of hours had the shirt printed for my mother, which was a tremendous hit!  They go WAY above and beyond, just because they can.  Their new storefront is a wonderful asset to our main street and community.  Thank you Orriginals."
The Young Professionals of Jamestown honor businesses that provide superior customer service, exhibit community spirit and provide a positive economic impact to the community.  This award provides recognition throughout the month with a plaque and a recognition banner for the month. Orriginals, along with all of the other monthly winners, will be considered for Business of the Year to be awarded at the Chamber's annual banquet in January of 2019.  Business of the Month award nomination forms are available at the Chamber office.  Call 701-252-4830 for more information or email director@jamestownchamber.com.