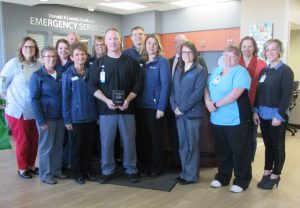 Jamestown  (Chamber)  Members of the Jamestown Area Chamber of Commerce Ambassador Committee and the Young Professionals of Jamestown presented a Customer Service Award for March to Chris Lunde, employed by the Jamestown Regional Medical Center in the Emergency Department.
The chamber honors individuals who demonstrate a consistent commitment to delivering products or services that satisfy customers by exceeding their requirements or expectations.  Chris was joined by the chamber groups and staff from the Jamestown Regional Medical Center during the recognition presentation.
Chris' letter of nomination stated, "Chris is an RN in the Emergency Room at the Jamestown Regional Medical Center and treated me when I broke and lacerated my big toe.  I was bleeding profusely and was totally stressed out, and in much pain.  Chris not only made sure I was comfortable and well cared for, but he also de-escalated my stress using his very empathetic bedside manner.  Two days in a row, as the bleeding would not stop.  He is a credit to his profession and to the JRMC.  He even cleaned up my bloody shoe!"
Congratulations to Chris, who along with all the other monthly winners, will be recognized at the Chamber's annual banquet in January 2019.  Customer Service Award nomination forms are available at the Chamber office and on their website at www.jamestownchamber.com or call 701-252-4830.