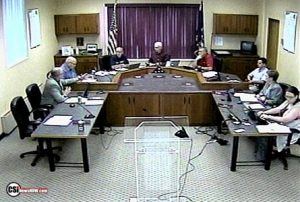 Valley City  (CSi)  The Valley City Commission met in Regular session Tuesday at City Hall.  All members were present.
RECOGNITION OF MAYOR FOR A DAY
Students Tessa Anderson and Nora Wolhart  Jefferson Elementary School 3rd graders read the City Government Week Proclamation.
APPROVAL OF CONSENT AGENDA ITEMS INCLUDED:
Monthly Reports from the Fire Chief, Building Inspector, Auditor, Municipal Judge and Public Works Accountant.
Monthly Bills for the City and Public Works in the Amount of $2,646,288.49.
Blocking  off the Street Request for Valley City Public Schools on May 9, 2018 on 2nd Ave NW from 4th Street NW to 5th Street NW
A Raffle Permit for Valley City Area Chamber of Commerce
PUBLIC COMMENTS  No One spoke
NEW BUSINESS
The Commission approved financial support of the South Central Seniors Transportation.
Pat Hansen explained that last year in Barnes County 59,868 rides were provided, noting that 60 percent of riders are non-senior citizens.
The recent fund raising total was $36,689 with the city contributing $20,000 toward the goal of $80,000.
She noted significant state funding cuts due to the decrease in oil tax revenue.
Donations can be brought to the Senior Center, or call 845-4300.
Visitors Committee Chairman Bobby Koepplin requested $7,500 from the Reserved Streetscape Project Funds for Chamber of Commerce for one-time construction marketing, which was approved by Commissioners.
The City Commission approved a Food & Beverage Grant Request for Chamber of Commerce in the amount of $32,000.  Bobby Koepplin said the funds go to improvements and signage at the Rosebud Visitors Center. Other matching dollars are in place.
Bobby Koepplin requested an Image Enhancement Grant from Mobility Plus Rehabilitation, Ltd. in the amount of $1,000, for opening a business in Valley City, with the grant specifically for signage.
Approved  awarding bid for planting of trees for the ND Forest Service grant. Bobby Koepplin explained the areas to be planted.
Valley City Fire Department Annual Report was presented by Fire Chief Retterath, who noted the number of calls in 2017 decreased by 10 from the year before.
Approved VCFD part-time staff for pre-planning buildings, presented by Fire Chief Retterath.  The plans indicate such items as gas shutoffs, and other items vital to fire fighting efforts.
Approved a Gaming Site Authorization for Edgar A. Fisher Post 60 of the American Legion.
Approved an NDDOT Cost Participation, Construction & Maintenance Agreement for UGP-SU-2-990(055)059, 3rd Avenue SE from 4th St SE to Main Street.  KLJ explained that the funding is from an Urban Grant from NDDOT, and federal dollars approval. The project cost is $1.15 million  with the local cost shared $452,000.
CITY ADMINISTRATOR'S REPORT
David Schelkoph said he has had phone call about areas of slippery streets in town.  He said those calls should go to Public Works at 845-0380, or Dispatch 845-8181.
He said North Dakota congressional delegation joined with FEMA to find a legal resolution to keeping a permanent flood control wall in place.
He reminded residents that Main Street will remain closed for the permanent flood control project.
CITY UPDATES & COMMISSION REPORTS
City Assessor Hanson said the Annual Board of Equalization is Tuesday April 10th at 4-p.m. at City Hall.
Fire Chief Retterath said 340 invitations have been sent for this summer's State Fire Convention to be held in Valley City.
Mayor Carlsrud thanked the staff, and parents and the schools for participating in Mayor For a Day.
The meeting was shown live on CSi Cable 68 followed by replays.