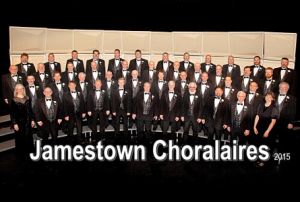 Jamestown  (CSi)  The Jamestown Chorlaires, under the direction of  Pamela Burkhardt  are set for the 63rd Annual Spring Concert on  Friday April 13th at 7:30 p.m. and Saturday, April 14th at 7:30-p.m. at the Jamestown High School Auditorium.
Tickets are $12 for adults, $5 for students, available in advance at  Looysen I Care, or from Choralaires members or Jamestown Boys Choir members, or at the door.
On Thursday's Wayne Byers Show on CSi Cable 2, members David Steele, and Dave Smette said they've been members of the Choralaires for four years and two years respectively.
They said the Choralaires will be joined by the Jamestown Boys Choir under the direction of Meredith Meidinger, performing with the Choralaires and separately.  Smette pointed out that the Boys Choir currently has 65 members, in grades 4-6,  the Choralaires with 48 members.
Musical numbers at the Spring Concert will cover a wide range of songs, and will include numbers they will perform at the Annual Big Sing, to be held April 27 & 28 in Marshall, Minnesota, where nine groups will perform.
Steele added that the groups will be critiqued by the various directors in an effort to improve.
Steele said the Choralaires will perform on their own and under the direction of other group directors as well as performing with the other singers.
Pam Burkhardt will also lead the singers.
Steele added the Choralaires rehearse each Wednesday evening at 8:30-p.m., at the Jamestown Middle School Band Room, with those interested in joining the group invited to stop by and get more information.