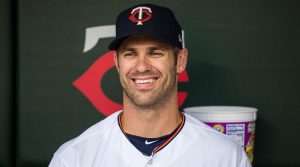 MINNEAPOLIS (AP) — Understated as usual, Joe Mauer had downplayed his approaching milestone. But when the Target Field crowd rose to its feet to acknowledge the achievement, even the modest Mauer got a bit emotional.
The native Minnesotan got his 2,000th career hit at home on Thursday night, and just as importantly for Mauer, it came in a Twins victory.
Mauer had two hits and three RBIs, and Jose Berrios struck out 11 in seven innings for Minnesota in a 4-0 win against the Chicago White Sox.
"Leading up to it, I didn't try to make a big deal of it, to be honest," Mauer said. "When I got up there the at-bat before, the fans started to get into it. It put some more adrenaline in my system there. It was a special moment, especially coming off a tough lefty and driving in a couple runs, too."
Mauer became the third Twins player (joining Rod Carew and Kirby Puckett), and the 12th active player, to reach 2,000 hits. He's one of 287 players in history to reach the mark.
"You do the math of the percentage of players who are in that category versus the people who have had a chance to put the uniform on and it's fairly low," said Minnesota manager Paul Molitor, a member of the 3,000-hit club. "You start finding yourself in categories and rising into areas that few people get a chance to experience."