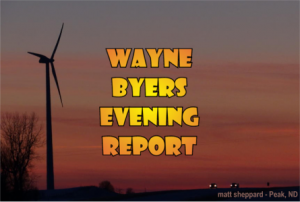 CSi Weather…
.TONIGHT…Mostly cloudy. Lows 15 to 20. North winds 15 to 20 mph. Gusts up to 35 mph in the evening.
.SATURDAY…Mostly cloudy. Highs in the mid 30s. Northeast winds
10 to 15 mph.
.SATURDAY NIGHT…Partly cloudy. Lows around 15. Northeast winds
5 to 10 mph.
.SUNDAY…Sunny. Highs in the upper 30s. Northeast winds 5 to
10 mph.
.SUNDAY NIGHT…Mostly clear. Lows 15 to 20. East winds around
5 mph.
.MONDAY…Sunny. Highs in the lower 40s.
.MONDAY NIGHT…Increasing clouds. Lows in the upper 20s.
.TUESDAY…Mostly cloudy. Slight chance of rain and snow in the
morning, then chance of rain in the afternoon. Highs in the lower
40s. Chance of precipitation 30 percent.
.TUESDAY NIGHT…Mostly cloudy. Chance of rain possibly mixed
with snow in the evening, then chance of snow after midnight.
Lows around 30. Chance of precipitation 40 percent.
.WEDNESDAY…Cloudy. Chance of snow possibly mixed with rain in
the morning, then slight chance of rain in the afternoon. Highs
in the lower 40s. Chance of precipitation 30 percent.
.WEDNESDAY NIGHT…Mostly cloudy. Lows in the mid 20s.
.THURSDAY…Mostly sunny. Highs in the mid 40s.
.THURSDAY NIGHT…Increasing clouds. Lows in the upper 20s.
.FRIDAY…Partly sunny. Highs in the mid 40s.
Wind advisory for McIntosh, LaMoure, and Dickey counties until 7-p.m. Friday…….LaMoure, Edgeley, Kulm, Wishek, Ashley, Oakes, and Ellendale
Friday night, a clearing sky and decreasing wind.
Jamestown  (CSi)  Jamestown Public Works informs residents that beginning Monday, April 30, 2018, City Sanitation crews will resume garbage pick-up in the alleyways.
Place brown carts so arrows face the alley for automated collection (or arrows face the street for curbside pick-up).
All materials must be INSIDE the cart for automated lifting into the truck. Any materials on top or next to the cart WILL NOT be collected.
Garbage carts should be placed out for pick up by 7:00 a.m. Trucks WILL NOT return to the area due to missed garbage placed out after the scheduled garbage route has been completed.
If you need to exchange your garbage cart for a different size, contact the Utility billing department at City Hall, phone: 252.5900 or email:  kesmith@daktel.com; sgoodrie@daktel.com or bkoushkouski@daktel.com
To view current City garbage utility/cart rates, go to: http://jamestownnd.org/departments/public-works/utility-billing/
Also…
Annual City Wide Clean-up Week begins Monday, April 30 to May 5, 2018
City crews will collect unwanted items placed curbside in residential areas.
For more information, visit the City website at: jamestownnd.org click on Public Notices or Events.
For more information about recycling, (carts, collection, recyclables, drop-off hours, etc.) contact Recycle North Dakota at 701.320.9218, email: info@recyclenorthdakota.org or visit com
Bismarck   (CSi)  The North Dakota Office of State Tax Commissioner will extend its office hours to 8 p.m. on Monday and Tuesday.
State Tax Commissioner, Ryan Rauschenberger, says the office hours are being extended to accommodate any last-minute tax questions from the public.
Tuesday, April 17th  is the deadline for filing state and federal income tax returns. As of April 10, nearly 330,000 North Dakota individual income tax returns were proceed.  Rauschenberger said people who haven't filed their tax returns as yet may also e-file.
STANLEY, N.D. (AP) — North Dakota landowners have many questions about wind development as residents in the northwest corner of the state see an increase in wind farm proposals.
The Northwest Landowners Association hosted about 160 people Thursday at an informational expo in Stanley to educate property owners affected by energy development, The Bismarck Tribune reported. Energy industry representatives, state regulators, legal experts and legislators were in attendance to better prepare landowners to negotiate with energy companies.
Chairman Troy Coons said the association continues to get inquiries about oil, gas and pipeline projects. He said more association members have also been approached about wind farms.
"With any type of energy development, generally you're always talking 40 years-plus," Coons said. "You're going to get one shot at a lease that will extend for your lifetime, most likely. So it's very important to be educated right out of the gate."
Bismarck attorney Derrick Braaten said wind energy leases he's worked on for landowners often have unclear language and have been far more complicated than agreements for oil and gas development. He cautioned landowners about the potential for liens being placed on their property if a developer and subcontractor get into a payment dispute.
MINNEAPOLIS (AP) — A potent spring storm is raking the Plains and Midwest.
Blizzard conditions shut down a long stretch of Interstate 90 in South Dakota on Friday and Gov. Dennis Daugaard has closed some state government offices. Dozens of schools canceled classes.
A National Weather Service blizzard warning covers an area including most of Nebraska and sprawls from northeast Colorado to southeast Minnesota.
The National Weather Service says parts of Nebraska could get up to 14 inches of snow, with up to 10 inches in Iowa. Wind gusts of up to 50 mph will make travel hazardous.
Parts of Michigan are bracing for a weekend ice storm.
Forecasters say there is a risk of tornadoes south and east of the expected snow, with the focus of that activity in Arkansas on Friday.
In world and national news…
BEIRUT (AP) — Russia's U.N. ambassador says the United States appears to have adopted a policy to "unleash a military scenario against Syria," saying Moscow continues to observe "dangerous" military preparations. Vassily Nebenzia told an emergency meeting of the U.N. Security Council on Friday that "bellicose rhetoric is being ratcheted up at all levels, including at the highest levels."
NEW YORK (AP) — Federal prosecutors say in a court filing that the criminal probe that led them to raid the offices of Donald Trump's personal lawyer this week is focused on his "personal business dealings." In the filing with a court in New York, prosecutors blacked out a section describing what crime they believe Trump attorney Michael Cohen has committed. But they provided new details on the investigation, which they said has been going on for months.
MOSUL, Iraq (AP) — More than 1,000 bodies, most of them believed to be Islamic State group fighters killed in the militants' last stand in Mosul, have been buried in a mass grave outside the city, a provincial official says. Hundreds more bodies are still strewn across and buried in the neighborhood where IS fighters held out the longest in the city, nine months after they were defeated in fighting that flattened the area.
WASHINGTON (AP) — President Donald Trump is firing back at the sharply critical book by former FBI director James Comey. Trump blasts Comey as an "untruthful slime ball" on Twitter, saying, "It was my great honor to fire James Comey!" Details emerged late Thursday of details from Comey's memoir, which says Trump is "untethered to truth," and describes him as fixated in the early days of his presidency on having the FBI debunk salacious rumors he said were untrue but that could distress his wife.
WASHINGTON (AP) — President Donald Trump has issued a pardon to I. Lewis "Scooter" Libby, a former top aide to Vice President Dick Cheney. Trump said Friday that he doesn't know Libby, but "for years I have heard that he has been treated unfairly." Libby was convicted in 2007 of perjury stemming from an investigation into the leaking of the identity of CIA officer Valerie Plame. Trump has railed against leaks throughout his presidency, including Friday when he slammed ex-FBI director James Comey as a "leaker."