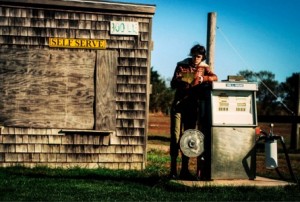 CSi is proud to present The Folklorist. It airs on CSi TV 10  – The Replay Channel . Consult schedule for additional air times.
Episode 2 ONLINE:  Host John Horrigan explores the history behind The Cuban Missile Crisis, the heroic story of two young women in America's Army of Two, a classic fable from Aesop with The Grasshopper and the Ant, and also the life of famous aviatrix Amelia Earhart. Also featuring Campfire segments on The Vietnam War, The Pharaoh's Curse, and Julius Caesar and the Pirates.
Watch The Replay Channel for future episodes.  The Folklorist is the Emmy® Award-winning television series that offers a captivating look at some of the lesser-known occurrences in history. Whether it's a tale of a legendary lost city, a forgotten hero, or a hoax beyond belief, The Folklorist brings audiences back to each story's origins and uncovers what's been left out of text books, and what lives on as folklore.
A NEWTV ORIGINAL PROGRAM 
Produced & Directed by Andrew Eldridge & Angela Harrer
Hosted by John Horrigan
Created by John Horrigan & NewTV
Executive Producer: Robert Kelly
SPECIAL THANKS
Circa Vintage Wear
New England Salvage and Demolition
Mike Creato, Katama Airfield
Brooksby Farm
The JFK Experience
Jeremy O'Neal
Newton South High School
Williams Elementary School
Lincoln Eliot Elementary School
CUBAN MISSILE CRISIS CAST:
Mike Lowe as "John F. Kennedy"
Jim Hammond as "Nikita Khrushchev"
Herbert Fuchs as "Robert Macnamera"
Steve Russo as "Major Richard Heyser"
Audrey Noone as "Family Woman"
Montgomery Lyons as "Family Man"
Claire Candela as "Young Child"
Matt Keilty as "Young Child"
Jason Brown as "Radio Listener 01"
Andrew Eldridge as "Radio Listener 02"
CUBAN MISSILE CRISIS CREW
Writer: John Horrigan
Contributing Writer: Andrew Eldridge
Cinematography: Andrew Eldridge and Michael Crossen-Sills
Sound: Angela Harrer
Editor: Andrew Eldridge
Sound Design: Andrew Eldridge
Production Assistant: Suzy Martin
AMERICAN ARMY OF TWO CAST
Bella Cohen as "Abigail Bates"
Olie Cohen as "Rebecca Bates"
Jack Goldman as "Simeon Bates"
Gerry Marrocco as "British Officer"
Maureen Vlaco as "Accosted Woman"
Patricia Fitzgerald as "Accosted Child"
Stephen Kessinger as "Townsperson 01"
Jason Brown as "Townsperson 02"
AMERICAN ARMY OF TWO CREW
Writer: John Horrigan
Cinematographer: Andrew Eldridge
Editor: Andrew Eldridge & Erik Angra
Production Assistant: Liz Flemke
GRASSHOPPER AND THE ANT CAST
Jason Lucas appearing as "The Grasshopper"
Timothy Decoff appearing as "The Ant"
GRASSHOPPER AND THE ANT CREW
Adapted by: John Horrigan, Andrew Eldridge, and Angela Harrer
Cinematography: Andrew Eldridge & Michael Crossen-Sills
Sound: Angela Harrer
Editors: Andrew Eldridge and Angela Harrer
Production Assistant: Liz Flemke
AMELIA'S FINAL FLIGHT CAST
Liz Flemke appearing as "Amelia Earhart"
Angela Harrer appearing as "Jackie Cochran"
AMELIA'S FINAL FLIGHT CREW
Written by: John Horrigan, Angela Harrer & Andrew Eldridge
Cinematographer: Andrew Eldridge
Editor: Andrew Eldridge