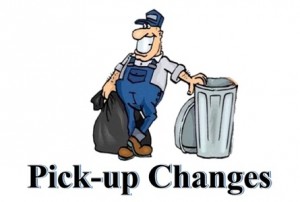 Jamestown  (CSi)  Jamestown Public Works informs residents that beginning Monday, April 30, 2018, City Sanitation crews will resume garbage pick-up in the alleyways.
Place brown carts so arrows face the alley for automated collection (or arrows face the street for curbside pick-up).
All materials must be INSIDE the cart for automated lifting into the truck. Any materials on top or next to the cart WILL NOT be collected.
Garbage carts should be placed out for pick up by 7:00 a.m. Trucks WILL NOT return to the area due to missed garbage placed out after the scheduled garbage route has been completed.
If you need to exchange your garbage cart for a different size, contact the Utility billing department at City Hall, phone: 252.5900 or email:  kesmith@daktel.com; sgoodrie@daktel.com or bkoushkouski@daktel.com
To view current City garbage utility/cart rates, go to: http://jamestownnd.org/departments/public-works/utility-billing/
Also…
City crews will collect unwanted items placed curbside in residential areas.
For more information, visit the City website at: jamestownnd.org click on Public Notices or Events.
For more information about recycling, (carts, collection, recyclables, drop-off hours, etc.) contact Recycle North Dakota at 701.320.9218, email: info@recyclenorthdakota.org or visit com