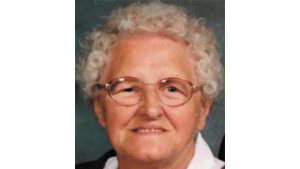 Violet Dewald, 87, Jamestown, ND died Sat April 14, 2018 at Sanford Health in Fargo, ND.
Violet Holmstrom was born November 9, 1930 at the family farm home SE of Gackle, ND, the daughter of Edwin and Esther (Karvonen) Holmstrom. She attended the local rural school where she received her elementary education and grew to womanhood.
She and Robert Dewald were married November 27, 1954 at Moorhead, MN. They made their home SE of Gackle until moving to Jamestown in 1960. She did child care and was a homemaker. They have continued to reside in Jamestown.
Violet was a member of Trinity Lutheran Church.
She is survived by her husband Robert, Jamestown, ND; 3 children, Roger (Beth) Dewald, Jamestown, ND; Randy (Darcy) Dewald) Carrington, ND; Rhonda (Tom) Ravely, Jamestown, ND; 4 grandchildren, Aron Dewald, Kara (Matt) Lautt, Jordon Dewald, and Ryan Dewald; 2 great grandchildren, Piper and Jakob Dewald; and 1 sister, Alice Larson, Jamestown, ND.
Violet was preceded in death by her parents, 2 brothers, Arthur and Wesley Holmstrom and 1 sister, Gloria Loyland.
Funeral Service – 10:30 AM Thursday April 19, 2018 in the Trinity Lutheran Church, Jamestown, ND with Pastor Kristi Weber, officiating
Visitation – 9:00 – 7:00 PM Wednesday @ the funeral home
Prayer Service – 7:00 PM Wednesday @ the funeral home
Burial – Saarie Cemetery, Gackle, ND
Online Guest Book – www.hautfuneralhome.com