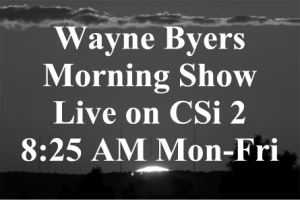 CSi Weather…
.REST OF TODAY…Sunny. Highs in the upper 30s. East winds 5 to 10 mph.
.TONIGHT…Increasing clouds. Lows in the upper 20s. Southeast
winds 5 to 10 mph.
.TUESDAY…Partly sunny. Highs in the lower 40s. Southeast winds
10 to 15 mph.
.TUESDAY NIGHT…Mostly cloudy. Chance of snow possibly mixed
with rain and freezing rain in the evening, then chance of snow
possibly mixed with freezing rain after midnight. Lows in the
upper 20s. Northeast winds 5 to 10 mph. Chance of precipitation
30 percent.
.WEDNESDAY…Cloudy. Chance of snow possibly mixed with rain and
freezing rain in the morning, then chance of rain in the
afternoon. Highs in the upper 30s. North winds 5 to 10 mph.
Chance of precipitation 40 percent.
.WEDNESDAY NIGHT…Mostly cloudy. Lows in the upper 20s.
.THURSDAY…Mostly sunny. Highs in the mid 40s.
.THURSDAY NIGHT…Partly cloudy. Lows in the upper 20s.
.FRIDAY…Partly sunny. Highs in the upper 40s.
.FRIDAY NIGHT…Decreasing clouds. Lows in the lower 30s.
.SATURDAY…Mostly sunny. Highs around 50.
.SATURDAY NIGHT…Partly cloudy. Lows in the lower 30s.
.SUNDAY…Partly sunny. Highs in the lower 50s.
Rain is the expected then a mix of rain and snow for Tuesday night into Wednesday.
A small potential for light freezing rain early Wednesday morning, but
duration and amounts should be minimal.
After this system exits, expect mainly dry conditions with a slow
warming trend through Sunday.
Jamestown  (CSi)  Jamestown Public Works informs residents that beginning Monday, April 30, 2018, City Sanitation crews will resume garbage pick-up in the alleyways.
Place brown carts so arrows face the alley for automated collection (or arrows face the street for curbside pick-up).
All materials must be INSIDE the cart for automated lifting into the truck. Any materials on top or next to the cart WILL NOT be collected.
Garbage carts should be placed out for pick up by 7:00 a.m. Trucks WILL NOT return to the area due to missed garbage placed out after the scheduled garbage route has been completed.
If you need to exchange your garbage cart for a different size, contact the Utility billing department at City Hall, phone: 252.5900 or email:  kesmith@daktel.com; sgoodrie@daktel.com or bkoushkouski@daktel.com
To view current City garbage utility/cart rates, go to: http://jamestownnd.org/departments/public-works/utility-billing/
Also…
City crews will collect unwanted items placed curbside in residential areas.
For more information, visit the City website at: jamestownnd.org click on Public Notices or Events.
For more information about recycling, (carts, collection, recyclables, drop-off hours, etc.) contact Recycle North Dakota at 701.320.9218, email: info@recyclenorthdakota.org or visit com
CAVALIER, N.D. (AP) — A Cavalier man has died in an off-highway vehicle crash in northeastern North Dakota.
The North Dakota Highway Patrol says 55-year-old Dean Becker was driving the Polaris four-wheeler on Friday night northwest of Cavalier when the vehicle left the road and went into the ditch. The four-wheeler went over rough ground, and Becker was thrown. He died at the scene.
The patrol says Becker was not wearing a helmet. The crash remains under investigation.
Bismarck  (CSi)  The North Dakota Office of State Tax Commissioner will extend its office hours to 8 p.m. on Monday and Tuesday.
Ryan Rauschenberger, state tax commissioner, said the office hours are being extended to accommodate any last-minute tax questions from the public. Tuesday, April 17th  is the deadline for filing state and federal income tax returns. As of April 10, nearly 330,000 North Dakota individual income tax returns were proceed.Rauschenberger said people who haven't filed their tax returns as yet may also e-file.
People with tax questions may call 701-328-1247 or go to https://www.nd.gov/tax.
BISMARCK, N.D. (AP) — Efforts to stabilize transit in the Bismarck area have resulted in reduced service that has left some residents with disabilities without a ride.
Some riders have dropped from routes because they live outside city boundaries while others are experiencing long wait times. Some transit users argue that the issues have been ongoing.
The Bismarck Tribune reports that the Bis-Man Transit Board and Bismarck City Commission have proposed measures to resolve paratransit issues in the coming months, but some are skeptical of real change.
Sheryl Stradinger is the mother of two daughters with disabilities. She said she's doing her best to transport her daughter, but that it's a challenge.
Steve Heydt is the president of the Bis-Man Transit Board. He says the board is continuing to look for solutions for the lost service and has formed a committee to help.
GRAND FORKS, (NDNG_- The North Dakota National Guard, along with family, friends and community supporters, recognized more than 200 Soldiers from the 1st Battalion, 188th Air Defense Artillery (1-188th ADA) Regiment Sunday during a formal welcome home ceremony at the Alerus Center in Grand Forks. The event, which was open to the public, celebrated the 1-188th ADA's recent return from the National Capital Region (in and around Washington, D.C.), where they were deployed for a nearly yearlong mission in support of Operation Noble Eagle.
During Operation Noble Eagle, Soldiers with the 1-188th ADA collaborated with personnel from other Department of Defense agencies as part of an integrated air defense system designed to protect airspace around the National Capital Region.
"We offer our deepest gratitude for protecting our nation's capital," said Gov. Doug Burgum. "Our pride in this battalion continues to grow with each deployment. You have proven once again that the North Dakota National Guard has some of the best Soldiers in the country."
Lt. Col. JoDee Aubol, of West Fargo, commands the unit and Command Sgt. Maj. Joshua Entzel, of Bismarck, serves as the unit's senior enlisted leader. Although the unit is headquartered in Grand Forks, it has units in Bismarck and Fargo. The Soldiers hail from communities across North Dakota, as well as cities in Minnesota, California, Nebraska and Wisconsin.
More than 30 Soldiers volunteered to remain on mission with the South Carolina-based 2nd Battalion, 263rd Air Defense Artillery Regiment to continue to support Operation Noble Eagle. They are expected to return to the state later this year.
"Today is about recognizing how you continue to serve our state and our nation," said Maj. Gen. Alan Dohrmann, North Dakota adjutant general. "We're here today to thank you for your volunteerism and your level of commitment, which has made you one of the most relevant units in the U.S. Army."
The most recent National Capital Region mission marked the first deployment for about 80 Soldiers in the unit. More than half of those Guardsmen have been mobilized up to six times.
"The deployment was an overall great experience," said 2nd Lt. Nick Kindelspire, who served as a tactical control officer in the Joint Air Defense Operations Center during the deployment, which was his first. Along with his team members, he was responsible for monitoring the air picture of weapons systems and coordinating with U.S. Air Force personnel.
"Our teams worked together well," he said. "We took a lot of pride in our mission to protect the nation's capital and we developed a strong sense of camaraderie during deployment."
This was the 11th deployment for the 1-188th ADA since 2004, making it the most-deployed unit in the North Dakota National Guard. The unit supported the Operation Noble Eagle mission once before from July 2013 to April 2014. Prior to its National Capital Region mission, the unit deployed to Kosovo as part of a NATO peacekeeping mission, and air defense Soldiers also have deployed six times to Afghanistan and twice to Iraq.
MINNEAPOLIS (AP) — The Minneapolis, St. Paul and Anoka-Hennepin school districts are among those canceling classes as plows continue to clear more than a foot of snow from a record-breaking winter storm.
Minneapolis school officials say they called off classes Monday because it would be difficult for buses to get down side streets and because children might not be visible behind tall snowbanks.
Over the weekend law enforcement worked to keep up with hundreds of traffic accidents. About 750 flights were canceled over the weekend at the Minneapolis-St. Paul Airport.
Snow totals across the Twin Cities metro ranged from 12 to 16 inches.
MINNEAPOLIS (AP) — Hundreds of flights have been canceled in Minneapolis as a deadly storm system sweeps across the central U.S., bringing heavy snowfall, powerful winds and rain to several states.
Officials say one runway reopened at Minneapolis-St. Paul International Airport late Saturday night, hours after all flights were grounded during a spring blizzard. Airport officials say the snow was coming down too fast to keep the runways clear or the planes deiced.
Airport spokesman Patrick Hogan says 469 flights were canceled before one runway reopened shortly after 10 p.m. He says crews are working overnight to get others reopened.
The snowfall is part of a storm system stretching from the Gulf Coast to the Great Lakes. The system moved into the region Friday. At least three deaths have been attributed to the weather in Wisconsin, Nebraska and Louisiana.
SIOUX FALLS, S.D. (AP) — Sioux Falls' airport saw record traffic in 2017 for the seventh consecutive year, but this year could see a drop.
The Argus Leader reports that the Sioux Falls Regional Airport had more than a million passengers go through the airport last year. Airport Executive Director Dan Letellier says the spike is largely due to Frontier adding flights to Las Vegas.
But the airline recently decided to discontinue its direct flights between Sioux Falls and Las Vegas after its surge in flights last summer.
Letellier expects the loss of additional flights to result in an up to 12 percent decrease in seats this year, lowering the passenger totals for 2018.
In sports…
Bismarck  (Game & Fish)  North Dakota Game and Fish has announced dates for their Spring Advisory Board meetings.
Those remaining include:
District 6 – Counties: Barnes, Dickey, Foster, Griggs, Logan, LaMoure, McIntosh, Stutsman and Wells
Date: April 16 – 7 p.m.
Location: Farmers Union Insurance, 1415 12th Ave. SE, Jamestown
Host: Stutsman County Wildlife Federation
Contact: Matt Opsahl, 368-9907
Advisory board member: Cody Sand, Ashley, 357-7011
Jamestown  (CSi)  Wintry weather continues to hamper local sports schedules.
Weather related schedule changes
Jamestown High School baseball has postponed its home contests with Mandan on April 17 and canceled the game against Sheyenne on April 20. Each were set to be played at Jack Brown Stadium.
The Blue Jays are set to open the season at West Fargo on April 21—weather permitting.
Fargo North has canceled its home soccer non-conference game with Jamestown on April 20. The Blue Jays are still scheduled to host Bismarck Century on April 17.
Jamestown High School's golf season opener in boys golf  scheduled to be April 20-21 hosting the Jamestown Invite.
Jamestown Speedway's,  April 28 test & tune has been rescheduled for May 5.
Gates open for the May 5th test at 3 p.m., with practice over at 8 p.m.
Racing opening night is then  postponed a week to May 12.
No races are scheduled for June 30, the weekend of the Stutsman County Fair.
NBA PLAYOFFS
UNDATED (AP) — The Houston Rockets carried the top overall seed into the NBA playoffs Sunday, but they had their hands full against the Minnesota Timberwolves.James Harden hit seven 3-pointers and finished with 44 points as the Rockets pulled out a 104-101 victory over the Wolves. Harden scored the last seven points in a 9-0 run that erased a one-point deficit in the fourth quarter. The league scoring leader provided 11 straight Houston points in the final period.The Timberwolves stayed in the game despite a quiet performance by Karl-Anthony Towns, who had just eight points after averaging 21.3 during the regular season.Andrew Wiggins had a team-high 18 points for Minnesota.Game 2 is Wednesday in Houston.
Checking out Sunday's other playoff openers:— Victor Oladipo (oh-lah-DEE'-poh) poured in 32 points and the Pacers overcame LeBron James' triple-double in a 98-80 victory at Cleveland. Myles Turner had 16 points and a team-high eight rebounds for Indiana, which led 33-12 in the first quarter and handed the Cavs their postseason-opening loss in eight years. James finished with 24 points, 12 assists and 10 rebounds for his 20th career playoff triple-double, but the rest of Cleveland's starters accounted for just 25 points. Game 2 is Wednesday in Cleveland.— Al Horford delivered 24 points and 12 rebounds as the Celtics outlasted the Bucks, 113-107 in overtime. Terry Rozier had 23 points for Boston, which led 99-96 until Khris Middleton nailed a long 3-pointer at the buzzer to force OT. Giannis Antetokounmpo (YAH'-nihs an-teh-toh-KOOM'-poh) led the Bucks with 35 points, 13 rebounds and seven assists before fouling out in overtime. Middleton had 31 points, eight rebounds and six assists for Milwaukee, which stays in Boston for Game 2 on Tuesday.— Paul George shot 8-for-11 from 3-point range and lit up the Jazz for 36 points in the Thunder's 116-108 win over Utah. George had 20 points by halftime and set an Oklahoma City playoff record for 3-pointers in a game. Russell Westbrook had 29 points, 13 rebounds and eight assists for the Thunder, who host Game 2 on Wednesday. Jazz rookie Donovan Mitchell had 27 points and 10 rebounds but was limping in the fourth quarter because of a sore left foot.NHL-STANLEY CUP PLAYOFFS …UNDATED (AP) — The Pittsburgh Penguins have regained home-ice advantage in the first round of the Stanley Cup playoffs by rebounding from Friday's 5-1 loss in the Steel City.Sidney Crosby scored once and had three assists as the Pens thumped the Flyers, 5-1 in Philadelphia. Crosby scored his fourth goal of the series midway through the first period. Evgeni Malkin and Brian Dumoulin (DOO'-muh-lihn) tallied five seconds apart to put Pittsburgh ahead 4-0 seven minutes into the second period.Derick Brassard and Justin Schultz also scored, and Matt Murray turned back 26 shots to help the Penguins take a 2-1 series lead.Game 4 is Wednesday in Philadelphia.

Elsewhere in the Stanley Cup playoffs:

— The Golden Knights are up 3-0 in their first-round series after Cody Eakin, James Neal and William Karlsson scored in an 8:34 span of the third period to lead a 3-2 comeback over the Kings. Marc-Andre Fleury stopped 37 shots and held off Los Angeles after Anze Kopitar (AHN'-zhay KOH'-pih-tahr) scored to make it a one-goal game with 2:04 remaining. Kopitar also had an assist for the Kings, who will try to stave off elimination at home on Tuesday.

— Matt Calvert scored 12:22 into overtime and the Blue Jackets took a 2-0 lead in the first round by downing the Capitals, 5-4 in Washington. Sergei Bobrovsky (boh-BRAHF'-skee) stopped 54 shots and Cam Atkinson scored twice in the Jackets' second straight overtime win against the Caps. Josh Anderson also tallied and set up Calvert's game-winner on a play that was reviewed by the NHL situation room for a possible offside. Alex Ovechkin notched a pair of power-play goals for the Capitals, who blew a 3-1 lead and risk falling behind three-games-to-none on Tuesday.

— The Wild bounced back from consecutive losses at Winnipeg by whipping the Jets, 6-2. Mikael Granlund and Zach Parise (pah-REE'-say) scored power-play goals in the first period to put Minnesota ahead to stay. Jordan Greenway scored his first NHL goal just 20 seconds after Eric Staal beat Connor Hellebuyck (HEH'-leh-buhk), who was pulled after two periods. Devan Dubnyk (DOOB'-nihk) stopped 29 shots for the Wild, who can even the series by winning Game 4 Tuesday at Minnesota.

MLB SCHEDULE…

UNDATED (AP) — The Boston Red Sox have extended the best start in their 118-year history by completing what has become a three-game sweep of the Baltimore Orioles.

Andrew Benintendi and Mitch Moreland each had three hits and the Red Sox received four shutout innings from their bullpen in a 3-1 victory over the Birds. Benintendi tied the game with an RBI triple in the fifth, one inning before J.D. Martinez scored the go-ahead run on a wild pitch.

Boston improved to a major league-best 13-2 under new manager Alex Cora.

The Red Sox were supposed to complete a four-game series with their annual Patriots' Day game. But the game has been postponed with heavy rain in Monday's forecast, leading to a May 17 makeup date.

In other MLB games:

— The Mets improved to a National League-best 12-2 by beating the Brewers, 3-2 on a walk-off, solo homer by Wilmer Flores with two out in the bottom of the ninth. Brandon Nimmo (NIH'-moh) tied the game with a solo blast in the sixth and finished a double shy of the cycle as New York won for the 10th time in 11 games. Noah Syndergaard (SIHN'-dur-gahrd) struck out eight straight batters and left after fanning 11 while allowing no earned runs over 5 1/3 innings.

— The Dodgers had dropped 11 straight regular-season games to the Diamondbacks before Clayton Kershaw struck out 12 while tossing two-hit ball over seven innings to lead Los Angeles to a 7-2 win against Arizona. Kershaw blanked the DBacks until Paul Goldschmidt led off the seventh with a round-tripper. Chris Taylor homered, doubled and drove in three runs to help the Dodgers stop a three-game skid.

— Starling Marte was 5-for-5 with a solo homer and four runs scored as the Pirates topped the Marlins, 7-3 to move to 11-4. Josh Bell had three hits and three RBIs to back Ivan Nova, who struck out nine while yielding three runs over 6 2/3 innings. Corey Dickerson ran his hitting streak to 10 games by going 2-for-4 with two RBIs.

— The Phillies ran their winning streak to six games as Aaron Altherr (AHL'-tehr) hit a three-run homer and rookie Scott Kingery laced a three-run double in a 10-4 drubbing of the Rays. Kingery has 12 RBIs in his last eight games, helping Philadelphia improve to a surprising 9-5. Reliever Yacksel Rios went 1 1/3 scoreless innings as the Phils swept a series of at least three games from an AL East team for the first time since June 2003 at Baltimore.

— Ian Desmond haunted his ex-team by drilling a two-out, solo homer in the ninth inning of Colorado's fourth win in five games, 6-5 at Washington. Charlie Blackmon also went deep and poked a two-run single that tied the game 3-3 against Stephen Strasburg in the sixth. Bryce Harper slammed his major league-leading seventh homer for the Nationals, who dropped three of four in the series to fall to 7-9.

— The Padres beat the Giants for the third straight day as Joey Lucchesi struck out nine over six innings of San Diego's 10-1 laugher. Fellow rookie Christian Velazquez homered, doubled and had three RBIs, while teammate Jose Pirela drove in three runs in the Padres' fifth win in seven games. Losing pitcher Tyler Beade was chased during a three-run fourth as the Giants lost for the fourth time in five games.

— Carlos Martinez waited through a rain delay before fanning a season-high 11 batters in seven shutout innings of the Cardinals' 3-2 triumph at Cincinnati. Harrison Bader's two-run home run helped the Redbirds complete their first four-game sweep in Cincinnati since 1949. The Reds are 2-13 and off to their worst start since the 1931 squad opened 2-17.

— Bartolo Colon carried a perfect game into the eighth inning and Robinson Chirinos (chih-REE'-nohs) drove in the Rangers' runs in a 3-1, 10-inning victory at Houston. The 44-year-old Colon retired 21 straight hitters until Carlos Correa led off the eighth with a walk and Josh Reddick doubled one batter later. Chirinos delivered a two-run double in the 10th after homering for the only hit against Justin Verlander, who struck out 11 over eight innings.

— Jed Lowrie hit an early two-run homer off Felix Hernandez to send the Athletics past the Mariners, 2-1. Sean Manaea fired two-hit ball over seven innings and blanked Seattle until Taylor Motter's fifth-inning blast. The M's were unable to complete a three-game sweep despite Hernandez, who allowed just two runs and five hits with seven strikeouts and no walks over 6 1/3 innings.

— Six other games were postponed by rain or snow, including the Yankees' doubleheader with the Tigers in Detroit. The Indians and Blue Jays were rained out in Cleveland, as were the Royals and Angels at Kansas City and the Cubs-Braves clash at Wrigley Field. The Twins and White Sox were snowed out in Minnesota, wiping out the last three games of their four-game set.
MINNEAPOLIS (AP) — Rows of blue suitcases lined the hallway leading into the Minnesota Twins' clubhouse, signs of a trip the chilled players can't wait to take. Three straight postponements due to snow is only heightening the anticipation for this week's series in Puerto Rico.
GOLF-RBC HERITAGEHILTON HEAD ISLAND, S.C. (AP) — Satoshi Kodaira picked up his first PGA victory by storming back from a six-shot deficit in the final round of the RBC Heritage at Harbour Town Golf Links. Kodaira shot a 5-under 66 for a 12-under total before sinking a 25-foot birdie putt on the third playoff hole to beat Si Woo Kim.Bryson DeChambeau and Luke List finished one shot back and one ahead of Billy Horschel and Webb Simpson.Ian Poulter was in line for his second Tour victory in three starts before closing with a 75 that left him three shots off the pace.NASCAR-BRISTOLCompletion of Bristol race postponed to MondayBRISTOL, Tenn. (AP) — NASCAR says the completion of the Cup Series race at Bristol Motor Speedway has been postponed until Monday.The postponement comes just 46 laps shy of the race becoming official.

NASCAR hopes to complete the final 296 laps of the 500-lap race today, but there is also a chance for more rain with a possibility of some snow.

Kyle Larson is the leader.
LOS ANGELES (AP) — Jack Sears and Matt Fink both think they're far more prepared to be Southern California's next starting quarterback after spring football. They also realize the competition for Sam Darnold's old job won't really begin until after incoming freshman J.T. Daniels joins them in the summer. Daniels is one of the nation's top quarterback prospects after going 15-0 at Mater Dei last season, and he attended almost every spring practice. Coach Clay Helton is months away from naming a starter.
T25 COLLEGE FOOTBALL-BORENOklahoma president Boren expected to recover from strokeUNDATED (AP) — University of Oklahoma President David Boren is expected to make a full recovery after having a minor stroke minutes before the unveiling of a statue honoring former Sooners football coach Bob Stoops on Saturday.The school sent the update saying Boren is expected to be released from the OU Medical Center in Oklahoma City in the coming days.The 76-year-old Boren was Oklahoma's governor and a U.S. Senator before becoming the university's president in 1994.NFL NEWS…PHILADELPHIA (AP) — The Philadelphia Eagles have released cornerback Daryl Worley, hours after he was arrested.NFL Network reported that Worley was arrested Sunday morning near the team's practice facility and that police used a Taser on him after he became combative. The report also said a gun was found in Worley's vehicle.The team first issued a statement that it was investigating Worley's arrest and later announced he was cut.
In world and national news…
WASHINGTON (AP) — Former FBI Director James Comey has further escalated his war of words with President Donald Trump in an ABC News interview ahead of the release of his forthcoming book. Comey said that Trump is "morally unfit" for office and there is "some evidence of obstruction of justice" in the president's actions. Hours before the interview aired Sunday, Trump took to Twitter, labeling Comey "slippery" and suggesting that he should be put in jail.WASHINGTON (AP) — The United States intends to impose new economic sanctions against Russia for enabling the government of Syrian leader Bashar Assad in its use of chemical weapons. The U.S. ambassador to the U.N., Nikki Haley, says the sanctions will be announced Monday to send a message to Moscow, which she says has blocked six attempts by the U.N. Security Council to make it easier to investigate the use of chemical weapons.BEIRUT (AP) — Hundreds of Syrians have gathered in a landmark square in the capital of Damascus in support of their armed forces, which they say succeeded in confronting the unprecedented joint airstrikes over the weekend. The rally was broadcast live on Syrian state media. Protesters waved Syrian flags at the demonstration, dubbed a "salute to the achievements of the Arab Syrian Army," set off fireworks and unleashed celebratory gunfire.COLUMBIA, S.C. (AP) — A prisons spokesman says 7 inmates were killed and at least 17 others were seriously injured after fights broke out between prisoners inside a maximum security prison in South Carolina. Spokesman Jeff Taillon announced the grim outcome after State Law Enforcement Division agents helped secure Lee Correctional Institution around 3 a.m. Taillon said no officers were wounded. The facility houses about 1,500 inmates, some of the state's most violent and longest-serving offenders.HOUSTON (AP) — Former first lady Barbara Bush is said to be in "failing health." A family spokesman says the 92-year-old Mrs. Bush has decided not to seek additional medical treatment and will instead focus on comfort care." Spokesman Jim McGrath hasn't elaborated as to the nature of Bush's health problems. She's at home in Houston.