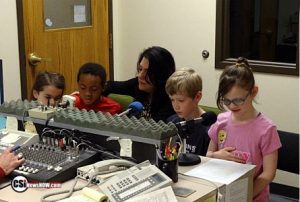 (CSi)  Earth Day 2018 is April 22nd, and students at St. John's Academy in Jamestown are working on their Earth Day projects.
On The Wayne Byers Show on CSi Cable 2, students in grades K-6 will read their earth saving tips and / or give a brief demonstration on how to help save the earth.
While on our show, videos are being made of the students, on the program, accompanied by Marlys Fix.
Now showing on CSi Channel 10, The Replay Channel. The edited video presentation is  available to purchase through CSi.
Listed below is the schedule, what days the grades appeared.
Tues., April 17 – 1st grade
Wed., April 18 – 2nd grade
Thurs., April 19 – No presentation this day
Fri., April 20 – 3rd grade
Mon., April 23 –4th grade
Tues., April 24 – Kindergarten
Wed., April 25 – 5th grade
Thurs., April 26 – 6th grade