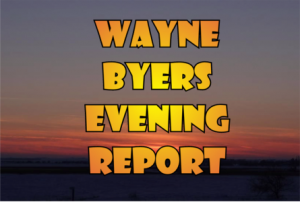 CSi Weather…
.TONIGHT…Increasing clouds. Lows in the upper 20s. Southeast winds 5 to 10 mph.
.TUESDAY…Partly sunny. Highs in the lower 40s. Southeast winds 10 to 15 mph.
.TUESDAY NIGHT…Mostly cloudy. Chance of snow possibly mixed with rain and freezing rain in the evening, then chance of snow possibly mixed with freezing rain after midnight. Lows in the upper 20s. Northeast winds 5 to 10 mph. Chance of precipitation 40 percent in the Jamestown area, 30 percent in the Valley City area.
.WEDNESDAY…Cloudy. Chance of snow possibly mixed with rain and
freezing rain in the morning, then chance of rain in the
afternoon. Highs in the upper 30s. North winds 5 to 10 mph.
Chance of precipitation 50 percent in the Jamestown area, 40 percent in the Valley City area.
.WEDNESDAY NIGHT…
Mostly cloudy. A 20 percent chance of rain, freezing rain and snow in the evening. Lows in the upper 20s.
.THURSDAY…Mostly sunny. Highs in the mid 40s.
.THURSDAY NIGHT…Partly cloudy. Lows in the upper 20s.
.FRIDAY…Partly sunny. Highs in the upper 40s.
.FRIDAY NIGHT…Decreasing clouds. Lows in the lower 30s.
.SATURDAY…Mostly sunny. Highs around 50.
.SATURDAY NIGHT…Partly cloudy. Lows in the lower 30s.
.SUNDAY…Partly sunny. Highs in the lower 50s.
Rain is the expected then a mix of rain and snow for Tuesday night into Wednesday.
A small potential for light freezing rain early Wednesday morning, but
duration and amounts should be minimal.
After this system exits, expect mainly dry conditions with a slow
warming trend through Sunday.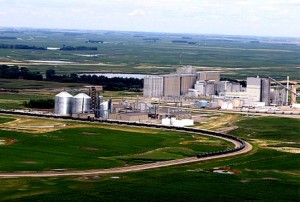 Spiritwood (Cargill)  Officials report that the Cargill Malting Plant located at the Spiritwood Energy Park will close in October this year.
Cargill Corporate Communications spokesperson April Nelson says the 55 employees at Spiritwood,  may apply for other open positions at Cargill, either in North Dakota or other locations.
She says, "The decision to close a plant is never easy, but reduced demand for 6-row crops, a North Dakota climate not conducive to the more in-demand 2-row crop and low utilization of the plant made the closure necessary.  We want this decision to have the least impact possible on North Dakota growers. Growers were notified that Cargill would not continue its Contract growing program prior to the 2018 season so they could make alternate contracting and growing choices."
Cargill Malt will honor all existing contracts, supplying malt out of Spiritwood until the end of September 2018.
Nelson says Cargill has worked with employees, in several transition benefits such as severance for salaried employees and will be working closely with the union regarding the effects of this decision for bargaining unit employees.
Nelson says Cargill still has over 200 employees at facilities in North Dakota.
She adds, "Cargill remains committed to North Dakota. We employ approximately 230 North Dakotans at our West Fargo and Wahpeton facilities, and will continue our support and investment in those communities."
The Spiritwood Cargill Malt Plant processes barley into malt for the beer and malt beverage industry.
Jamestown (CSi)  The Jamestown City Council met in Special Session Monday at 4-p.m. at City Hall.
Council Member Phillips was not present.
Council Members approved the appointment of Perry Kuss as City Water Superintendent.
The pay range is  63   Step  14  at the rate of   $6,561   per month.
Kuss is presently employed by Stutsman Rural Water.
Mayor Andersen said there were  five applicants for the position, and two individuals were interviewed by the committee consisting of Mayor Andersen, City Administrator, Helleckson, and Deputy Auditor Sveum.
Also, the City Council awarded the bid for the access road and retaining wall repairs to Frontier Village in the amount of $161,899  to  Border States Paving , contingent upon approval of the North Dakota Department of Transportation's SRF Funds  which amount to 60 percent of the total costs, the balance will be special assessed to adjacent property owners, including lessees, from the city, and the water treatment plant, along with The National Buffalo Museum.
Interstate Engineering says the work is to start as soon as feasible.
The Meeting  was shown live on CSi Cable 67.
Bismarck  (CSi)   North Dakota Aeronautics Commission reports Jamestown airline boardings were off in March this year compared to March 2017.  The numbers show that in March this year Jamestown boardings were put at 1,028 compared to 1,266 in March 2017, a decrease of 18.8%. Year to date number show Jamestown boardings so far this year through March were 2,984 compared to 3,327 boardings through March of 2017, a decrease of just over 10%
Jamestown (UJ)   Plans are underway at the University of Jamestown for the 32nd Annual Dine and Bid "Knight at the Oscars." The benefit auction will take place Saturday, April 21 in the new Harold Newman Arena on the University of Jamestown campus. A social will begin at 5:30 p.m., with dinner to follow at 6:30 p.m.
The event features the opportunity to bid on an array of unique items in silent and live auctions and the chance to win exciting raffles throughout the evening. Several unique items will be auctioned including a vacation at a beachfront home in Belize, as well as tickets to Hamilton. All proceeds benefit student scholarships.
University of Jamestown students get involved in the event by providing entertainment via a talent competition, managing valet parking, greeting attendees, displaying items, serving the meal, and assisting with delivery of large auction items to buyers' homes.
This year's Dine and Bid will feature two emcees, Warren Abrahamson (a 2013 UJ graduate) and Casey Stoudt. Dinner will be provided by a Sodexo executive chef. The event is open to the community. Tickets can be purchased at uj.edu/dine-and-bid.
Jamestown  (CSi)  Freedom Resource Center For Independent Living in Jamestown announces a presentation, "Disaster Planning for People with Disabilities on Thursday May 3rd from 1:30-p.m., to 3:30-p.m., at the Jamestown Law Enforcement Center's, low level meeting room.
To register, call Beth in Jamestown at 701-252-4693.
The Freedom in Action class will cover;
Disaster Risks in your community.
Learn how you prepare for a disaster
Who is your network of support in time of disaster
Learn what your disaster resources are.
Jamestown  (CSi)  Earth Day 2018 is April 22nd, and students at St. John's Academy in Jamestown are working on their Earth Day projects.
On The Wayne Byers Show on CSi Cable 2, students in grades K-6 will read their earth saving tips and / or give a brief demonstration on how to help save the earth.
While on our show, videos are being made of the students, on the program, accompanied by Marlys Fix,  with the video to be shown on CSi 10 The Replay Channel.
Showing dates will be announced.
The edited video presentation will then be available to purchase through CSi.  More information to follow.
Listed below is the schedule.
Tues., April 17 – 1st grade
Wed., April 18 – 2nd grade
Thurs., April 19 – No presentation this day
Fri., April 20 – 3rd grade
Mon., April 23 –4th grade
Tues., April 24 – Kindergarten
Wed., April 25 – 5th grade
Thurs., April 26 – 6th grade
WASHBURN, N.D. (AP) — The North Dakota Game and Fish Department has closed access to West Arroda Lake in Oliver County due to dangerous ice conditions caused by rapidly receding water levels.
Game and Fish staff during a routine April 10 inspection observed soil erosion around the outlet of the dam formed by a state highway about 20 miles west of Washburn. The lake is being drained so further inspections can be made.
The lake level will remain low through the spring and summer, and possibly longer if repairs are necessary. The low water will make the boat ramp unusable and also make shore-fishing difficult.
East Arroda Lake isn't affected, and the wildlife management area surrounding the lake remains open.
WILLISTON, N.D. (AP) — A Williston physical education teacher accused of child sex abuse is facing more charges.
Everest Moore was arrested last month on three counts of gross sexual imposition stemming from incidents allegedly involving sexual misconduct with three girls under the age of 15.
KXMC-TV reports that the 28-year-old Moore was arrested last week on two more charges of gross sexual imposition. His bond was set at $70,000.
Moore was placed on administrative leave by St. Joseph's Catholic School in February, following allegations of employee misconduct.
Moore's attorney, Jeff Nehring, said during a bond hearing last week that his client turned himself in on the new charges and has no prior criminal history.
MINOT, N.D. (AP) — A Makoti man has been sentenced to serve 10 months in prison for breaking into a Minot restaurant and setting the business on fire after drinking at a bar.
Authorities say 22-year-old Anthony Frederick smashed a window at Gourmet Chef on Jan. 4, trashed the business, set it on fire and then rummaged through a vehicle outside. The business was forced to shut down for two days for cleanup and repairs.
The Minot Daily News reports Frederick pleaded guilty to three felonies including criminal mischief and endangering by fire, and authorities dropped a burglary count.
Frederick was ordered to pay nearly $44,000 in restitution to the restaurant and $1,350 in court costs.
BISMARCK, N.D. (AP) — A 4-year-old Mandan girl in need of a double lung transplant has landed in Houston, Texas with her parents thanks to private donors.
Danica Stockwell is unable to fly commercial because of her lung disease and weakened immune system and needed to be evaluated at Texas Children's Hospital in Houston before she can be placed on its transplant waiting list.
The cost of a medical flight ranges from $13,000 to $21,000 one-way. The non-profit organization, Aero Angel, stepped in and secured a private jet for Danica and her parents. The Bismarck Tribune says the family departed Bismarck Municipal Airport for Houston Sunday afternoon.
Danica was diagnosed with the disease when she was a baby.
BISMARCK, N.D. (AP) — Trial has been set for late next year in a racial discrimination lawsuit brought by six workers on a gas plant construction site in North Dakota's oil patch.
The Bismarck Tribune reports the six workers, all of whom are black, are suing California-based KS Industries for incidents that allegedly happened between 2012 and 2014. They say they were victims of racially offensive graffiti and harassment, and unfair employment practices and work assignments.
The company says any issues resulted from the acts of the plaintiffs, including violation of company policies and procedures. The company also says the workers' firings were not related to their race, and that the workers didn't follow the company's internal grievance procedures.
The case is to be heard Oct. 22, 2019, in federal court in California's Eastern District.
BISMARCK, N.D. (AP) — The North Dakota Industrial Commission will consider a task force's recommendations on how to reduce wasteful flaring of excess natural gas in the oil patch and spur infrastructure development.
The Bismarck Tribune reports that the commission will meet with the North Dakota Petroleum Council task force on Tuesday. The meeting comes as the oil industry is advocating for the state to keep its current gas capture targets but revise its natural gas flaring policy.
Companies captured nearly 90 percent of Bakken gas produced statewide in February, exceeding North Dakota's current requirement of capturing 85 percent.
North Dakota's requirement will increase to 88 percent in November, a level regulators and industry leaders have cautioned could be difficult to meet as natural gas production is expected to continue breaking records.
MINNEAPOLIS (AP) — Records fell as an April snowstorm blanketed the Upper Midwest.
The National Weather Service says the 14.9 inches (37.8 centimeters) at Minneapolis airport from Friday through Sunday set a record for the largest April snowstorm ever there. It's also the snowiest April on record in the Twin Cities. And it's the snowiest start to a calendar year there, with 70.3 inches (178.6 centimeters) since Jan. 1.
In South Dakota, Sioux Falls set records for a single day in April at 13.7 inches (34.8 centimeters) Saturday and a record April total of 24.9 inches (63.2 centimeters). Huron and Mitchell set two-day record totals for April of 15.5 (39.4 centimeters) and 16.2 inches (41.1 centimeters) respectively.
In Wisconsin, the storm ranks as the all-time second largest snowstorm in Green Bay at 23.5 inches (59.7 centimeters) and a record April total of more than 35 inches (89 centimeters) there.
ST. PAUL, Minn. (AP) — Minnesota lawmakers may set up a task force to study ways to reduce violence against Native American women.
Democratic Rep. Mary Kunesh-Podein says the idea would be to investigate the prevalence of violence and the underlying factors that contribute to it. The task force would report back to lawmakers with recommendations to attack the problem.
Department of Health data show Native American women in the state were seven times more likely to be murdered than white women between 1990 and 2016. But lawmakers and activists on the issue say more data is needed on the problem.
In sports…
Madison, S.D. (NSAA) – The North Star Athletic Association (NSAA) announces its eighth edition of Baseball Players-of-the-Week honors.
Grant Wehesler of Valley City State was selected as Player-of-the-Week. Shane Groth of Jamestown was chosen as the Pitcher-of-the-Week.
Grant Wehesler – Valley City State – 6'3″ – Junior – First Baseman – Owatonna, Minn. – Wehseler batted .667 and had a .765 on-base percentage as he helped Valley City State go 3-1 record against Dakota State. He finished the four-game series by going 6-for-9 at the plate with eight runs scored, two home runs, a double and drove in six runs.  Wehseler also walked five times. He registered a slugging percentage of 1.444 during the four-game series.
Shane Groth – Jamestown – 5'11" – Junior – Pitcher – Prineville, Ore. – Groth scattered six hits and allowed two runs in 5-2 complete game victory for No. 15-ranked Jamestown over Waldorf. He struck out a career-high 10 batters and did not issue a walk in his first complete game of the season. Groth is now 4-1 record with an earned run average (ERA) of 1.97 in six starts with a 4:1 strikeout to walk ratio.
BOSTON (AP) — Desiree Linden splashed her way through icy rain and a near-gale headwind to win the Boston Marathon on Monday, the first victory for an American woman since 1985.The two-time Olympian and 2011 Boston runner-up pulled away at the end of Heartbreak Hill to win in 2 hours, 39 minutes, 54 seconds. That was more than four minutes better than second-place finisher Sarah Sellers — one of seven Americans in the top 10 — but the slowest time for a women's winner in Boston since 1978."It's supposed to be hard," said Linden, who wiped the spray of rain from her eyes as she made her way down Boylston Street alone. "It's good to get it done."Yuki Kawauchi passed defending champion Geoffrey Kirui as they passed through Kenmore Square with a mile to go to win the men's race in 2:15:58 and earn Japan's first Boston Marathon title since 1987. Kirui slowed and stumbled across the Copley Square finish line 2:25 later, followed by Shadrack Biwott and three other U.S. men."For me, it's the best conditions possible," Kawauchi said with a wide smile through an interpreter.On the fifth anniversary of the finish line explosions that killed three and wounded hundreds more, Linden and Kawauchi led a field of 30,000 runners through a drenching rain, temperatures in the mid-30s and gusts of up to 32 mph on the 26.2-mile trek from Hopkinton.In Copley Square, Crowds only partly thinned and muffled by the weather greeted Linden with chants of "U-S-A!"Lisa Larsen Weidenbach's 1985 victory was the last for an American woman — before the race began offering prize money that lured the top international competitors to the world's oldest and most prestigious annual marathon. Linden, a California native who lives in Michigan, nearly ended the drought in 2011 when she was outkicked down Boylston Street and finished second by 2 seconds during yet another Kenyan sweep.But the East Africans who have dominated the professional era of the race had their worst performance in decades. Kirui was the only Kenyan in the top ten for the men's race; defending champion Edna Kiplagat, who was ninth, helped prevent a shutout in the distaff division.Hometown favorite Shalane Flanagan, a four-time Olympian and the reigning New York City Marathon champion, finished sixth after popping into a course-side portable toilet before the halfway point and falling behind the lead pack.Marcel Hug of Switzerland earned his fifth wheelchair victory, pushing though puddles that sent the spray from their wheels into his eyes. American Tatyana McFadden, won the women's wheelchair race for the fifth time, wore two jackets, with a layer of plastic between them and hand warmers against her chest."It was just tough, it was so freezing," Hug said through chattering teeth as a volunteer draped a second towel around his shoulders. "I'm just very glad that I made it."
BRISTOL, Tenn. (AP) —  Kyle Busch has won the rain-delayed Cup Series race on a cold, dark day at Bristol Motor Speedway.
Busch passed Kyle Larson with five laps remaining to win his second straight Cup Series race.
It is Busch's 45th career Cup win and marks the fifth time in his career that he has won back-to-back races; he won last week at Texas.
It also Busch's seventh victory at Bristol.
Larson finished second while Jimmie Johnson finished third to claim his first top-five finish of the season. Ricky Stenhouse Jr. was fourth and Alex Bowman finished fifth.
Larson led 200 of the 500 laps but had to hold off Busch and Stenhouse after a restart with 22 laps remaining in the race.
In world and national news…
NEW YORK (AP) — Porn actress Stormy Daniels has arrived at a New York City courthouse for a hearing about an FBI raid targeting President Donald Trump's personal lawyer. The raid sought information about a variety of matters, including a $130,000 payment made to Daniels. She says she had sex with a married Trump in 2006.
BEIRUT (AP) — The European Union has strongly defended the landmark 2015 nuclear deal with Iran and declined to impose new sanctions despite Tehran's actions in Syria. EU foreign affairs chief Federica Mogherini said that "this was not foreseen to be a decision today," adding that further consideration on how to deal with Iran's role in the Syrian conflict "will happen in the coming days or weeks."
SAN DIEGO (AP) — Two U.S. officials say California has rejected the federal government's initial plans to send the state's National Guard troops to the border because the work is considered too closely tied to immigration enforcement. California told federal officials late last week it will not allow its troops to fix and repair vehicles, operate remotely-controlled surveillance cameras and perform other tasks under a Trump plan to send troops to the border.
WASHINGTON (AP) — White House press secretary Sarah Huckabee Sanders says President Donald Trump saw "bits and pieces" of the ABC News interview with former FBI Director James Comey but didn't watch it all. She carried on a war of words between Trump and Comey as the president flew to Florida. Sanders asserted that Comey has "proven to be dishonest." Comey said in the interview that Trump is "morally unfit" for office.
LAKE FOREST, Ill.–(BUSINESS WIRE)–Apr 10, 2018–Tenneco (NYSE: TEN), one of the world's leading designers, manufacturers and distributors of Ride Performance and Clean Air products and technology solutions for diversified markets, announced today that it has signed a definitive agreement to acquire Federal-Mogul, a leading global supplier to original equipment manufacturers and the aftermarket. Federal-Mogul is being acquired from Icahn Enterprises L.P. for a total consideration of $5.4 billion to be funded through cash, Tenneco equity and assumption of debt.