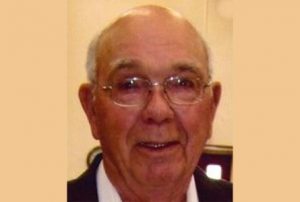 Harold Osborne, age 90, of Jamestown, ND, passed away at his home Saturday, April 14, 2018.
Harold Osborne was born in Bowbells, North Dakota, on April 11, 1928, to Mary and Donald Osborne.  Harold's parents moved to the Wimbledon area in 1948, when they purchased part of the Durupt Farms in Gray township, Stutsman County.
Harold attended UND after graduating high school in Bowbells, ND, and returned to the farm in Wimbledon to farm and raise purebred Columbia Sheep.  Harold married Shirley Burke of Northgate, ND, in 1948.  They had four children who were all born in the 1950s; Linda Stewart (Lori), Baja California, Mexico; Carole Attleson, Jamestown, ND; Dianne Doll (Tim), New Salem, ND; and Donald (Anne), Wimbledon, ND.   Shirley passed away in 2000.
Harold served on the school board in Wimbledon, and many national and state committees with the Columbia Sheep Association, North Dakota Lamb and Wool Growers Association, and was a representative for the American Sheep Industry Association.  He enjoyed exhibiting his sheep at the ND Winter Show and many National sheep shows all over the country.
Harold had 11 grandchildren; 12 great grandchildren; and a sister, Marilyn Devine, Coon Rapids, MN.
Harold spent his last 18 years with special friend Charlotte Bellon of Jamestown.  They enjoyed dancing, playing cards, traveling to Mesa, Az, and visiting friends and relatives.
Harold is preceded in death by his parents; Shirley; older brother Chub and sister-in-law Vera (Cambridge, MN), younger brother Bob (Brainerd, MN), younger sister Betty (Aberdeen, SD), and brother-in-law, Larry Devine.  Bob's wife, Sharon Osborne is living in Brainerd, MN, and Betty's husband, Marv Maule, lives in Aberdeen, SD.
Memorial Service: 11;00 a.m., Saturday, April 21, 2018 at St. John's United Methodist, Wimbledon, ND, with Pastor Becky Holten officiating.
Inurnment: Prairie View Cemetery, Wimbledon, at a later date.
Eddy Funeral home handling the arrangements.