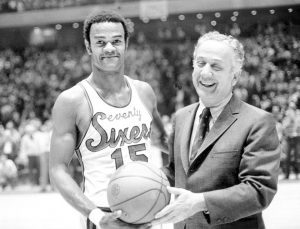 (Syracuse.com) Former Philadelphia 76ers  star and Basketball Hall of Famer Hal Greer is dead at age 81.
The Philadelphia 76ers announced Monday that Greer died Saturday night in Arizona after a brief illness. Greer was a guard drafted to the NBA in 1958 by the Syracuse Nationals; the team moved to Philly in 1963 and became the 76ers.
Greer spent all 15 seasons of his pro basketball career with the organization, helping lead the 76ers to an NBA championship in 1967 with Wilt Chamberlain. Greer finished his career with 21,586 points and remains the 76ers' career leader in field goals, field goals attempted, games and minutes played.
Despite moving to Philadelphia, the team agreed to continue playing several games in Syracuse each season for several years. Greer was part of the 76ers squad that saw Chamberlain make a record 35 consecutive field goals — an NBA record that still stands today — at the War Memorial in 1967.
Greer was the first player on the 76ers to have his number (15) retired by the team in 1976. The Associated Press reports he was also the first to be honored with a sculpture on the 76ers Legends Walk at the team training complex in 2017.
Greer was also a 10-time NBA All-Star and named MVP of the All-Star game in 1967. He was also named one of the 50 greatest players of all time in 1996, joining legends like Michael Jordan, Larry Bird, Kareem Abdul-Jabbar and Dave Bing on the NBA 50th Anniversary All-Time Team.