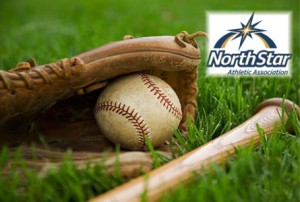 Madison, S.D. (NSAA) – The North Star Athletic Association (NSAA) announces its eighth edition of Baseball Players-of-the-Week honors.
Grant Wehesler of Valley City State was selected as Player-of-the-Week. Shane Groth of Jamestown was chosen as the Pitcher-of-the-Week.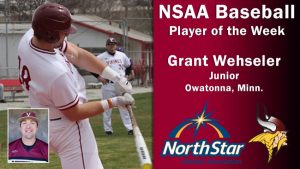 Grant Wehesler – Valley City State – 6'3″ – Junior – First Baseman – Owatonna, Minn. – Wehseler batted .667 and had a .765 on-base percentage as he helped Valley City State go 3-1 record against Dakota State. He finished the four-game series by going 6-for-9 at the plate with eight runs scored, two home runs, a double and drove in six runs.  Wehseler also walked five times. He registered a slugging percentage of 1.444 during the four-game series.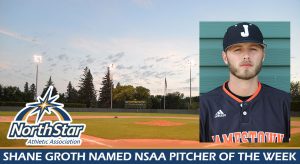 Shane Groth – Jamestown – 5'11" – Junior – Pitcher – Prineville, Ore. – Groth scattered six hits and allowed two runs in 5-2 complete game victory for No. 15-ranked Jamestown over Waldorf. He struck out a career-high 10 batters and did not issue a walk in his first complete game of the season. Groth is now 4-1 record with an earned run average (ERA) of 1.97 in six starts with a 4:1 strikeout to walk ratio.