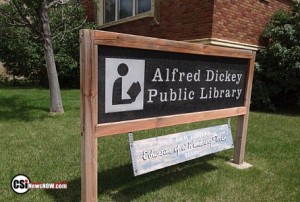 Jamestown  (CSi)  Nill Construction of Jamestown has been awarded the contract for the upcoming improvement project at the Alfred Dickey Public Library, downtown.
The James River Valley Library System approved the contract, and at the recent monthly meeting reviewed the timeline, for the Centennial Initiative with project work anticipated to start May 21 this year.
The contract with Nill is  $376,300 as the business will perform interior and exterior work.
The project's estimated cost is $502,640.
The Alfred Dickey Public Library will celebrate its one hundredth birthday in 2019.
Work is anticipated to be completed by the end of August this year.
JRVLS Director, Joe Rector says work will include, the library's collection of fiction work and periodicals, along with other upstairs improvements.
Rector notes that when work begins in the upstairs and downstairs main areas and in the children's library, the Alfred Dickey Library will be closed so exterior and interior construction can be  completed.
Rector points out that  the Stutsman County Library will be open, during work at the Alfred Dickey Public Library.