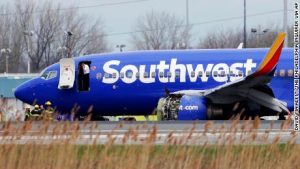 PHILADELPHIA (AP) — A Southwest Airlines jet with a damaged engine and window made an emergency landing Tuesday at Philadelphia's airport,  and one passenger died of her injuries. A former federal investigator theorized the plane blew an engine and the shrapnel hit the aircraft.
Seven other people aboard the Boeing 737 that was headed from New York's LaGuardia Airport to Dallas' Love Field were treated for minor injuries, according to Philadelphia Fire Commissioner Adam Thiel. He said there was a fuel leak in one of the engines when firefighters arrived and a small fire was quickly brought under control.
Southwest said there were 143 passengers and five crew members on board the plane and most walked onto the tarmac after landing around 11:20 a.m.