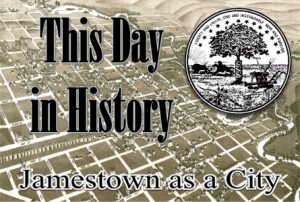 This Day In History, April 20, 1883 – Dakota Territory proclaims  Jamestown as a City . . . .  from the 125th Anniversary Calendar of Jamestown History
The Great Seal of Dakota Territory affixed by James H. Teller to document proclaiming Jamestown as a City.
The community had outgrown the village form of government it had operated under. That winter a bill was passed by the territorial assembly incorporating Jamestown as a city. The first city elections were held in April 1883.(*1)
Johnson Nickeus, born in 1850, played a number of roles in the final years of Dakota Territory.  He was an attorney in Jamestown who served two terms on the Territorial Legislative Council, which included the last session at Yankton and the first one at Bismarck.
In 1883, Nickeus introduced the bill to incorporate the city of Jamestown, which passed up to Governor Nehemiah Ordway, who for whatever reason, didn't sign or veto the legislation, so Territorial Secretary James H. Teller affixed the territory's Great Seal to make the incorporation official.(*3)
The town of Jamestown, North Dakota.  Jamestown is one of the oldest cities in North Dakota. It was founded in 1872, before the county it resided in existed – actually, before any official county in the entire Dakota Territory existed! That's including both North and South Dakota.(*2)
(1)-Jamestown Alert
(2)-http://www.onlyinyourstate.com/north-dakota/jamestown-nd/
(3)-http://news.prairiepublic.org/post/last-territorial-ag