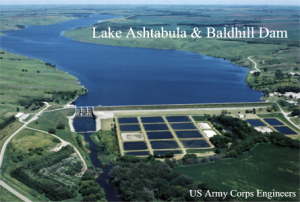 St.Paul  (CSi) – The U.S. Army Corps is delaying the start to the recreation season at Lake Ashtabula, near Valley City, North Dakota, due to weather.
Lake Ashtabula park ranger  Scott Tichy says, "Due to heavy snow, frost and lake ice we're waiting until May 15 to open the parks. It will take a little longer for the snow to melt, and then a week or so after that for the ground to dry up. The late thaw will inhibit utilities, such as electric hook-ups and showers, as well as access to the campground and lake."
The closure affects all facilities on Lake Ashtabula, including the park's seven boat launching ramps and recreation areas. The Lake Ashtabula Recreation Area typically opens May 1, and individuals having already booked those reservations have been contacted and refunded.
For information on all of the district's recreation areas, please visit: http://www.mvp.usace.army.mil/Missions/Recreation/.