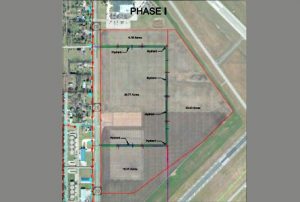 Jamestown  (CSi)  The Jamestown/Stutsman Development Corporation (JSDC) Board of Directors, has approved a lease agreement for Jamestown Regional Airport's 97 acres of land on Highway 20, south of UTC Aerospace Systems.
The least agreement is from June 1, 2018, to May 31, 2027. In the first year of the lease,the JSDC will pay the Airport Authority $112.17 per acre, and increases,  three percent each year of the lease.
The JSDC plans to sublease most of the property to Reimers Land Legacy LLC,  for six months, which plans to grow crops there, for $112.17 per acre annually, expiring on December 31st.
JSDC Business Development Director Corry Shevlin said the difference between the amount the JSDC pays to the Airport Authority and the amount the JSDC receives from Reimers for subleasing the land will be included in the construction costs for the project.
The board also approved  contracting with Border States Paving for $2.17 million to install the road for the airport industrial park.
The project includes infrastructure for water, sanitary sewer and a storm water sewer.
Corp. for $124,362 will perform, the electrical infrastructure work for the
The Airport Authority takes action on approving the lease agreement with the JSDC at its May meeting.