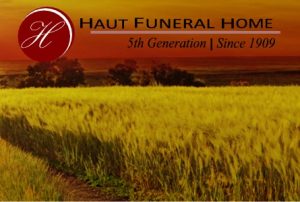 Lorraine Jean Foerderer, 70, Medina, ND, died Saturday May 12, 2018 at her home surrounded by her family after a courageous battle with cancer.
Lorraine Werth was born October 19, 1947 at Lehr, ND, the daughter of Julius and Hulda (Rueb) Werth. She received her education and graduated from Lehr High School.
Lorraine married Roger Foerderer, the love of her life, on June 23, 1966 in Wishek, ND. She was a devoted wife and mother to their 4 children. She did house cleaning for many people and helped Roger around the farm.
Lorraine was a lifetime member of the Seventh-Day Adventist Church. She was dedicated in her mission work to spread the Gospel. Lorraine enjoyed shopping and crafting.
She is survived by her husband of almost 52 years, Roger, Medina, ND; 4 children, Theresa (Steve) Sund, Medina, ND; Gerald (Laurie) Foerderer, Volborg, MT; Joel (Alisa) Foerderer, Cleveland, ND; Joshua (Jessica) Foerderer, Streeter, ND; 18 grandchildren, 1 great grandchild; 1 brother and sister, Willard (Lenora) Werth, Hermosa, SD and Lilia (Eldon) LaFave, Pierre, SD.
Lorraine was preceded in death by her parents and 1 niece Michelle LaFave.
Family receiving Friends & Visitation – 4:00 – 7:00 PM Thursday May 17, 2018 @ Haut Funeral Home, Jamestown, ND with a Prayer Service at 7:00 PM
Funeral Services – 10:00 AM Friday May 18, 2018 at the Prairie Bible Camp, Lehr, ND.
Burial – Lehr Cemetery, Lehr, ND
Online Guestbook – www.hautfuneralhome.com
In lieu of flowers the family requests memorials to: Lorraine's Missions Work in the Philippines
(Choice Financial -Lorraine Foerderer Benefit – PO.Box 308 – Medina ND 58467)