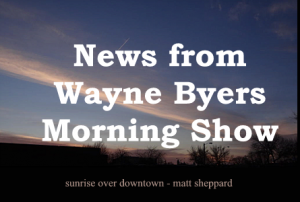 CSi Weather…
.REST OF TODAY…Sunny. Highs in the upper 80s. West winds 5 to 10 mph shifting to the south in the afternoon.
.TONIGHT…Mostly clear. A 30 percent chance of rain showers
after midnight. Lows in the upper 50s. East winds 5 to 10 mph.
.THURSDAY…Partly sunny. Chance of rain showers and slight
chance of thunderstorms in the morning, then rain showers likely
and chance of thunderstorms in the afternoon. Highs around 80.
Southeast winds 5 to 15 mph. Chance of precipitation 60 percent.
.THURSDAY NIGHT…Rain showers likely and chance of
thunderstorms. Lows in the upper 50s. Southeast winds 10 to
15 mph. Chance of precipitation 70 percent.
.FRIDAY…Cloudy. Rain showers likely and slight chance of
thunderstorms in the morning, then chance of rain showers and
slight chance of thunderstorms in the afternoon. Highs in the
upper 60s. Southeast winds around 10 mph shifting to the
northwest in the afternoon. Chance of precipitation 70 percent.
.FRIDAY NIGHT…Mostly cloudy with a 30 percent chance of rain
showers, and possible thunderstorms.  Lows in the lower 40s.
.SATURDAY…Partly sunny. Highs in the lower 60s.
.SATURDAY NIGHT…Partly cloudy. Lows around 40.
.SUNDAY…Sunny. Highs around 70.
.SUNDAY NIGHT…Mostly clear. Lows in the mid 40s.
.MONDAY…Sunny. Highs in the lower 70s.
.MONDAY NIGHT…Partly cloudy. Lows around 50.
.TUESDAY…Mostly sunny. Chance of rain showers and slight chance
of thunderstorms in the afternoon. Highs in the mid 70s. Chance
of precipitation 40 percent.
Isolated thunderstorms are possible across western and central
North Dakota tonight.
Thunderstorm chances increase across the area on Thursday. A few
thunderstorms could be strong to severe.
There is a slight chance of thunderstorms across south central
North Dakota and the James River Valley on Friday.
Update…
Jamestown  (CSi)  Jamestown Police report, a Jamestown man was arrested early Tuesday night in a  stabbing of a woman at a residence, in Downtown Jamestown.
37 year-old Anthony Hardin was arrested for Aggravated Domestic Assault. He's currently being held at the Stutsman County Correctional Center.
Lt. Nick Hardy says the alleged stabbing took place in the 500 block of 1st Avenue South, Hardin's residence.
The call about  7:45 p.m. came from a 58-year-old woman saying that she had been stabbed in the head and foot,  confirmed by police upon arrival.
The wounds,  were not life-threatening, superficial injuries, consistent  with at knife wound.  She was treated on the scene, by Jamestown Area Ambulance Service, and then was transported to Jamestown Regional Medical Center for further treatment of injuries
Jamestown  (CSi)  Kevin Michael Hoff made his initial appearance, in Stutsman County Court on Tuesday morning, before Southeast District Court Judge, Jay Schmitz.
Hoff is the 27 year old Montpelier man, who told authorities that last  Saturday's afternoon  he shot  his former wife, 25 year old Nicole Haliaaloh Gututala-Hoff, of Jamestown in the parking lot of a Southeast Jamestown apartment building that afternoon.
District Court reports Hoff was charged Tuesday with one count, murder.
Bond was set at $500,000 cash.
His court appointed attorney is Russell Myrhe.
His preliminary court date is to be set.  At that time Hoff will be arraigned , and a plea will be entered.
On  Saturday, May 12, 2018, Jamestown Police Chief, Scott Edinger said, callers reported a man had shot a woman in a vehicle in the parking lot of that apartment building, and fled the scene in a white SUV.  Officers were dispatched to the location.  Moments later the dispatch center received a call from 27 year  old Kevin Michael Hoff, of Montpelier who stated he had shot his ex-wife and wanted to turn himself in.  Officers took Hoff into custody at the Stutsman County Law Enforcement Center without incident.
Valley City  (CSi)  The Valley City Commission met in Regular Session Tuesday evening at City Hall.   Commissioner Powell was not present.
Mayor Carlsrud asked for a moment of silence in observing Peace Officer Memorial Day.
APPROVAL OF CONSENT AGENDA ITEMS:
A Raffle Permit for Ashtabula Fireworks Association
An Application to Block off Street for Sheyenne Valley Soapbox Derby on Central Avenue on June 2-3, 2018
An Application to Block off Street for Rally in the Valley Street Dance on June 16, 2018 on 100 Block E Main Street
An Electrician License for Maple River Electric
Block off Main Street for Memorial Day event.
PUBLIC COMMENTS:  
Attorney General's "A Citizen's Guide to North Dakota Open Records & Open Meetings Laws" *A member of the public does not have the right to speak to the governing body at an open meeting. The public is only entitled to see and hear what happens at a meeting, and to record or broadcast those observations.
No personal attacks to persons present or not
No inflammatory language used during time that you have the platform
5 minute maximum or as directed by the chair
Thank you for participating in City Government.
From the audience Gary Schelagel,  spoke, and suggested improving street light standards, and lighting configurations.
ORDINANCE
The City Commission considered the First Reading of an Ordinance Amending Title 4, Alcoholic Beverages City Attorney Mertins explained language changes, including new classes of license concerning microbrewers.  Amendments also deal with license suspensions, and extentions of licenses, along with granting licenses to flower shops serving alcohol.
Commissioner Magnuson said the public should have input in creating new license categories.
The City Commission on Tuesday, took no action on the First Reading.
RESOLUTIONS
Approved a  Resolution Accepting Bid and Awarding Contract for( Project No. UGP-SU-2-990(055)059), 3rd Ave SE Reconstruction from 4th St SE to Main St (Paving Improvement District No. 115)
KLJ said the low bid was 5.2 percent over the engineer's estimate, at  $1.02 million.
The City Commission approved awarding the bid to Swanberg Construction, contingent on approval by the NDDOT. $3,000 of the cost to be Special Assessed, less than anticipated.
Considered was a Resolution accepting the Bid and Awarding Contract for Project No. UGP-SU-2-990(057), Central Avenue Streetscape and Concrete Pavement Repair, this year.
KLJ said the low bid from Strata Co was over 21 percent higher than the engineer's estimate.
The City Commission voted to reject the bid, and proceed with October 2018 rebidding.
Commissioner Bishop voted in opposition, siting the anticipated cost of the project.
NEW BUSINESS
Approved a Construction Engineering Services with KLJ for Paving Improvement District No. 114 (7th St SE Mill & Overlay) in the amount of $34,750.
City Commissioners approved a Construction Engineering Services with KLJ for Paving Improvement District No. 117 (2018 Mill & Overlay and Seal Coat) in the amount of $56,500.  Construction to start in June this year.
Approved the Preliminary and Design Engineering Agreement for 5th Ave NW Street Reconstruction from Main Street to 12th Street NW in an amount not to exceed $144,500.
Approved a Special Alcohol Beverage Event Permit for RND Inc. dba NuBar for Rally in the Valley Street Dance on June 16, 2018.
Approved a Special Alcohol Beverage Event Permit for VFW Post 2764 for Rally in the Valley Street Dance on June 16, 2018  City Auditor Richter
Approved a Special Alcohol Beverage Event Permit for The Captain's Pub for Rally in the Valley Street Dance on June 16, 2018   City Auditor Richterer said the three establishments are working together, and for the time frame of 9-p.m., to 1-a.m.
Approved a City Commission schedule change for City Commission and Finance meetings to be held on Monday, July 2, 2018  City.
Approved was advertising for bids: the sale of City Parking Lot south of Hub-Mac more specifically described as Parcel Number 63-3473111, Lots 3-6, Block 31 Original Townsite.
City Administrator Schelkoph said the bids will be opened on June 4th, with the commission to consider at the June 6th City Commission meeting.
CITY ADMINISTRATOR'S REPORT:
David Schelkoph thanked city crews in collecting items for citywide cleanup.
He said Valley Recycling will take metal items not collected during the cleanup.
Grass clippings and tree disposal site available residential only, and for city residents.
CITY UPDATES & COMMISSION REPORTS
Fire Chief Gary Retterath reminds citizens to use care in using outdoor firepits and have a hose on standby.
City Police Chief Hatcher, noted National Peace Officers Memorial Day, and pointed out the number of officers who gave their lives in service to law enforcement and their communities.
He pointed out that law enforcement has the highest number of suicides, of agencies.
KLJ gave an update on construction projects and startup projects, including the permanent flood protection project.
Commissioner Bishop thanked police officers and fire fighters for their service.
Mayor Carlsrud also thanked crews for their work on citywide cleanup, and also asked citizens to thank police officers and fire fighters for their service.
The meeting was shown live on CSi Cable 68 followed by replays.
Jamestown  (CSi)  Alfred Dickey Public Library will close for patron safety during renovations beginning Tuesday, May 29, 2018, and will remain closed until further notice. It is anticipated that the library will close for at least two months, during which time the foundation will be excavated and waterproofed, and the interior will be painted and carpeted.
The work to renovate ADPL is part of the library board's Centennial Initiative, which is a plan to preserve the historic building and modernize the aesthetics of the interior in honor of the first century of service for the library.
During the closure of ADPL, full library service will be provided at Stutsman County Library located at 910 5th St. SE. Hours for Stutsman County Library will be expanded while ADPL is under renovation: 9 am to 8 pm Monday through Thursday, 9 am to 6 pm on Friday, and 11 am – 4 pm on Saturday. In addition, the bookmobile will provide library service in the vicinity of Alfred Dickey Public Library on selected days in June and July.
During the temporary closure of Alfred Dickey Public Library, the James Valley Library System will offer limited library  service from their bookmobile, which will be located near Alfred Dickey Public Library.
The bookmobile will carry a small supply of books and media for borrowing. Reserved materials can also be picked up there upon request.
Library materials can be returned to the bookmobile, Stutsman County Library or the after hours book return at either building locations.
Bookmobile dates and hours for the months of June and July (August is to be determined) are listed below:
The bookmobile
June 2018
June 4 10 am – 4pm
June 11 10 am – 4 pm
June 18 10 am – 4 pm
June 19 11 am – 4 pm
June 20 10 am – 4 pm
June 21 10 am – 4 pm
June 25 10 am – 4 pm
June 26 11 am – 4 pm
June 27 10 am – 4 pm
June 28 10 am – 4 pm
July 2018
July 2 10 am – 4 pm
July 3 11 am – 4 pm
July 5 10 am – 4 pm
July 9 10 am – 4 pm
July 16 10 am – 4 pm
July 19 10 am – 4 pm
July 23 10 am – 4 pm
July 24 11 am – 4 pm
July 25 10 am – 4 pm
July 26 10 am – 4 pm
July 30 10 am – 4 pm
July 31 11 am – 4 pm
Stutsman County Library, 910 5th St SE, Jamestown, ND 58401 ~ Library: 701-252-1531 ~ Bookmobile: 701-320-9421 ~
Website: WWW.JRVLS.ORG
Jamestown (CSi)  Jamestown Rural Fire Department responded to a grass fire Monday just after 7-p.m.,adjacent to I-94 near the Barnes county line. At mile marker 270.
Five rural fire units with 12 firefighters were on the scene about 45 minutes.
Rural Fire Chief Ben Maulding reports that there were no injuries or  property damage, as the blaze burned under an acre of grass.
Jamestown  (CSi)  The Garden Morning is planned for Saturday May 19th from 9-a.m., to 1-p.m., at the NDSU Extension Service Office, at 502 10th Avenue, Southeast, Jamestown, just east of the Stutsman County Library.
On Tuesday's Wayne Byers Show on CSi Cable 2, Certified Master Gardener, Robert Ness said the event is free, and the public is welcome.
He pointed out that Don Kinzler will give presentations on:
Growing Geraniums at 9:30 a.m.
Roses and other Perennials at 11-a.m.
Also presenting will be Kara Kramin with Hostas, and Jennifer Moldenhauer.
Also on our show from the NDSU Extension Service, Stutsman County Office, intern, Amy Leonard said vendors will include:
Bees@Work from Jamestown with honey products and soaps and lotions made from goats milk.
Plant Sale will be held.
Admission is free, however, a free will offering will go to the JRMC Cancer Center fundraising, as the Stutsman County Pals 4-H  Club serves food for the day, and the fundraising in there current project.
Kids Crafts will be available through the day.
Amy added that the NDSU Master Garden Program offers power point presentations, in the community by calling the Extension Service in Jamestown at 701-252-9030.
Jamestown  (CSi)  The Jamestown/Stutsman Development Corporation (JSDC) Board of Directors, has approved a lease agreement for Jamestown Regional Airport's 97 acres of land on Highway 20, south of UTC Aerospace Systems.
The least agreement is from June 1, 2018, to May 31, 2027. In the first year of the lease,the JSDC will pay the Airport Authority $112.17 per acre, and increases,  three percent each year of the lease.
The JSDC plans to sublease most of the property to Reimers Land Legacy LLC,  for six months, which plans to grow crops there, for $112.17 per acre annually, expiring on December 31st.
JSDC Business Development Director Corry Shevlin  said the difference between the amount the JSDC pays to the Airport Authority and the amount the JSDC receives from Reimers for subleasing the land will be included in the construction costs for the project.
The board also approved  contracting with Border States Paving for $2.17 million to install the road for the airport industrial park.
The project includes infrastructure for water, sanitary sewer and a storm water sewer.
Corp. for $124,362 will perform, the electrical infrastructure work for the airport industrial park.
The Airport Authority takes action on approving the lease agreement with the JSDC at its May meeting.
Jamestown (CSi)  The Jamestown City Planning Commission has recommended a change in the Jamestown land use plan, while rezoning and a preliminary plat removal for a 10-acre parcel outside of city limits in the area east of the Highway 281 by-pass.
Country Grain Cooperative wants to use for a ready mix concrete plant.
The commission unanimously recommended rezoning the property from Agricultural to General Industrial and Manufacturing, and gave preliminary approval of the subdivision plat for the property.
The Planning commission also unanimously recommended changing the property's designation on the land use map from Agricultural/Rural Open Space to General Industrial.
The City Council will review whether or not to approve the final plat of the subdivision.
(Meeting minutes posted in story at CSiNewsNow.com)
Valley City  (NDANO) Sharon Buhr, of Valley City, founder of Young People's Healthy Heart Program, public health nutritionist and licensed registered dietitian at City County Health District in Valley City, is this year's recipient of the North Dakota Association of Nonprofit Organizations' (NDANO) Walt Odegaard Leadership Award.
NDANO will present the 2018 North Dakota Nonprofits Awards during an Awards Luncheon at noon on June 7 at the Bismarck Radisson Hotel. The luncheon is the closing event for the North Dakota Nonprofit Leadership Conference. Tickets for the Awards Luncheon are available at www.ndano.org.
The Walt Odegaard Leadership Award is given to an individual who has made a difference by strengthening North Dakota and its nonprofit sector through his or her long-term commitment to leadership, volunteerism and philanthropy.
Washington (Sen. Hoven's Office)  – On Peace Officers Memorial Day Tuesday, Senator John Hoeven commemorated Rolette County Sheriff's Deputy Colt Allery who was killed in the line of duty in January 2017. The senator cosponsored a Senate resolution honoring Allery and the 128 other law enforcement officers killed on duty in 2017 and designating this week, May 13-19, as National Police Week..
Hoeven says, "In his life and service, Deputy Allery exemplified courage and a willingness to do whatever had to be done regardless of circumstance.  His dedication to his community and the rule of law is characteristic of so many of our policemen and women, without whose efforts our communities would not be the same. We honor Deputy Allery's legacy as his name is added to the National Law Enforcement Officers Memorial."
Allery's name was engraved on the National Law Enforcement Officers Memorial in Washington, DC, joining the names of more than 21,500 other fallen law enforcement officers including Fargo Police Officer Jason Moszer who was killed on duty in 2016 and whose name was added to the memorial last year.
Allery's name was formally dedicated on Sunday during a candlelight vigil on the National Mall. The National Law Enforcement Officers Memorial was dedicated in October 1991 and serves as the national monument honoring law enforcement officers who have died in the line of duty.
Since 1962, Peace Officers Memorial Day has been observed every May 15th. The week in which that day falls has been designated as National Police Week.
Sixty-four North Dakota peace officers have died in the line of duty since 1882, when the first line of duty death was recorded in what was then Dakota Territory.
WATFORD CITY, N.D. (AP) — A Watford City accountant accused of embezzling from three organizations has been ordered to pay almost $250,000 in restitution.
The Bismarck Tribune reports that 39-year-old Hannah Lloyd recently pleaded guilty to three felony counts of theft. Three felony counts of forgery were dismissed.
Lloyd was sentenced to about a year in prison and ordered to pay restitution to the Watford City Park District, Watford City Golf Course and Rink Construction, as well as write apology letters to the victims. She also must pay $1,025 in court fees.
MANDAN, N.D. (AP) — A private security company accused of operating illegally in North Dakota during protests against the Dakota Access oil pipeline says it would be willing to pay fines to settle the case as long as it's not required to admit wrongdoing.
North Dakota's Private Investigative and Security Board has invited North Carolina-based TigerSwan to submit its best settlement offer.
The board sued last June, alleging the company operated without a license while working for the pipeline developer. TigerSwan maintains it provided consulting services that don't require a license.
TigerSwan wants to settle the case so it can be licensed in North Dakota. Officials say not being licensed in one state can affect the company in other states.
The board declined to comment on whether a settlement offer with no admission of wrongdoing would be acceptable.
BISMARCK, N.D. (AP) — North Dakota natural gas production hit another record in March even as oil production dropped, illustrating the need for more gas infrastructure.
The Mineral Resources Department reports the state produced more than 2.1 billion cubic feet per day of natural gas, with companies flaring about 12 percent. Flaring is considered wasteful, and the state restricts it.
North Dakota Pipeline Authority Director Justin Kringstad tells The Bismarck Tribune that gas production is expected to exceed processing capacity beginning this summer until projects under construction start to come online.
The Public Service Commission granted approval Tuesday for Oneok to proceed with the Demicks Lake natural gas processing plant in McKenzie County.
It's one of five such plants under development in North Dakota. It's expected to be complete late next year.
BISMARCK, N.D. (AP) — Sen. Heidi Heitkamp says she'll vote to confirm Gina Haspel to lead the CIA.
Heitkamp, a Democrat, says in a statement it wasn't an easy decision and that Haspel's "involvement in torture is deeply troubling." But she says Haspel has assured her the CIA won't use such tactics in the future.
Heitkamp's announcement Tuesday came as the Senate Intelligence committee's top Democrat, Sen. Mark Warner of Virginia, said he would vote to confirm Haspel. Their support made it likelier she would be confirmed by the full Senate soon.
In sports…
Valley City  (CSi)  Valley City Public Schools Superintendent Josh Johnson invites the community to the groundbreaking for the Hi-Liner Athletic Complex, Phase One project, on Wednesday May 16th, at 4-p.m.
Participating along with school district officials will be, Consolidated Construction Company, Inc., and KLJ architects.
The project will include adding a new track and field, upgrading drainage systems, increase parking capacity, and infrastructure at Hanna Field.
Johnson points out that  the project, which is expected to be completed in August this year, will include an eight lane track, with upgraded field events, such as long jump, triple jump, pole vault, discus, and shot put areas.
The storm drainage systems for the site area also being upgraded to include future plans for the project.
Hanna Field has not been in use by the school district since the early 1990's.
Johnson adds, the school district is grateful fro the partnership with Valley City State University and allowing the school district to utilize their facilities the past  20-plus years.
He says " We are ecstatic for the school district and community, to have another outdoor facility for athletic events."
(Information forwarded by the Valley City Area Chamber of Commerce)
Bismarck  (CSi)  North Dakota Game and Fish reports North Dakota's 2018 deer season is set, with 55,150 licenses available to hunters this fall, 650 more than last year.
In total, antlered mule deer licenses increased by 150 from last year, antlerless mule deer by 550, antlered whitetail by 150 and antlerless whitetail by 150. The North Dakota Game and Fish Department reduced the number of "any antlered" licenses by 100, and reduced "any antlerless" license by 250.
In addition, restricted youth antlered mule deer licenses increased by 15, and muzzleloader licenses remained the same.
As in the past several years, no mule deer doe licenses are available in unit 4A.
North Dakota's 2018 deer gun season opens Nov. 9 at noon and continues through Nov. 25.
Applicants for regular deer gun, youth and muzzleloader can apply online through the Game and Fish Department's website at gf.nd.gov, or call 800-406-6409. A service fee is charged for applications made through the 800 number.
Gratis applicants must apply online – the toll-free licensing telephone number is not set up to receive gratis applications. In addition, paper applications are no longer available for any lottery or gratis licenses.
The deadline for applying is June 6.
Applicants who do not have access to a computer can submit the application at a public service location such as a public library, stop at a Game and Fish office, or request help from a friend, relative or neighbor.
Gratis applications received on or before the regular deer gun lottery application deadline will qualify for an any-legal-deer license. As per state law, gratis applications received after the deadline will be processed based on licenses remaining after the lottery – generally only antlerless licenses remain.
Total deer licenses are determined by harvest rates, aerial surveys, depredation reports, hunter observations, input at advisory board meetings, and comments from the public, landowners and department field staff.
DODGE CITY, Kan  (uj.edu)-– The University of Jamestown softball team stayed alive in loser-out play Tuesday afternoon, defeating Oklahoma Wesleyan 4-0, but had their season end with a 3-2 loss to Midland (Neb.) in the NAIA Opening Round Dodge City Bracket.
The Jimmies knocked Oklahoma Wesleyan (29-21) out of the tournament with a 4-0 win. UJ scored three times in the second inning and added another run in the third.
Tifani Schorzman (SR/Coeur d'Alene, ID) and Kassi Ward (FR/Olympia, WA) drew back-to-back walks to open the second. A sacrifice bunt from Meghan Ramage (JR/Grand Forks, ND) moved the runners up one base each, then Kelly Halverson (JR/Surrey, BC) doubled to left for a 2-0 lead. Sydney Prussia (FR/Detroit Lakes, MN) traded places with Halverson after a double of her own, and the Jimmies led 3-0.
In the next inning, Mikayla Frost (SO/Melba, ID) led off with a single. Frost stole second and came home on Morgan Geiszler (FR/Horace, ND)'s double.
Kat Miska (FR/Pequot Lakes, MN) (16-4) allowed just two hits in her fourth shutout of the season. Payton Langley singled in the third and Jayci Wang reached on a bunt single in the seventh. Oklahoma Wesleyan was no-hit in their game Monday against Science & Arts (Okla.) and were just 2-of-45 at the plate in two games. Miska struck out eight and did not issue a walk. She finished the year with 172 strikeouts, the second-most by a Jimmie pitcher in a single season.
Abbey Ely (14-10) took the loss for the Eagles. She went the first three innings, allowing four runs on four hits. Ely walked three and struck out three. Ashleigh Capps worked the final four innings and gave up just one hit.
With the win, the Jimmies advanced to a rematch with Midland (Neb.), who lost 7-4 in nine innings to Science & Arts in Tuesday's first game.
The Warriors struck for three runs in the bottom of the second. With two outs, Nicole O'Haver doubled down the left field line to clear the bases.
Jamestown was shut out until the top of the sixth. Tifani Schorzman led off with a single and was replaced with pinch-runner Emma Gilbert (SO/Kelowna, BC). Kassi Ward doubled to deep right center field, scoring Gilbert to make it 3-1. After a Meghan Ramage single, the Jimmies had runners on the corners for pinch-hitter Tiffany Buis (SO/New Lenox, IL). Buis reached on a fielder's choice as Ward crossed the plate.
Madison Plummer (11-4) was the winning pitcher for Midland (36-16). She pitched five innings, allowing two runs on six hits. Jaylee Hinrichs worked the final two innings to earn her second save. Hinrichs gave up one hit and struck out one.
Brittany Rheault (SR/West Fargo, ND) (15-4) went 4 1/3 innings for UJ, giving up three unearned runs on five hits. She struck out two and walked two. Kat Miska went 1 2/3 innings, striking out one.
Ward was 2-for-3 to lead Jamestown. Emma Keller (SR/Poulsbo, WA), Morgan Geiszler, and Miriah Yoder (JR/Devils Lake, ND) also had hits for the Jimmies.
O'Haver had two hits for Midland, and four other Warriors recorded one hit each.
Jamestown finishes the season 44-10, setting a record for most wins in a season. 2018 marked the second straight year and third season overall with 40 or more wins.
Midland and Science & Arts (52-5) meet in the bracket championship Wednesday at 11:00 a.m. If Midland wins, the second championship game is set for 1:00 p.m. The winner of the bracket will advance to the 38th annual NAIA Softball World Series May 25-31 in Clermont, Fla.
Baseball…
Oklahoma City  –  Yesterday's  second day of the NAIA baseball national championship opening round Oklahoma City Bracket was affected by rain, leading to postponements.
The rain moves the University of Jamestown's elimination game against York (Neb.) to this morning, at 11 a.m.
York eliminated Mobile (Ala.) from the tournament 8-5 Tuesday, so the rematch today, between the 18th-ranked Jimmies (42-10) and the Panthers (27-27).
High School Softball…
Valley City 14 West Fargo Sheynne 1
High School Baseball…
Bismarck Century 5 Jamestown 2
Bismarck Century 4 Jamestown 0
Valley City 8 Wahpeton 5
Wahpeton 8 Valley City 1
High School Girl's Soccer…
Military Appreciation Night at Rotary Field in Jamestown
Jamestown 2 Bismarck 1
High School Volleyball…
Dickinson 2 Jamestown 1
NBA PLAYOFFS…
BOSTON (AP) — Jaylen Brown scored 23 points and the Boston Celtics withstood a 42-point night by LeBron James to beat the Cleveland Cavaliers 107-94 Tuesday night and take a 2-0 lead in the Eastern Conference finals.
Terry Rozier added 18 points, while Al Horford finished with 15 points and 10 rebounds.
Boston improved to 8-0 this postseason at TD Garden. The Celtics have never blown a 2-0 series lead in the playoffs.
James added 12 assists and 10 rebounds. He scored 21 of Cleveland's 27 points in the first quarter, tying his playoff career high for points in a period. His 42 points marked his fifth 40-point game of this postseason. James had just 15 points and missed all five of his 3-point attempts in the Cavs' Game 1 loss.
NBA NEWS
UNDATED (AP) — Phoenix has won the No. 1 pick in next month's NBA Draft.
It's the first time the Suns will have the chance to make the first overall selection. The Suns had the right combination of ping-pong balls pop up for them at the Draft Lottery on Tuesday night, a reward of sorts after a season where Phoenix had the NBA's worst record at 21-61.
Phoenix lost a coin flip for the top pick in 1969 to Milwaukee. The Bucks took Kareem Abdul-Jabbar. The Suns took Neal Walk.
Sacramento will pick No. 2 and Atlanta got the No. 3 pick — both of them moving up to get there. The top three spots were determined by the lottery, and then spots 4-14 fell in line of reverse order of record. The rest of the slots, in order, went to No. 4 Memphis, No. 5 Dallas, No. 6 Orlando, No. 7 Chicago, No. 8 Cleveland, No. 9 New York, No. 10 Philadelphia, No. 11 Charlotte, No. 12 and No. 13 both went to the Los Angeles Clippers and No. 14 Denver.
The draft will be held on June 21.
NHL PLAYOFFS…
WASHINGTON (AP) — Victor Hedman scored his first goal of the playoffs and added two assists, and Andrei Vasilevskiy made 36 saves to help the Tampa Bay Lightning beat the Washington Capitals 4-2 in Game 3 of the Eastern Conference final Tuesday night and cut their series deficit to 2-1.
Hedman had the primary assist on power-play goals by Steven Stamkos and Nikita Kucherov and was a key part of three big penalty kills that gave Tampa Bay some much-needed momentum.
Vasilevskiy was on top of his game as the Capitals put 38 shots on net. He made seven saves on the penalty kill alone to save a beleaguered unit that came in ranked 13th out of 16 playoff teams.
The Lightning would still like to cut down on the quality chances Vasilevskiy has to stop in Game 4 on Thursday and beyond, like the one Brett Connolly scored on after a turnover by Ondrej Palat (AHN'-dray pah-LAHT'). They also surrendered a six-on-five goal to Evgeny Kuznetsov with 3:02 left that made things interesting in the final minutes.
MLB…
— Bobby Wilson hit his first home run in more than a year, Jose Berrios bounced back with strong effort on the mound, and the Minnesota Twins beat the St. Louis Cardinals 4-1 Tuesday night. Wilson hit a two-run homer off St. Louis reliever Luke Gregerson into the left field stands to cap a three-run seventh inning. It was Wilson's first major league home run since Sept. 21, 2016.
— Right-hander Jordan Lyles came within five outs of the first perfect game in San Diego Padres history before allowing a single to Trevor Story in a 4-0 victory against the Colorado Rockies.
Lyles, who moved into the rotation last week, retired the first 22 Rockies batters before Story's single with one out in the eighth inning landed just in front of left fielder Franchy Cordero.
Lyles then walked Pat Valaika and made way for Kirby Yates after 85 pitches. Lyles matched his career high with 10 strikeouts. The Rockies hit only two balls out of the infield before Story singled.
San Diego is the only major league that without a no-hitter. The Padres have played 7,858 games since their expansion season of 1969.
In other big league action:
— Daniel Descalso singled home Jarrod Dyson with two outs in the eighth inning, and the Arizona Diamondbacks beat the Milwaukee Brewers 2-1 to snap a six-game losing streak. The Diamondbacks opened the game with the worst batting average in the majors and learned earlier in the day they had lost A.J. Pollock for four-to-eight weeks with a fractured left thumb. They then managed just three hits against starter Jhoulys Chacin (joh-LEES' cha-SEEN') and three relievers.
— Jose Altuve hit a go-ahead, three-run double in the eighth inning, and the Houston Astros rallied from a late two-run deficit for a 5-3 victory over the Los Angeles Angels. Josh Reddick threw out two Los Angeles runners from right field, and he also got a leadoff double in the eighth. Altuve eventually cleared the bases against Angels reliever Jose Alvarez (2-1), who wasted seven stellar innings by rookie Jaime Barria.
— Brandon Crawford continued his strong May with four more hits, Brandon Belt homered and the San Francisco Giants beat the Cincinnati Reds 5-3. Pinch-hitter Pablo Sandoval hit a tying two-run single in the fourth inning, Andrew McCutchen drove in the go-ahead run with a grounder and five relievers combined for five scoreless inning for San Francisco.
— Stephen Piscotty homered in his first at-bat after being reinstated from the bereavement list and saluted his late mother as he crossed home plate, helping lead the Oakland Athletics to a 5-3 win over the Boston Red Sox Tuesday night in a game delayed almost two hours because of weather.
— Tyler Austin hit a two-run homer and a sacrifice fly as the Yankees rallied from a three-run deficit, and a game between New York and the Washington Nationals was suspended with the score 3-3 after 5½ innings because of rain. The teams waited for more than an hour but play did not resume. The game is scheduled to continue at 5:05 p.m. Wednesday before the finale of the two-game interleague series.
— The Los Angeles Dodgers went 0 for 7 with runners in scoring position against Wei-Yin Chen and four relievers and were beaten by a last-place team for the fifth game in a row, losing at Miami 4-2. Los Angeles managed only five hits after being swept in a four-game series at home by woeful Cincinnati.
— Cubs catcher Willson Contreras helped Chicago throw out two runners at home plate and another at third base before rallying for two runs in the ninth, pulling off a stunning 3-2 victory over the Atlanta Braves. After Ronald Acuna Jr. broke a 1-1 tie with a mammoth homer in the eighth, the Cubs bounced back to hand the Braves a loss that really stung.
— JaCoby Jones homered and doubled, and the Detroit Tigers rallied against Andrew Miller during a five-run seventh inning to beat the Cleveland Indians 9-8. The Indians led 4-0 and 8-4 before Detroit's breakthrough seventh for its third straight win.
— Trevor Williams scattered six hits in seven innings, Adam Frazier homered to start a four-run first, and the Pittsburgh Pirates beat the White Sox 7-0 to send Chicago to its worst 38-game start since 1948. Chicago has lost eight of nine and 12 of 14, dropping to a major league-worst 10-28.
— Joey Wendle singled in a run with two outs in the ninth inning to lift the Tampa Bay Rays over the Kansas City Royals 6-5. Johnny Field and Jesus Sucre led off the inning with singles against Kelvin Herrera. Herrera retired the next two batters before Wendle laced a single to left. Jonny Venters got two outs for his first victory since Sept. 27, 2012 while with Atlanta against the Mets.
— Right-hander Jordan Lyles came within five outs of the first perfect game in San Diego Padres history before allowing a single to Trevor Story in a 4-0 victory against the Colorado Rockies. Lyles, who moved into the rotation last week, retired the first 22 Rockies batters before Story's single, with one out in the eighth inning, landed just in front of left fielder Franchy Corder.
— Noah Syndergaard won for the first time in five weeks, knocking in two early runs against the team that traded him to rouse a sluggish New York Mets offense during a 12-2 rout of the Toronto Blue Jays. Missing injured sluggers Yoenis Cespedes (yoh-EHN'-ehs SEHS'-peh-dehs) and Todd Frazier from a slumping lineup, the Mets finally broke through anyway against Jaime Garcia and the skidding Blue Jays after an 86-minute rain delay at the start.
— The interleague matchup between the Baltimore Orioles and Philadelphia Phillies has been postponed by rain. Anticipating a thundershower that would ultimately come within the hour and never let up, the grounds crew covered the field with a tarp after the national anthem and minutes before the scheduled 7:05 p.m. start. The game was finally postponed after a delay of more than three hours.
MLB NEWS…
UNDATED (AP) — Seattle Mariners All-Star second baseman Robinson Cano has been suspended 80 games for violating baseball's joint drug agreement.
The league announced Cano's suspension Tuesday in a stunning development for the stalwart in the middle of the Mariners' lineup and a club expected to contend for a postseason spot in the American League. Cano tested positive for Furosemide, a diuretic. In a statement released through the players' association, Cano says, "This substance was given to me by a licensed doctor in the Dominican Republic to treat a medical ailment." He said he didn't realize it was banned.
It's the first major strike in a career that has Hall of Fame potential. Cano was trending toward being one of the few current players with a chance to reach 3,000 hits in his career and has been a consummate defensive standout. Cano is an eight-time All-Star but now must deal with the stigma of a suspension.
In other Major League news:
— The Texas Rangers have placed Adrian Beltre on the 10-day disabled list after he aggravated his left hamstring injury over the weekend. The move is retroactive to Monday and marks the fourth time in the past two seasons he's landed on the DL. The Rangers purchased the contract of infielder Hanser Alberto from Triple-A Round Rock to fill Beltre's spot.
— Mets slugger Yoenis Cespedes is out of the lineup because of a strained right hip flexor and could be headed to the disabled list. The team says Cespedes had a precautionary MRI that showed a mild strainy. Brandon Nimmo was set to play left field in Cespedes' place against the Toronto Blue Jays.
— Arizona center fielder A.J. Pollock is set to see a hand specialist after spraining his left thumb diving for a ball Monday. The slumping Diamondbacks lost their sixth straight shortly after Pollock was pulled, and they'll have a hard time getting on track without him. He leads the club with a .293 average, 44 hits, 11 home runs and 33 RBIs.
— The St. Louis Cardinals have placed Adam Wainwright back on the 10-day disabled list after the right-hander struggled with velocity in his last start and said he needed "to pause and get it right." The 36-year-old Wainwright also was on the DL with elbow inflammation before returning Sunday in San Diego. But he lasted just 2 1/3 innings in the Cardinals' 5-3 loss to the Padres. Wainwright is 1-3 with a 4.00 ERA in four starts this season.
— The San Diego Padres have placed rookie left-hander Joey Lucchesi on the 10-day disabled list with a strained right hip. The Padres also recalled infielder Carlos Asuaje from Triple-A Albuquerque before tonight's game against Colorado.
NFL NEWS
UNDATED. (AP) — People familiar with the situation say hedge fund manager David Tepper has agreed to buy the Carolina Panthers from team founder Jerry Richardson for a record $2.2 billion.
The people spoke to The Associated Press on Tuesday on condition of anonymity because the team has not yet announced the sale. The purchase is subject to a vote at the NFL owners meeting next week in Atlanta.
Richardson announced in December he was selling the team amid an NFL investigation for sexual and racial misconduct in the workplace.
The $2.2 billion eclipses the $1.4 billion the Pegula family paid to purchase the Buffalo Bills in 2014.
Tepper, 60, is a part owner of the Pittsburgh Steelers and founder and president of Appaloosa Management, a global hedge fund based in Miami.
In other NFL news:
— Arizona Cardinals rookie wide receiver Christian Kirk took the field Tuesday for the first time since a report surfaced about his arrest in the months before the team chose him in the second round of the NFL draft. Kirk ran routes, caught passes and took part in special teams work. He was not made available to reporters. Kirk was arrested the night of Feb. 3 outside the Waste Management Phoenix Open golf tournament on charges of disorderly conduct and property damage. According to police, Kirk was with a group that was intoxicated and throwing rocks at cars.
— The Tennessee Titans now have three of their four draft picks under contract with linebacker Rashaan Evans, the No. 22 pick overall out of Alabama, agreeing to terms. The 6-foot-3 Evans played in 53 games at Alabama where he had 15 sacks and 152 tackles.
NHL-AVALANCHE-BARBERIO
DENVER (AP) — The Colorado Avalanche are bringing back defenseman Mark Barberio on a two-year deal.
Barberio is coming off a season in which he had three goals and 10 assists. He was limited to 46 games due to a lower-body injury, but returned at the end of the regular season and played in all six games during the first-round playoff series against the Nashville Predators.
GLF-GLOVER'S WIFE
PONTE VEDRA BEACH, Fla. (AP) — The wife of former U.S. Open champion Lucas Glover is facing domestic violence charges stemming from an altercation with Glover and his mother after he missed the 54-hole cut at The Players Championship.
Krista Glover was arrested Saturday night and taken to the St. Johns County Jail. She was released on $2,500 bond on Sunday.
According to the offense report, Glover and his wife were having an altercation, and when Glover's mother tried to intervene, Krista Glover began attacking her.
She faces a May 31 court date on the misdemeanor charges.
GLF-OBIT-FORD
PONTE VEDRA BEACH, Fla. (AP) — Doug Ford, the oldest surviving Masters champion and a former PGA player of the year, has died. He was 95.
The PGA Tour announced Ford's death, saying Ford's family informed the tour that he died Monday night. Details of his death were not immediately available.
Ford was inducted into the World Golf Hall of Fame in 2011. He won the 1955 PGA Championship, and then two years later won the Masters when he shot 66 in the final round to rally from a three-shot deficit to Sam Snead.
In world and national news…
SEOUL, South Korea (AP) — China has urged its ally North Korea to proceed with a historic summit between its leader, Kim Jong Un, and U.S. President Donald Trump, amid threats from the North that it would scrap the meeting.
Foreign ministry spokesman Lu Kang said Wednesday the two countries should ensure the meeting runs as planned and yields "substantial outcomes."
Kim and Trump are due to meet in Singapore on June 12, but North Korea on Wednesday threatened to withdraw, saying it has no interest in a "one-sided" meeting meant to pressure it into abandoning its nuclear weapons.
JERUSALEM (AP) — The Palestinian Foreign Ministry has recalled its ambassadors to four European countries to protest their participation in a party celebrating the opening of the new U.S. Embassy in Jerusalem.
The ministry said Wednesday that its ambassadors to Romania, the Czech Republic, Hungary and Austria were being called home for consultations.
The Palestinians, who seek Israeli-annexed east Jerusalem as their capital, strongly objected to the move of the U.S. Embassy from Tel Aviv to Jerusalem.
The European Union objected to the embassy move. But the four European countries criticized by the Palestinians broke with EU policy to attend the celebration.
The Palestinians said they consider the participation a "grave violation of international law."
WASHINGTON (AP) — Social worker and political newcomer Kara Eastman has won the Democratic nomination for Nebraska's 2nd Congressional District.
Eastman defeated former Rep. Brad Ashford in Tuesday's primary election with a campaign that cast her as a champion of liberal ideals, including supporting a single-payer health care system.
Eastman contrasted herself against Ashford, a centrist and former Republican who focused on his legislative experience and willingness to work with conservatives.
She will now face Rep. Don Bacon, a first-term Republican who defeated Ashford in the 2016 election.
Ashford had been the first Democrat in two decades to win the district, which encompasses much of the Omaha metro area. Although Omaha's strong Democratic core is balanced out by more conservative suburbs, the district gives Democrats a fighting chance of capturing a congressional seat in a state that is otherwise overwhelmingly Republican.