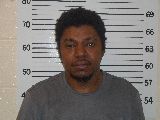 Update…
Jamestown  (CSi)  Jamestown Police report, a Jamestown man was arrested early Tuesday night in a  stabbing of a woman at a residence, in Downtown Jamestown.
37 year-old Anthony Hardin was arrested for Aggravated Domestic Assault. He's currently being held at the Stutsman County Correctional Center.
Lt. Nick Hardy says the alleged stabbing took place in the 500 block of 1st Avenue South, Hardin's residence.
The call about  7:45 p.m. came from a 58-year-old woman saying that she had been stabbed in the head and foot,  confirmed by police upon arrival.
The wounds,  were not life-threatening, superficial injuries, consistent  with at knife wound.  She was treated on the scene, by Jamestown Area Ambulance Service, and then was transported to Jamestown Regional Medical Center for further treatment of injuries