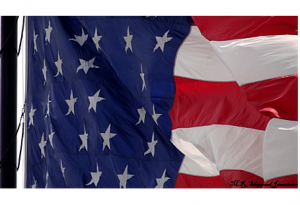 Jamestown  (CSi)  Memorial Day activities are planned on Monday, May 28, at the Knights of Columbus Hall.
On Wednesday's Wayne Byers Show on CSi Cable 2, Stutsman County Veterans Service Officer David Bratton said, there will be a speaker, recognitions and patriotic music begins at 9 a.m., followed by the wreath lowering at the bridge at Nickeus Park and ceremonies at community cemeteries.
The All Vet's Club will host a freewill offering luncheon starting at about 11:30 a.m. with proceeds going to the Jamestown Drum and Bugle Corp. A drawing for quilt and other items will be between 1 and 2 p.m., and the bar will close by 3 p.m.
Memorial Day activities are sponsored by the Jamestown Patriotic Council.
For more information, call 252-8994.
On another topic he said, a North Dakota American Legion group, has announced a Step of Veterans event that will raise money for homeless veterans in the state.
The Veterans Affairs and Rehabilitation Committee is host the event that can be done through any location through July.
Participants and teams will compete to see who completes the most steps in the month, and all proceeds will go to support veterans causes.
Those who would like to support veterans can sign up on line at https://www.eventbrite.com/e/july-step-challenge-tickets-45086706553?aff=es2
Once registered participants will receive a Challenge Runner Account, via E-Mail that allows then to sync their steps from a smartphone or fitness watch and then see in real-time where they rank in the competition.
Everyone who registers by June 30th this year will receive a drawstring bag, and prizes will be warded to the top three stepper at the end of the competition.
For more information, E-Mail the committee:  ndlegionvar@gmail.com
The Stutsman County Veterans Service Office is located at the lower level of the LEC in Jamestown.
Office hours Monday-Friday 8-a.m., to 12-noon, and 1-p.m., to 5-p.m.
Call 701-252-9043.