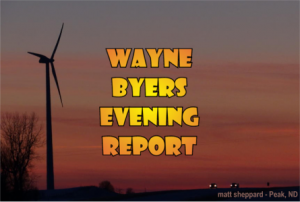 CSi Weather..
.TONIGHT…Mostly clear. A 30 percent chance of rain showers after midnight in the Jamestown area, 20 percent chance in the Valley City area. Lows in the upper 50s. East winds 5 to 10 mph.
.THURSDAY…Partly sunny. Chance of rain showers and slight
chance of thunderstorms in the morning, then rain showers likely
and chance of thunderstorms in the afternoon. Highs around 80.
Southeast winds 5 to 15 mph. Chance of precipitation 60 percent in the Jamestown area, 70 percent in the Valley City area.
.THURSDAY NIGHT…Rain showers likely and chance of
thunderstorms. Lows in the upper 50s. Southeast winds 10 to
15 mph. Chance of precipitation 70 percent.
.FRIDAY…Cloudy. Rain showers likely and slight chance of
thunderstorms in the morning, then chance of rain showers and
slight chance of thunderstorms in the afternoon. Highs in the
upper 60s. Southeast winds around 10 mph shifting to the
northwest in the afternoon. Chance of precipitation 70 percent.
.FRIDAY NIGHT…Mostly cloudy with a 50 percent chance of rain
showers, and possible thunderstorms. Lows in the lower 40s.
.SATURDAY…Partly sunny. Highs in the lower 60s.
.SATURDAY NIGHT…Partly cloudy. Lows around 40.
.SUNDAY…Sunny. Highs around 70.
.SUNDAY NIGHT…Mostly clear. Lows in the mid 40s.
.MONDAY…Sunny. Highs in the lower 70s.
.MONDAY NIGHT…Partly cloudy. Lows around 50.
.TUESDAY…Mostly sunny. Chance of rain showers and slight chance
of thunderstorms in the afternoon. Highs in the mid 70s. Chance
of precipitation 40 percent.
Thunderstorm chances increase across the area on Thursday. A few
thunderstorms could be strong to severe.
Heavy rain is possible Thursday afternoon through Friday morning,
mainly south central through the James River Valley. At this time
flash flooding appears to be a low threat.
A half to 2 inches of rainfall possible. An isolated 2.5 to three
inch amount is not out of the question.
There is a slight chance of thunderstorms across south central
North Dakota and the James River Valley on Friday.
Cooler weather will then be seen for the weekend.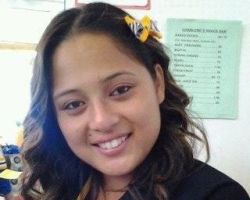 Jamestown  (CSi)  A GoFundMe page has been established created by Talima Gututala of Hawaii  raising money to bring Nicole Gututala Hoff and her two children home, to her native Hawaii.
Nicole lost her life stemming from being shot and killed May 12, 2018 in the parking lot of her apartment building in Southeast Jamestown.
Her ex-husband Kevin Michael Hoff has been arrested and charged in her death and is imprisoned.
Nicole's  death and Kevin's  future has left their two children without parents.
Now, Talima has created the GoFundMe page so that the community and friends may raise funds for their transportation home and burial costs.
Eddy Funeral Home in Jamestown is making arrangements, and the goal is to raise $11,195 to cover costs of transporting her home, and burial costs.  Plans include having her two children returned to Hawaii.
Anyone wishing to go to the page and learn more and make a donation may click on the highlighted hyperlink above.
In addition, Angie Job on her Facebook page says an account has been established at Gate City Bank  for anyone wishing to make a donation to help support the Gututala family. Donations can be made to "In Memory of Nicole" at any North Dakota Gate City Bank.
A candlelight vigil for Nicole is planned for Thursday at 7-p.m. at the McElroy Park softball diamond, with all welcome to be present..
Update…
Jamestown  (CSi)  Jamestown Police report, a Jamestown man was arrested early Tuesday night in a  stabbing of a woman at a residence, in Downtown Jamestown.
37 year-old Anthony Hardin was arrested for Aggravated Domestic Assault. He's currently being held at the Stutsman County Correctional Center.
Lt. Nick Hardy says the alleged stabbing took place in the 500 block of 1st Avenue South, Hardin's residence.
The call about  7:45 p.m. came from a 58-year-old woman saying that she had been stabbed in the head and foot,  confirmed by police upon arrival.
The wounds,  were not life-threatening, superficial injuries, consistent  with at knife wound.  She was treated on the scene, by Jamestown Area Ambulance Service, and then was transported to Jamestown Regional Medical Center for further treatment of injuries.
Jamestown  (CSi)  Memorial Day activities are planned on Monday, May 28, at the Knights of Columbus Hall.
On Wednesday's Wayne Byers Show on CSi Cable 2, Stutsman County Veterans Service Officer David Bratton said, there will be a speaker, recognitions and patriotic music begins at 9 a.m., followed by the wreath lowering at the bridge at Nickeus Park and ceremonies at community cemeteries.
The All Vet's Club will host a freewill offering luncheon starting at about 11:30 a.m. with proceeds going to the Jamestown Drum and Bugle Corp, who has helped keep patriotism alive in the community and around the state for nearly 60 years. A drawing for quilt and other items will be between 1 and 2 p.m., and the bar will close by 3 p.m.
Memorial Day activities are sponsored by the Jamestown Patriotic Council.
For more information, call 252-8994.
On another topic he said, a North Dakota American Legion group, has announced a Step of Veterans event that will raise money for homeless veterans in the state.
The Veterans Affairs and Rehabilitation Committee is host the event that can be done through any location through July.
Participants and teams will compete to see who completes the most steps in the month, and all proceeds will go to support veterans causes.
Those who would like to support veterans can sign up on line at https://www.eventbrite.com/e/july-step-challenge-tickets-45086706553?aff=es2
Once registered participants will receive a Challenge Runner Account, via E-Mail that allows then to sync their steps from a smartphone or fitness watch and then see in real-time where they rank in the competition.
Everyone who registers by June 30th this year will receive a drawstring bag, and prizes will be awarded to the top three stepper at the end of the competition.
For more information, E-Mail the committee:  ndlegionvar@gmail.com
The Stutsman County Veterans Service Office is located at the lower level of the LEC in Jamestown.
Officer hours Monday-Friday 8-a.m., to 12-noon, and 1-p.m., to 5-p.m.
Call 701-252-9043.
Jamestown (JRMC)  The Community Health Partnership is looking for  public's help.
In a collaboration between public and private health, Central Valley Health, Jamestown Regional Medical Center and the Community Health Partnership are asking for input from the community to help prioritize the top three health concerns.
In April, the Community Health Partnership group reviewed data and survey results. Leading causes of death in Stutsman County include cancer, heart disease and unintentional injury. The data also consisted of County Health Rankings that indicate the following areas of strength: unemployment and education level.
Areas to work on include obesity, smoking and excessive drinking. Over 600 responses were obtained from an online survey conducted by the ND Center for Rural Health in Stutsman County to identify health and safety related concerns.
Physical health concerns identified in the survey include obesity, cancer and poor nutrition/eating habits. Cost of healthcare services and insurance were among the top concerns for delivery of health services.
Safety concerns included public transportation, traffic safety and crime.
Considering this information, the public is asked to vote on the community's top health three health concerns that would have the most impact on improving quality of life in Stutsman County. Those options include:
-tobacco use
-diet and exercise
-substance use
-sexual activity
-access to care
-quality of care
-education
-employment
-income
-family and social support
-community safety
-environmental quality
-built environment
Central Valley Health District, Administrator, Robin Iszler says, "The public's feedback helps us identify areas to work on to improve health over the next three years. Based on the community's feedback, we can make effective decisions regarding healthier choices or health concerns."
When voting, the CHP asks the community to consider the vision – to be the healthiest place to live, learn, work and play; available data; the Community Health Assessment survey results; professional and personal experience, Iszler said.
The Community Health Partnership offers the survey and prioritization opportunities once every three years. Both public and private healthcare organizations use the results as part of their strategic plans.
To vote for the health concern you think the community should prioritize, vote online at https://www.surveymonkey.com/r/StutsmanCountySurvey.  If you already voted at the April 19 meeting at Gladstone Inn & Suites, please do not vote again.
The public is also welcome to attend the Community Health Partnership planning meeting at noon, Thursday, May 17 at Central Valley Health. The deadline to vote is Friday, May 25.
For more information, call (701) 252-8130.
MINOT, N.D. (AP) — A Minot woman accused of using drugs around children has been sentenced to two years of supervised probation.
The Minot Daily News reports that 40-year-old Harmony Cornelius pleaded guilty to felony child endangerment and possession of drugs.
Authorities say a 4-year-old boy and 1-year-old girl were present when officers found drugs and drug paraphernalia in a Minot apartment.
Cornelius told police she smoked methamphetamine the previous day when children were present.
Judge Gary Lee ordered Cornelius to obtain a chemical dependency evaluation and to pay $1,100 in court costs.
MINOT, N.D. (AP) — A Minot man has been sentenced to 1 1/2 years of supervised probation for stealing more than $1,000 in cash that had been dropped on the floor of a tool store by a customer.
The Minot Daily News reports 28-year-old Nicholas James Skelly was sentenced last week after pleading guilty to felony theft.
Authorities say a man who came into the Minot store to rent a trailer accidentally dropped his money, and Skelly picked it up and pocketed it.
Skelly was ordered to pay more than $2,000 in restitution and court costs.
BILLINGS, Mont. (AP) — Federal officials are being asked to investigate whether a financially-troubled coal company has posted sufficient bonds to cover future reclamation work at its mines in the U.S. and Canada.
The Montana-based Western Organization of Resource Councils said Wednesday that it's concerned a bankruptcy by Westmoreland Coal could leave taxpayers to cover future reclamation costs. It asked the Interior Department to investigate.
The Englewood, Colorado company told The Associated Press in a statement that it's in full compliance with mining regulations.
Westmoreland disclosed last month to securities regulators that it's considering filing for bankruptcy protection. It reported posting $673 million in reclamation bonds and letters of credit.
Westmoreland sold 50 million tons of coal last year from its mines in Montana, Wyoming, New Mexico, Texas, North Dakota, Ohio, Alberta and Saskatchewan.
In sports…
OKLAHOMA CITY, Okla.  (uj.edu)– Facing elimination not once, but twice on Wednesday, the University of Jamestown baseball team defeated York (Neb.) and Central Methodist (Mo.) by identical 3-1 scores to advance to the championship game of the NAIA Opening Round Oklahoma City Bracket.
The No. 4 seed Jimmies (44-10) will play No. 1 seed Oklahoma City (49-7) at noon Thursday. A UJ win would force the "if necessary" game at 3:30 p.m., with the victor earning a trip to Lewiston, Idaho, for the 62nd annual Avista-NAIA World Series May 25-31.
MINNEAPOLIS (AP) — Dexter Fowler reached base four times and drove in two runs in his return to the lineup and the St. Louis Cardinals beat former starter Lance Lynn and the Minnesota Twins 7-5 on Wednesday.
Matt Carpenter had three hits after being demoted to seventh in the batting order, and Tommy Pham added two hits, including his eighth homer of the year. St. Louis had lost five of seven games, scoring more than three runs just once.
Lynn (1-4) had control issues again, a surprising constant in his first season with Minnesota after six years with the Cardinals. He gave up three runs on four hits and four walks and threw 82 pitches in three innings.
Jordan Hicks (2-1) pitched a scoreless inning in relief for St. Louis. Cardinals starter Miles Mikolas left after 4 2/3 innings after allowing two runs on two hits and two walks.
Bud Norris allowed an inherited run to score on a wild pitch but secured five outs for his ninth save in as many chances.
After declining the Cardinals' qualifying offer in the offseason, Lynn was left as one of the few big-name free agents lingering as spring training began and he eventually accepted a one-year, $12 million contract with the Twins. Lynn averaged 3.4 walks per nine innings in his time with the Cardinals, a number that has crept to 6.6 per nine innings entering first career start against St. Louis.
Fowler had a two-run single off Lynn in the first and Jose Martinez added an RBI single in the second.
Fowler, who entered hitting .146 this season, made just his second start in the past five games and had two hits and two walks.
Carpenter made a start hitting lower than fourth in the lineup for the first time since 2015 after entering with a .140 average. He had an RBI double in the seventh and his first three-hit game of the season.
Logan Morrison had an opposite-field solo homer for Minnesota in the sixth, his fifth of the season.
In world and national news…
WASHINGTON (AP) — The Senate intelligence committee says it agrees with a 2017 assessment by intelligence agencies that Russia intervened in the presidential election earlier to hurt the candidacy of Democrat Hillary Clinton and to help Donald Trump. Senate Intelligence Committee Chairman Richard Burr says his staff has spent 14 months reviewing the sources, tradecraft, and other materials and sees no reason to dispute the conclusions. That's in contrast to the conclusions from the House intelligence committee.
WASHINGTON (AP) — President Donald Trump says the U.S. hasn't been notified about North Korea's threat to cancel his planned summit with Kim Jong Un next month. But he says he'll still insist on the country's denuclearization. North Korea on Wednesday threatened to scrap the historic summit next month between Trump and Kim, saying it has no interest in a "one-sided" affair meant to pressure the North to abandon its nuclear weapons. Trump says he hasn't been notified.
WASHINGTON (AP) — President Donald Trump's disclosure that he reimbursed personal attorney Michael Cohen for up to $250,000 last year comes in a footnote to his financial disclosure report. No mention was made of a $130,000 paid to porn star Stormy Daniels to keep her quiet about an alleged affair. A footnote says the president "fully reimbursed" Cohen for "expenses" ranging from $100,001 to $250,000. The report says Trump did not have to disclose the payment but is doing so "in the interest of transparency."
LANSING, Mich. (AP) — A victim credited with exposing serial sex abuser Larry Nassar says she is grateful to have reached a legal settlement with Michigan State University that reflects the "incredible damage" that took place on campus. Former gymnast Rachael Denhollander issued statements on social media Wednesday about the $500 million settlement between Nassar's former employer and 332 victims.
WASHINGTON (AP) — California Democratic Sen. Kamala Harris says she remains concerned about CIA nominee Gina Haspel's "commitment to transparency." The Senate intelligence committee voted 10-5 on Wednesday to recommend the full Senate confirm Haspel. Harris says Haspel's unwillingness to share more detailed information about the CIA's use of enhanced interrogation techniques is "deeply troubling."