Jamestown  (CSi)   Come to the final Arts Market of the season,  5 to 9 pm at Hansen Arts Park downtown Jamestown.
August 23rd – THE GINA POWERS BAND  With: Max Johnk Quartet
The Gina Powers Band plays their own original brand of Americana and country music.  Working on their debut album, this is a band going places, driven by Powers' rich, and powerful, vocals.  Opening the program is Fargo's Max Johnk Quartet, a jazz quartet extraordinaire!  Hailing from Fargo, the quartet mixes standards with original compositions… all played with bravura virtuosity and impeccable style.  A "swinging" musical treat not to be missed!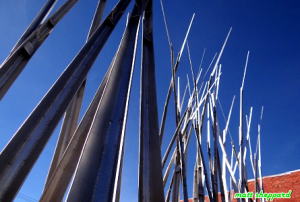 In the event of bad weather, the entertainment will be held inside the Arts Center.
Arts Center Director Larry Kopp said, in addition to a wide variety of entertainment on Thursday nights,  there will be Kids Corner with activities and adult arts offerings.  He added there will be vendors on hand as well. He said, the Arts Center, not only promotes the Performing and Visual Arts, but also promotes Downtown Jamestown, and building the Jamestown community.
The Arts Market is made possible through  grants from Jamestown Tourism, and North Dakota Tourism, and is a partnership  with  Jamestown Downtown Association, North Dakota Tourism and Jamestown Tourism.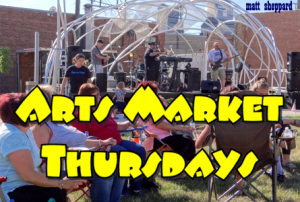 Jamestown Area Chamber of Commerce, Executive Becky Thatcher-Keller recently pointed out that during the Markets, residents will have the opportunity to engage in a walking tour of Downtown Jamestown's historical buildings and find out more about the unique businesses in town/
previously:
July 5th – THE BLUE WAILERS  With: Poetry Slam!
Feeling down? The Blue Wailers will chase those "blues" away!  A traditional electric blues band from the Fargo-Moorhead area, the Blue Wailers pay homage to the greats—Robert Johnson, Son House, Muddy Waters and more—while maintaining their own individual sound.  With searing slide guitar, soulful harp, and a rock solid rhythm section, the Blue Wailers are a band to be reckoned with.  And the evening opens with a Poetry Slam!  From freestyle rap to sonnets, share your rhyming talents with the community and compete to win prizes!  All styles, and ages, are welcome!
July 12th – STEVE K and FRIENDS  With: Intrigue
An evening with Jamestown's very own guitar virtuoso Steve Kuykendall!  Joined by a band of musical "partners in crime," playing their favorite tunes in inimitable fashion, this is an evening of great music you won't want to miss.
August 2nd
BOLDER SHADES OF BLUE  With: Hot Dish! (Jamestown's Storytelling Concert)
Rock and blues favorites with Jamestown's best-known band! Be prepared, as Bolder Shades of Blue will undoubtedly rock the Downtown Arts Market!  Everyone has a story to tell.. what's yours?  Hot Dish is your opportunity to share your story—and your storytelling skills—with others!  All ages are welcome to join in Jamestown's only storytelling contest
August 9th – JOSH HARTY  With: Old Friends Band
Americana, folk, country and blues music from North Dakota native Josh Harty!  With several critically acclaimed albums and multiple national and international tours to his credit, Josh Harty brings incredible credentials—and even more incredible music—to Jamestown!
Aug 16: America's Homegrown Arts  F-M KICKS BIG BAND with the KICKS DIXIELAND BAND
Join in the celebration of America's homegrown arts and culture!  Jazz is truly an original American art form, and the Fargo-Moorhead Kicks Big Band, 17-members strong, plays all of your favorites from Glenn Miller, Count Basie, Tommy Dorsey, Duke Ellington and many more!  And we open the evening with a trip down south to the Crescent City—New Orleans—and the music that was born in the sultry French Quarter, Dixieland Jazz.  Thursday evening's Arts Market sponsored by Don Wilhelm Chevrolet, Buick, GMC, in Jametown