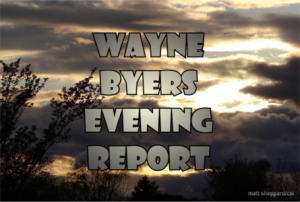 CSi Weather…
.TONIGHT…Rain showers likely and chance of thunderstorms in the
evening, then chance of rain showers and thunderstorms after
midnight. Lows in the upper 50s. East winds 10 to 15 mph. Chance
of precipitation 50 percent.
FRIDAY…Cloudy. Chance of rain showers and slight chance of
thunderstorms in the morning, then rain showers likely and slight
chance of thunderstorms in the afternoon. Highs in the lower 70s.
Temperatures falling into the upper 50s in the afternoon.
Southeast winds 10 to 15 mph shifting to the west 15 to 20 mph in
the afternoon. Chance of precipitation 60 percent in the Jamestown area, 70 percent in the Valley City area.
.FRIDAY NIGHT…Cloudy. Chance of rain showers and thunderstorms
in the evening, then chance of rain showers after midnight.
Colder. Lows in the lower 40s. North winds 15 to 20 mph. Chance
of precipitation 50 percent in the Jamestown area, 60 percent in the Valley City area.
.SATURDAY…Mostly sunny.  A 20 percent chance of rain showers in
the morning in the Valley City area.  Highs in the lower 60s. Northeast winds 15 to 20 mph.
.SATURDAY NIGHT…Partly cloudy. Lows around 40.
.SUNDAY…Sunny. Highs around 70.
.SUNDAY NIGHT…Mostly clear. Lows in the mid 40s.
.MONDAY…Mostly sunny. Highs in the mid 70s.
.MONDAY NIGHT…Partly cloudy. A 20 percent chance of rain
showers after midnight. Lows around 50.
.TUESDAY…Mostly sunny. A 20 percent chance of rain showers in
the afternoon. Highs in the upper 70s.
.TUESDAY NIGHT…Decreasing clouds. Lows in the mid 50s.
.WEDNESDAY…Mostly sunny. Highs in the upper 70s.
Numerous showers and scattered thunderstorms Thursday through
Friday.  The heaviest rainfall should fall across south central North Dakota through the James River Valley.
In total 1-2 inches possible. Some isolated locations could see upwards of 2 inches.
Update…. Due to weather, the Candlelight Vigil for Nicole Gututala has been postponed to Saturday May 19, 2018, at 8-p.m., at McElroy Park in Jamestown… according to Angie Job's Facebook page.
Also…those attending are asked to wear red to the vigil.
Job said there will also be a memorial service at 6 p.m. Friday at First Baptist Church, 409 3rd Avenue Southeast in Jamestown.
Jamestown  (CSi)   The Jamestown Tourism Grant Executive Board met Thursday at the CSi Technology Center at Historic Franklin School.
Those in attendance included:  Board Members, Taylor Barnes (Acting Chairperson) Janna Bergstedt, Tena Lawrence, and Mitzi Hager.
Tourism Director, Searle Swedlund, and Ex Officio member Pam Phillips, representing the Jamestown City Council.
Grant requests were heard concerning funding for:
White Cloud Days, by the National Buffalo Museum
Flag Pole Replacement, from Fort Seward
With White Cloud Days, National Buffalo Museum Director, Ilana Xinos requested $2,250 for the White Cloud Days Festival to be held primarily on July 28, 2018, with the funds to be used to advertise city-wide events and activities.
Planned activities and events include, the parade, the Classic Car Show, City Fire Department Pancake Breakfast fundraiser, min-art hunt, crafts, food, and other vendors, along with TRAC holding a 5K event. The economic impact of White Cloud Days is $120,000.
No other funding sources were outlined.
The Board voted to fund the full amount.
Fort Seward, represented by Dale Marks requested $9,500 to replace the small flag pole that was blown down during a wind storm, on April 29 this year. The 5X8 foot flag flies full time, marking the historic Fort grounds.  Funds on hand are earmarked for future maintenance.  No other funding sources were indicated.
The proposed new flag pole would be 70 feet above ground and aluminum construction, replacing the former 73 foot wooden pole.
The request was fully granted, as the board feels Fort Seward has not made many requests for deferred maintenance.  Given the nature of the site and its connection to the military, it's important to have a patriotic presence.
With Executive Board Items
The Tourism Report, by Searle Swedlund included noting the summer staff is currently onboard at the office.  He pointed out that the Frontier Village Association has indicated that they will continue to work on the former Midland Continental Railroad Caboose refurbishing at Frontier Village.  He added that the 1883 Stutsman County Courthouse Committee has established a "Young Sheriff Program," where young people visiting the courthouse are "deputized," as ambassadors  of the courthouse.
Ex-Officio Reports:  City Council Member Pam Phillips told the committee that under the direction of the City Council and City Attorney, the gate at Frontier Village is permanently open.
She added that on May 24th a meeting will be held to discuss issues, with Frontier Village, including management, and agencies working together to enhance the visitors experience.
Ms. Phillips said she will represent the City Council the meeting to include Frontier Village President, Nellie Degen and Treasurer Tina Busche.  Also invited to the meeting are Jamestown Police Chief Scott Edinger, Fire Chief Jim Reuther, City Attorney Leo Ryan, and City Administrator, Sarah Helleckson.
Discussion was held on Variables for making Grant Decisions.
Some of the items discussed included: working on gaps and needs of the visitors, enabling longer visitor stays, having Jamestown as a tourist destination, and creating new activities, and events, which are unique to Jamestown.
Washington (Sen. Hoeven's Office)   Senator John Hoeven Thursday announced that the U.S. Senate Energy and Natural Resources Committee has approved his legislation to enable homeowners around the Jamestown Reservoir and Patterson Lake to purchase their lots. The legislation approved by the committee transfers land around the Jamestown Reservoir (S.2074) to the Stutsman County Park District and lots at Patterson Lake (S.440) to the Dickinson Parks and Recreation Department to enable homeowners to purchase their land from these local entities.
Hoeven says, "I appreciate the support of my colleagues on the Senate Energy Committee in advancing these bills to the full Senate. These provisions transfer land from the Bureau of Reclamation to local entities in order for homeowners around the Jamestown Reservoir and Patterson Lake to purchase their lots.  We've been working with the homeowner associations, as well as local, state and federal officials in Jamestown and Dickinson to ensure that the legislation works for all parties. These homeowners have made investments in their homes and lots, and they deserve the security of owning the land they live on."
Jamestown Reservoir Legislation
Hoeven introduced the Jamestown Reservoir legislation last November, which grew out of meetings he and his staff held with homeowners and local officials. The bill was amended by the committee today to transfer all Bureau of Reclamation (BOR) lands around the reservoir to state and local public ownership, which will enable homeowners to purchase their lots from the Stutsman Park Board.
The Jamestown Reservoir legislation, as amended:
Permanently transfers federal lands around Jamestown Reservoir, including the 71 permitted exclusive use cabin lots, two campgrounds, a park and unpurchased lots to the Stutsman County Park Board and the North Dakota Game and Fish at no cost.
Maintains BOR responsibility over the reservoir and dam, and directs proceeds that exceed the costs of preparing the sale of residential lots to be used for the costs of carrying out this legislation and deferred maintenance of the dam.
Patterson Lake Legislation
Hoeven introduced legislation last year to enable homeowners at Patterson Lake to purchase their lots. That bill was amended in committee today to transfer federal land around the lake to the Dickinson Parks and Recreation Department, which will provide for the sale of the lots to the homeowners.
Hoeven's Patterson Lake legislation, as amended:
Transfers 41 cabin lots, as well as additional lands dedicated to recreation and wildlife management, to the Dickinson Parks & Recreation Department. It also transfers a parcel of land, which is currently being leased, to the North Dakota Game and Fish Department.
Maintains BOR responsibility over the reservoir and dam, and directs proceeds that exceed the costs of preparing the sale of residential lots to be used for the costs of carrying out this legislation and deferred maintenance of the dam
These bills follow Hoeven's successful efforts to include a provision in the Water Resources and Development Act in December of 2016 that limited fee increases for permittees on Patterson Lake, the Jamestown Reservoir and Lake Tschida. BOR had proposed increasing fees to more than twice the cost of current fees for permits on the three reservoirs. Hoeven's legislation prevented that increase and limited the total fee increase to no more than 33 percent over 5 years.
Jamestown (JRMC) — More than 80 elementary students welcomed R.O.S.I.E. Thursday at Jamestown Regional Medical Center.
R.O.S.I.E. is a Xenex LightStrike Germ-Zapping robot. She kills germs that are difficult to disinfect and difficult to treat.
Bacteria and other germs can be found everywhere – offices, schools, skilled nursing facilities and even hospitals. Despite efforts to clean, superbugs like MRSA and C.diff are resistant to chemicals and common cleaning practices. Superbugs are often antibiotic resistant as well.
Each year these drug-resistant bacteria infect more than 2 million people nationwide, according to the U.S. Centers for Disease Control and Prevention (CDC).
That is why Jamestown Regional Medical Center continues to invest in ways to enhance patient care and safety.
R.O.S.I.E. pulses environmentally friendly xenon ultraviolet (UV) light and destroys microscopic pathogens that may be lurking on hospital surfaces quickly. R.O.S.I.E. enhances environmental cleanliness by destroying hard-to-kill germs, bacteria and superbugs in hard-to-clean places. JRMC will use R.O.S.I.E. in its operating rooms and patient care areas as an added step to reduce the risk of healthcare associated infections.
More than 80 kindergarten, second and fifth grade students from Lincoln, Washington and Gussner Public Schools celebrated R.O.S.I.E.'s arrival on Thursday, May 17. R.O.S.I.E. stands for "Robot Offering Safe Ideal Environment."
The children had many questions too, including:
How can the light kill the germs?
How long does it take to build?
Can you demo it right now?
"Everyone that comes into the hospital – patients, families, vendors or even staff – bring germs with them," said Dane Grebel, JRMC Support Services Manager. "Some of these germs are resistant to even the best cleaning solutions and methods available. Our vision is to be the best rural hospital in the nation. R.O.S.I.E. is one way to do that."
Surgical site infections are already rare at JRMC. Surgical site infections were reported in only 1 percent of our more than 1,500 procedures last year. Nationwide, the average is 205 percent.
To raise awareness for R.O.S.I.E, JRMC asked the public to participate in a Name the Robot contest. More than 200 children from Jamestown and rural schools submitted coloring pages and suggestions for names. JRMC recognized the winners at the Welcome R.O.S.I.E. event.
"Children and adults helped fundraise for R.O.S.I.E.," said Lisa Jackson, JRMC Foundation Director. "We couldn't do it without them. They are THE difference."
R.O.S.I.E. can disinfect a typical patient or procedure room in 10-15 minutes. Operated by the hospital's cleaning staff, R.O.S.I.E. can disinfect in any department or unit at JRMC. R.O.S.I.E. is an additional tool for the cleaning staff and does not replace any person or position.
Surgical site infections (SSIs) are rare, said JRMC Quality Manager Jenna Bredahl. Out of 1,571 procedures in 2017, only eight SSIs were reported at JRMC. That's less than 1 percent. Nationwide, the average rate of SSIs is 2 to 5 percent.
Each SSI can cost the hospital between $15,000 and $50,000. A LightStrike Germ-Zapping Robot costs about $100,000. By preventing just a couple of SSIs, R.O.S.I.E. pays for herself, Jackson said.
"One hospital-acquired infection is too many," said K.C. DeBoer, JRMC President & CEO. "We take cleanliness seriously. Our patients deserve the best."
More than 400 healthcare facilities around the world use Xenex's pulsed xenon UV robots. Numerous health care facilities credit Xenex for helping them reduce their infection rates significantly. Several hospitals have published their C.diff, MRSA and Surgical Site infection rate reduction studies in peer-reviewed journals.
Jamestown  (CSi)  The schedule is planned for this summer's Jamestown Arts Market, at Hansen Arts Park, in Downtown Jamestown.
On Thursday's Wayne Byers Show on CSi Cable 2, Arts Center, Director, Larry Kopp said, in addition to a wide variety of entertainment on Thursday nights, in June, July and August, there will be Kids Corner with activities and adult arts offerings.
He added there will be vendors on hand as well.
He said, the Arts Center, not only promotes the Performing and Visual Arts, but also promotes Downtown Jamestown, and building the Jamestown community.
Performing Artist Line Up:
June 7th
WAYNE SUCHY (featuring Jon Wayne & Ben Suchy)  With: Worship Team from the Buffalo City Church
Jamestown's own Jon Wayne paired with Ben Suchy: a perfect musical partnership, performing their own energetic brand of neo-folk.  Wayne & Suchy is a collaboration between Jon Wayne (of Jon Wayne and the Pain) and performing songwriter Ben Suchy.  The duo has traveled the globe on multiple missions in search of "the perfect song."  While they may not as of yet found this perfection in songwriting, deep inspiration in traveling and music has been found many times.
June 14th
JESSIE VEEDER  With: Fargo-Moorhead Symphony Brass Quintet
North Dakota's favorite female vocalist, Jessie Veeder, writes and performs songs rooted in Americana, blues, folk and country music.  And start the evening with a touch of brass (or is it class?) with the Brass Quintet from the Fargo-Moorhead Symphony Orchestra, playing light classical and pops favorites
June 21st: Third Thursday Series
Celebrating North Dakota's Native American Culture:
RYAN KELPIN and band with Native American Dancer and Flutist KEVIN LOCKE
Join us as we celebrate North Dakota's Native American culture! Métis fiddler Ryan Keplin brings audiences to their feet with his incredible fiddling skills, infectious traditional and original music, and a world-class backing band.  A member of the International Fiddlers Hall of Fame, we are excited to welcome Ryan and his band to Jamestown!  Internationally acclaimed Native American Dancer and flutist Kevin Locke opens the program, performing his visionary hoop dance and traditional music on the Northern Plains flute.
June 28th
OPEN MIC NIGHT  With: Bernie & the Other Guys
One of the Arts Center's most popular ongoing series, this is your opportunity to share your talents with the community!  Hosted by Jamestown's own Steve Kuykendall, we welcome all musicians, poets, writers and comedians… individuals or groups… to the stage. Not a performer?  No worries!  Come out and support our homegrown artists and enjoy the performances from the audience!
July 5th
THE BLUE WAILERS  With: Poetry Slam!
Feeling down? The Blue Wailers will chase those "blues" away!  A traditional electric blues band from the Fargo-Moorhead area, the Blue Wailers pay homage to the greats—Robert Johnson, Son House, Muddy Waters and more—while maintaining their own individual sound.  With searing slide guitar, soulful harp, and a rock solid rhythm section, the Blue Wailers are a band to be reckoned with.  And the evening opens with a Poetry Slam!  From freestyle rap to sonnets, share your rhyming talents with the community and compete to win prizes!  All styles, and ages, are welcome!
July 12th
STEVE K and FRIENDS  With: Intrigue
An evening with Jamestown's very own guitar virtuoso Steve Kuykendall!  Joined by a band of musical "partners in crime," playing their favorite tunes in inimitable fashion, this is an evening of great music you won't want to miss.
July 19th: Third Thursday Series
Our European Roots
MATT HODEK AND THE DAKOTA DUTCHMEN & JULIA LEE AND HER WHITE ROSE BAND
Come out and celebrate the European roots of ND's original settlers!  And to honor their memory, what could be more fitting than old time and polka music from two of the Northern Midwest's finest bands?  Matt Hodek & the Dakota Dutchmen and Julia Lee & Her White Rose Band guarantee that there will be polka dancers frolicking in downtown Jamestown!
July 26th
OPEN MIC NIGHT  With: Gary Keenan
One of the Arts Center's most popular ongoing series, this is your opportunity to share your talents with the community! Hosted by Jamestown's own Steve Kuykendall, we welcome all musicians, poets, writers and comedians… individuals or groups… to the stage.  Not a performer?  No worries!  Come out and support our homegrown artists and enjoy the performances from the audience!
August 2nd
BOLDER SHADES OF BLUE  With: Hot Dish! (Jamestown's Storytelling Concert)
Rock and blues favorites with Jamestown's best-known band! Be prepared, as Bolder Shades of Blue will undoubtedly rock the Downtown Arts Market!  Everyone has a story to tell.. what's yours?  Hot Dish is your opportunity to share your story—and your storytelling skills—with others!  All ages are welcome to join in Jamestown's only storytelling contest
August 9th
JOSH HARTY  With: Old Friends Band
Americana, folk, country and blues music from North Dakota native Josh Harty!  With several critically acclaimed albums and multiple national and international tours to his credit, Josh Harty brings incredible credentials—and even more incredible music—to Jamestown!
August 16th: Third Thursday Series
America's Homegrown Arts
F-M KICKS BIG BAND with the KICKS DIXIELAND BAND
Join in the celebration of America's homegrown arts and culture!  Jazz is truly an original American art form, and the Fargo-Moorhead Kicks Big Band, 17-members strong, plays all of your favorites from Glenn Miller, Count Basie, Tommy Dorsey, Duke Ellington and many more!  And we open the evening with a trip down south to the Crescent City—New Orleans—and the music that was born in the sultry French Quarter, Dixieland Jazz.
August 23rd
THE GINA POWERS BAND  With: Max Johnk Quartet
The Gina Powers Band plays their own original brand of Americana and country music.  Working on their debut album, this is a band going places, driven by Powers' rich, and powerful, vocals.  Opening the program is Fargo's Max Johnk Quartet, a jazz quartet extraordinaire!  Hailing from Fargo, the quartet mixes standards with original compositions… all played with bravura virtuosity and impeccable style.  A "swinging" musical treat not to be missed!
BISMARCK, N.D. (AP) — A law enforcement board has temporarily suspended the license of a former Burleigh County sheriff's deputy accused of stealing and selling evidence from drug cases.
The Bismarck Tribune reports that Kerry Komrosky is charged with possession of a controlled substance with intent to deliver, theft of property and possession of drug paraphernalia.
The state Peace Officer Standards and Training Board says it will make a final decision on Komrosky's license after the case is resolved in court.
Authorities say police discovered a pound of methamphetamine, a broken meth pipe and 12 cellphones in Komrosky's residence on April 12. The evidence allegedly was tied to cases Komrosky had worked as a member of a drug task force.
Komrosky's attorney, Michael Hoffman, did not immediately respond to an email request for comment.
CASSELTON, N.D. (AP) — A man is dead after he crashed his car in southeastern North Dakota and then was struck by a semitrailer while walking on the highway.
The Highway Patrol says the 35-year-old man crashed his car on Interstate 94 west of Casselton early Thursday.
A semitrailer came upon him shortly after 3 a.m., and the driver from St. Cloud, Minnesota, was unable to take evasive action. The pedestrian died at the scene after being hit. He wasn't immediately identified.
The semi driver wasn't hurt but was shaken up emotionally and taken to a Fargo hospital. He was treated and released. He was not charged.
MINOT, N.D. (AP) — Fertilizer dealers say significant headway with spring planting is helping ease an anhydrous ammonia shortage that has inconvenienced North Dakota farmers.
The Minot Daily News reports that agricultural fertilizer suppliers have had difficulty keeping up with a demand heavier than usual. The late spring has led to farmers from multiple states planting at the same time, overwhelming anhydrous truckers.
Darrell Schieve is the plant manager at Dakota Agronomy in Minot. He says the run on anhydrous ammonia is slowing as spring seeding progresses. Schieve estimates local seeding should be far enough along to relieve the pressure on supplies by week's end.
Gov. Doug Burgum signed a temporary order about a week ago easing restrictions on truckers to help with fertilizer deliveries. The order will remain in place through May 30.
BISMARCK, N.D. (AP) — A veteran of the North Dakota Highway Patrol will be its new superintendent.Gov. Doug Burgum has appointed Maj. Brandon Solberg to succeed the retiring Col. Michael Gerhart.Solberg has 22 years of law enforcement experience, most of them with the patrol. He started with the patrol as trooper in the northeastern part of the state before becoming a shift supervisor in Fargo.He then moved on to the agency's headquarters in Bismarck, where has handled various tasks and been a commander for more than 10 years.Gerhart in March announced his retirement, effective the end of June. He has served with the patrol for 26 years, the past four as its leader. 
BISMARCK, N.D. (AP) — The old North Dakota governor's mansion is set for demolition.Capitol Facilities Manager John Boyle says the 10,000-square-foot residence on the Capitol grounds is scheduled to meet the wrecking ball on Friday.The old residence has been replaced by an adjacent $5 million mansion that's 13,500 square feet.The old ranch-style home was completed in 1960 and has been home to nine governors.The new home is the third official residence built for North Dakota's governors. The original was constructed in 1884 and still stands a few blocks south of the Capitol.Boyle says final touches are still being done to the new home. He says a public open house will occur later this summer.
In Sports…
Due to rain and storms Thursday and moving into Friday,Jamestown High School has rescheduled all  varsity sporting events to Saturday, May 19th.
Blue Jay baseball vs. Bismarck St. Mary's  will be Saturday at 3 p.m. at Jack Brown Stadium.
Blue Jay softball takes on  Mandan starting at 11 a.m. at Trapper Field.
Blue Jay girls soccer hosts Mandan at 2 p.m.
Friday's West Region track and field meet in Bismarck is rescheduled for Saturday.  Field events begin at 2 p.m. at  Bismarck Community Bowl.
NAIA National Championship Opening Round–Oklahoma City, Okla.
Thursday….
Jamestown 7 Oklahoma City University 4
The Deciding game coming up at 3:45
In world and national news…
WASHINGTON (AP) — President Donald Trump is lending credence to reports that FBI informants infiltrated his presidential campaign, saying that "if so, this is bigger than Watergate!" Trump made the comment on the anniversary of Robert Mueller's appointment as special counsel to head the investigation into possible coordination between Russia and Trump campaign officials. The president tweeted Thursday: "Wow, word seems to be coming out that the Obama FBI "SPIED ON THE TRUMP CAMPAIGN WITH AN EMBEDDED INFORMANT."PAHOA,Hawaii (AP) — Hawaii Army National Guard commander Brig. Gen. Kenneth Hara says he's anticipating potentially having to evacuate about 1,000 people from the Puna area where Kilauea volcano is erupting lava. Hara told reporters the mass evacuation may be needed if lava covers highways. Blocked highways would cut communities off from stores, schools and the rest of the island. Hara says it's hard to know how many may need to evacuate. He says many people may stay because they are self-sufficient.MOUNT OLIVE, N.J. (AP) — The National Transportation Safety Board says it's not investigating the crash of a dump truck and a school bus taking children to a field trip at a New Jersey historic site. The school bus was left on the median of Interstate 80 in Mount Olive on Thursday with its front end crushed or ripped off. Authorities say multiple people have been injured and hospitalized.WASHINGTON (AP) — White House press secretary Sarah Huckabee Sanders says she doesn't think President Donald Trump went far enough when he described some people who enter the country illegally as "animals." Sanders was responding to the fury raised by Trump's comments during an immigration roundtable on Wednesday. She says the president was "very clearly referring" to members of the violent MS-13 street gang who enter the country illegally in his remarks.

LONDON (AP) — Prince Harry and Meghan Markle, who have remained out of the public eye in recent days, have been spotted being driven into the grounds of Windsor Castle. Britain's Press Association indicated they were expected to have tea Thursday with Queen Elizabeth II and may be joined by Markle's mother, Doria Ragland. Also Thursday, Markle said her father will not be able to attend her wedding to Harry due to health problems.