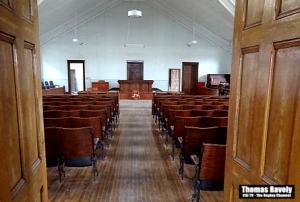 Jamestown (CSi)  The Historic 1883 Stutsman County Courthouse opens for the summer season on Friday May 25th.
A larger Photo Album is  ONLINE at FACEBOOK at The Replay Channel, view and share
On Wednesday's Wayne Byers Show on CSi Cable 2, the 1883 Stutsman County Courthouse Historic Site Superintendent Steve Reidburn said starting Friday the hours are 10-a.m., to 5-p.m., with the exception of Monday's and Tuesday's.
He pointed out that visitors highlights include the recently refurbished courtroom and the Treasurers and Register of Deeds offices.
He noted that the entire courthouse has the original pressed tin ceilings with future plans calling for the installation of an elevator, and more restoration of the courtroom.
He thanked Jamestown Tourism for extensive funding for the projects, along with state funding.
Individual and business donations are always welcome, as well.
Also this summer Concerts in the Courtroom are planned.
The schedule includes:
June 30th, Terry and Linda
July 8th,  Old Friends
August 5th,  DW Groethe
All concerts start at 1-p.m.
Also, with the "Young Sheriff's," program, youngsters visiting the 1883 Courthouse can take part in a scavenger hunt, with those finding the items to receive a "sheriff's badge."
He added that a wedding will be held at the courthouse this summer.
Those wishing more information can call Steve Reidburn at 701-252-1170, or E-Mail
sreidburn@nd.gov or contact members of the 1883 Courthouse Committee.