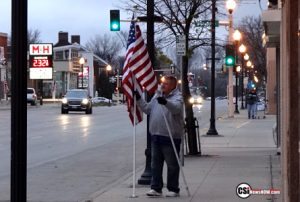 CSi Weather…
.SUNDAY…Mostly sunny. A 20 percent chance of showers and
thunderstorms in the morning in the Jamestown area, 30 percent in the Valley City area. Highs around 90. Southeast winds 5 to 10 mph.
.SUNDAY NIGHT…Mostly cloudy with a 40 percent chance of showers
and thunderstorms. Lows in the lower 60s. Northeast winds 5 to
10 mph.
.MEMORIAL DAY…Mostly cloudy. Chance of showers in the morning,
then chance of showers and slight chance of thunderstorms in the
afternoon. Highs around 80. Chance of precipitation 30 percent.
.MONDAY NIGHT…Mostly cloudy. Showers likely and chance of
thunderstorms in the evening, then chance of showers and
thunderstorms after midnight. Lows in the lower 60s. Chance of
precipitation 60 percent.
.TUESDAY…Mostly cloudy. Chance of showers and slight chance of
thunderstorms in the morning, then showers likely and chance of
thunderstorms in the afternoon. Highs around 80. Chance of
precipitation 60 percent.
.TUESDAY NIGHT…Mostly cloudy with chance of showers and slight
chance of thunderstorms. Lows around 60. Chance of precipitation
30 percent.
.WEDNESDAY…Partly sunny. Slight chance of showers in the
morning, then slight chance of showers and thunderstorms in the
afternoon. Highs in the upper 70s. Chance of precipitation
20 percent.
.WEDNESDAY NIGHT…Mostly clear. Lows in the upper 50s.
.THURSDAY…Sunny. Highs in the lower 80s.
.THURSDAY NIGHT…Increasing clouds. A 40 percent chance of rain
showers. Lows in the upper 50s.
.FRIDAY…Partly sunny. Slight chance of showers in the morning,
then chance of showers and slight chance of thunderstorms in the
afternoon. Highs in the upper 70s. Chance of precipitation
30 percent.
The Memorial weekend forecast is setting up to be warm with
increasing chances for thunderstorms.
Some heavy rain may be possible Saturday night through Sunday night with thunderstorms that form.
The potential exists for thunderstorms each day Sunday through Thursday.
The threat for widespread severe weather is low during
this period, although isolated severe storms will be possible.
Temperatures will be more normal Monday through Thursday with
highs mainly in the 70s.
Jamestown  (CSi)  Memorial Day activities are planned on Monday, May 28, at the Knights of Columbus Hall.
There will be a speaker, recognitions and patriotic music begins at 9 a.m., followed by the wreath lowering at the bridge at Nickeus Park and ceremonies at community cemeteries.
The All Vet's Club will host a freewill offering luncheon starting at about 11:30 a.m. with proceeds going to the Jamestown Drum and Bugle Corp. A drawing for quilt and other items will be between 1 and 2 p.m., and the bar will close by 3 p.m.
Memorial Day activities are sponsored by the Jamestown Patriotic Council.
For more information, call 252-8994.
Memorial Day, which is observed on the last Monday of May, commemorates the men and women who died while in the military service.  In observance of Memorial Day, fly the United States flag at half staff from sunrise until NOON , and then raise it to full height from noon to sundown.
United States Flag Code
Section 7.M
The flag, when flown at half-staff, should be first hoisted to the peak for an instant and then slowly lowered to the half-staff position. The flag should be again raised to the peak before it is lowered for the day. On Memorial Day the flag should be displayed at half-staff until noon only, then raised to the top of the staff.
Click here to see the entire US Flag Code….
MANDAN, N.D. (NDNG) – The 2018 Memorial Day Ceremony will begin at noon, Monday, May 28, at the North Dakota Veterans Cemetery, located 6.5 miles south of Mandan on North Dakota Highway 1806. This annual event, hosted by the North Dakota National Guard, honors all deceased American servicemen and women and is free to the public. This year's theme is "The Great War – 100 years Remembered". The theme commemorates 100 years since World War I was formally concluded with the signing of an armistice between the Allied and Central Powers.
Participants should arrive early due to anticipated crowds and motorcycle convoy. Lawn chairs are encouraged as seating is limited. Due to the large attendance anticipated and limited parking near the ceremony area, handicap-marked vehicles are encouraged to arrive before 11 a.m. Shuttle vans marked with yellow flashing lights on top will be available to transport attendees from parking areas to the ceremony. Attendees are encouraged not to drive large vehicles, such as recreational vehicles, campers or tow trailers due to constrained parking.
Individuals not attending the ceremony, but dropping off flowers for Memorial Day grave decorations, should plan to arrive by 10:00 a.m.
This year's keynote speaker is Mr. Darrell Dorgan, who serves as the chairman of the North Dakota WWI Centennial Committee. The emcee is Staff Sgt. Eric W. Jensen, of the North Dakota National Guard's public affairs office in Bismarck. Their biographies are in the 2018 program.
Scheduled to render welcoming remarks are Gov. Doug Burgum, Sen. John Hoeven, Sen. Heidi Heitkamp, Rep. Kevin Cramer and Maj. Gen. Alan S. Dohrmann, N.D. National Guard adjutant general.
Two UH-60 Black Hawk helicopters are scheduled to open the ceremony with a flyover. This aerial display, flown by Soldiers of the North Dakota National Guard, is a formal salute to the fallen military members at the cemetery.
The North Dakota Army National Guard's Fargo-based 188th Army Band's "Brass Quintet" will perform "Amazing Grace" as well as pre-ceremony music. Also participating in the ceremony are local Veteran organizations and the Bismarck Mounted Police, who will feature a caparisoned riderless horse with boots reversed in the stirrups to symbolize a fallen warrior that can no longer ride into battle.
The national anthem will be performed by Miss Shae Skager and Taps by Mr. Harrison Fuller. Bismarck's VFW Post 1326 will render a rifle salute volley while the North Dakota National Guard Military Funeral Honors Team execute a 21-gun cannon salute with a World War I-era French 75-millimeter cannon.
Pastor Paul Schick, Trinity Lutheran Church in Bismarck and Chaplain (Capt.) Chad Gion, North Dakota National Guard and pastor at Spirit of Life in Mandan, will render Memorial Day prayers.
Following WWI, thousands of "Liberty Trees" were planted across North Dakota. In recognition of this year's Memorial Day theme, North Dakota Forest Service, in conjunction the North Dakota WWI Centennial Committee, will give away 1,000 Meyer spruce seedlings at the end of the ceremony for families to take home and plant.
Also in conjunction with Memorial Day, Fort Abraham Lincoln State Park is hosting a Military Appreciation Day by offering free admission to military members, veterans and their families. This state park is located adjacent to the Veterans cemetery. For additional information, please call 701-667-6340.
In support of the Memorial Day ceremony at the North Dakota Veterans Cemetery, the Viet Nam Vets/Legacy Vets Motorcycle Club is organizing a Memorial Day Veterans Honor Run at "The Shop"
(131 Airport Road) in Bismarck. Participants will leave Bismarck at 11 a.m., head west on Main Street, cross the Liberty Memorial Bridge to Mandan's Memorial Highway. After turning west on Mandan's 3rd Street SE, the motorcyclists will head south on North Dakota Highway 1806 until they reach the N.D. Veterans Cemetery. To participate in the run, please assemble between 10:00 a.m. and 10:45 a.m. All motorcyclists are invited to participate and no pre-coordination is required.
The North Dakota Veterans Cemetery was established by an act of the 1989 North Dakota Legislative Assembly. The cemetery was opened July 1992, and is operated by the office of the North Dakota adjutant general.
GRAND FORKS, N.D. (AP) — Police are investigating the death of a baby girl in Grand Forks.
Authorities say a caregiver brought 5-month-old Brynley Rymer to Altru Hospital on Monday. She was airlifted to Sanford Hospital in Fargo where she died.
KFGO reports Grand Forks County Social Services notified police about injuries to the baby. Lt. Brett Johnson says the injuries are "outside of the norm." Investigators are trying to determine whether the baby's injuries are accidental or intentional.
BISMARCK, N.D. (AP) — The North Dakota Republican Party is looking for a new executive director.GOP Chairman Rick Berg says in a letter Friday to party faithful that Dane Ferguson is resigning "to pursue business and family opportunities."Ferguson was hired in January 2017. Berg says Ferguson "laid a great foundation for success in this election cycle."Ferguson is a Grafton native. He made an unsuccessful bid in 2012 for a state House seat in Grand Forks, where he owned a book business and served on the city's school board. 
In sports…
Friday..
West Regional Baseball…
Jamestown 9 Bismarck 1
The Blue Jays play either Minot or Williston Saturday at noon, in the state qualifier.
West Region Softball Thursday
Bismarck Legacy 13 Jamestown 3
Legacy plays in the state qualifier Friday evening at 5-pm against the loser of
the Minot Bismarck Century game
Jamestown ends the season at 14-12
Valley City  (CSi)  The 23rd Annual Soap Box Derby in Valley City is Saturday June 2.
Racing on Central Avenue starts at 9:30-a.m.
Race week usually falls before the first weekend in June. The youth sports complex in valley city serves as our staging area and is open all week to bring your cars in to be worked on a race official will usually be on hand to answer questions and spare parts are available for purchases. Thursday and Friday are inspection nights with Friday being our racer's meeting and picnic.  
Saturday is race day and we start early. Meeting at the Youth sports complex around 7am for the Group photo then its load up and out to the track for practice runs. After opening ceremonies it's a fun filled day of racing and making new friends.
BISMARCK, N.D. (AP) — North Dakota Game and Fish Department biologists investigated winterkills at 13 lakes this spring, and some are considered significant enough to affect the quality of fishing.
Winterkill happens when heavy snowfall blocks sunlight from going into lakes. Plants die and stop giving off oxygen, and they also consume oxygen as they decompose. That limits oxygen available for fish.
Popular fishing lakes that appear to have suffered a significant winterkill include Spring Lake, Davis Dam, Round Lake, Wentz WPA, School Section Lake, Cavanaugh Lake, Matejcek Dam, Casselton Reservoir and Bisek Slough.
Game and Fish restocks fish where needed.
In world and national news…
DETROIT (AP) — Fiat Chrysler is recalling more than 5.3 million vehicles in the U.S., Canada and elsewhere because in rare but terrifying circumstances, drivers may not be able to turn off the cruise control.The company is warning owners not to use cruise control until the cars, SUVs and trucks can be fixed with a software update.
Fiat Chrysler says the condition can occur if the cruise control accelerates at the same time an electrical short-circuit happens. But the brakes are designed to overpower the engine and the vehicles could still be stopped. Shifting into park would cancel the cruise, but tapping the brakes or turning off the cruise control button won't work.
Affected models include the 2014-2019 Ram 1500 pickup, as well as the 2014-2018 Ram 2500, 3500, 4500 and 5500 pickups and chassis cab trucks. Also covered are the 2015-2017 Chrysler 200, the 2014-2018 Chrysler 300, the 2017 and 2018 Chrysler Pacifica minivan. Dodge vehicles included are the 2015 to 2018 Challenger, and the 2014 to 2018 Charger, Journey and Durango, while affected Jeeps include the 2014 through 2018 Cherokee and Grand Cherokee and the 2018 Wrangler.
Fiat Chrysler will begin notifying customers as early as next week. The company is urging customers to follow the recall instructions and get the repairs done as soon as possible.
Owners with questions can call their dealers or Fiat Chrysler at (866) 220-6747.
Fiat Chrysler shares fell 2.2 percent Friday to $21.77 in late-day trading.
NOBLESVILLE, Ind. (AP) — A police chief says an Indiana middle school student asked to be excused from class, then returned with two handguns and opened fire.
Noblesville police Chief Kevin Jowitt says a student and teacher suffered gunshot wounds in the Friday morning attack at Noblesville West Middle School.
Jowitt says the student was quickly taken into custody and didn't confirm accounts that the teacher tackled the shooter after he fired four to six shots.
The wounded teacher and student were taken to hospitals in Indianapolis. Officials haven't released information on the severity of their injuries.
NEW YORK (AP) — Harvey Weinstein was in and out of custody so quickly in his rape case, he probably didn't have time to read the books he brought with him.
The film mogul carried three books under his arm as he surrendered at a New York City police station Friday.
One was "Something Wonderful: Rodgers and Hammerstein's Broadway Revolution," by Todd Purdum.
A second was Richard Schickel's biography of filmmaker Elia Kazan. The identity of the third book wasn't immediately apparent.
Weinstein handed off the books at the police station, where he was booked quickly. An associate was carrying them when he left court a few hours later.
The film producer denies charges that he raped one woman and forced another to perform oral sex.
WASHINGTON (AP) — Donald Trump's personal lawyer, Michael Cohen, met with a Russian oligarch and discussed U.S.-Russia relations just 11 days before Trump was inaugurated as president.
That's according to a person familiar with the meeting held at Trump Tower in New York who spoke on condition of anonymity because he was not authorized to discuss the meeting publicly.
This person said the oligarch, billionaire Viktor Vekselberg, met with Cohen for about 20 minutes in Cohen's office. The two men were joined by Andrew Intrater, Vekselberg's American cousin, who heads a New York private equity firm that manages his financial assets.
Soon after the inauguration, Intrater's firm, Columbus Nova, paid Cohen $500,000 for consulting work. Vekselberg was targeted in April with U.S. Treasury Department sanctions, citing his ties to Russian President Vladimir Putin.
OKLAHOMA CITY (AP) — The man suspected of shooting three people inside an Oklahoma City restaurant before being fatally shot was licensed as an armed security guard.
Gerald Konkler with the Oklahoma Council on Law Enforcement Education and Training says 28-year-old Alexander Tilghman held an active license as an armed guard.
Konkler declined further comment, citing state privacy laws.
Oklahoma City police say Tilghman opened fire inside a local restaurant late Thursday, shooting and wounding a woman and two girls. He was later shot dead by two bystanders outside.
Police on Friday said the shooting appeared to be random but noted that Tilghman drove to the restaurant and wore protective gear for his ears and eyes. A police spokesman says it "looked like his mind was made up that he was going to discharge his firearm once he got there."
TORONTO (AP) — Canadian police say an explosion set off deliberately in a restaurant has wounded at least 15 people, some of them critically.
Peel region police said the explosion was caused by an "improvised explosive device" that was set off by two people who then fled the scene in the Toronto suburb of Mississauga.
Paramedic Joe Korstanje said three people suffered critical injuries while others were lightly hurt.
The explosion happened just after 10:30 p.m. on Thursday, and the plaza where the restaurant is located was still sealed off on Friday.