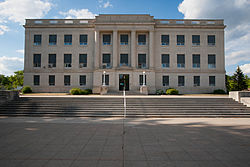 Jamestown  (CSi)  Those Stutsman County voters wishing to cast early voting ballots may do so from May 29 through Friday June 8th at the Stutsman County Courthouse.
Voters must present a valid ID at the time of any method of voting.
For voter ID requirements click here.
Those with questions about early voting or absentee voting, or which legislative district they reside in can call the county auditors office at 701-252-9035, or visit the website.
For information about absentee ballots, click here.
In Barnes County vote by mail information.