Jamestown  (Cassie DuBray)  United Way of Stutsman County presented $18,900 in Venture Grant funding to five Stutsman County 501c3 organizations at it's May annual retreat.
Venture Grants are one-time grants for local (Stutsman County) non-profit 501 c3 agencies to help fund programs which meet critical, unmet needs in the community and fit within the Stutsman County United Way's funding priorities. These competitive, merit-based grants will be distributed through a committee on the United Way of Stutsman County Board of Directors.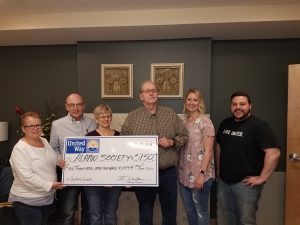 Alano Society was presented an award of $5,150 to help install new doors and windows into the local clubhouse. The Alano Society, Inc. Clubhouse serves a diverse population including adolescent and adult persons of all gender, race, and religion who benefit from the Anonymous 12-step programs that are held in the building. Many Persons are referred to these programs from state agencies including the South Central Human service Center and the North Dakota State Hospital. People benefiting from this project are the alcoholic and drug-addicted populations of Stutsman County and their families who attend the 12-step meetings at the building. Approximately 1,600+ persons come through the doors in a calendar year seeking assistance. Nancy Harty, Secretary Treasurer for the Alano Society wrote that "this project will affect all who attend weekly meetings by providing a safe, more energy efficient building. The building was constructed in 1979. The windows and doors have suffered significant deterioration of the years and have become energy inefficient and hazardous."
The Jamestown Cancer Support Group was presented an award of $5,000 to help purchase gas cards for individuals of all ages currently seeking cancer treatment. The Jamestown Cancer Support Group began in 2009 by providing education to individual regarding cancer. In 2013, the group was able to provide financial assistance by way of gas cards to help defray transportation costs. The group continues to provide education, gas cards and referrals to other resources such as local food shelves, alternative transportation options, counseling and social worker services. People benefitting from this project are individuals, their families, friends and care givers who are dealing with cancer treatment. Laurel Haroldson, JCSG President, wrote "Our community is challenged geographically when cancer treatment is needed. Individuals have to travel approximately 200 miles or more round trip for diagnosis, care and treatment. Health Insurance typically does no cover this expense and it becomes very costly.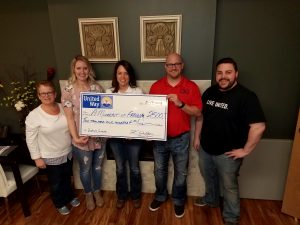 A Moment of Freedom was presented an award of $2,500 to start and build a therapeutic riding program in Stutsman County. With a goal of starting a full season of therapeutic riding in the spring of 2019. Any individual with special needs, along with any volunteer who chooses to volunteer for A Moment of Freedom will benefit from this project. This program no only helps those who ride but can provide volunteers with a sense of purpose. Those who volunteers an also gain skills in providing care for those with special needs and learning how to care for larger animals. Annie Keffeler, Founder/President, wrote "it has been proven that therapeutic riding not only calms any individuals with behavioral issues, therapeutic riding also helps relax those with high muscle tone along with building core muscles needed for balance.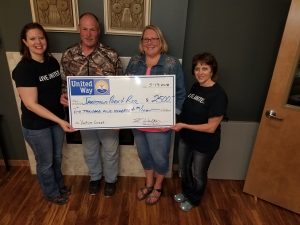 Jamestown Park and Recreation Foundation was presented an award of $2,500 for its development of a new accessible sensory garden at Solein DeNault Park in Jamestown. This garden is unique to the community and the surrounding area as an all accessible sensory garden in a park setting useable by all ages, disability and education classes. The Venture grant will be used to help pay the expense of the accessible walkway going through the park plan. Doug Hogan, Park and Rec Director, wrote "this garden begins with a concrete pathway six feet wide to accommodate wheel chair use. There will be five benches, and 24 different flower boxes to engage all the sense; sight, sounds, smell, touch and taste. The different size flower boxes will be accessible to all with a boardwalk.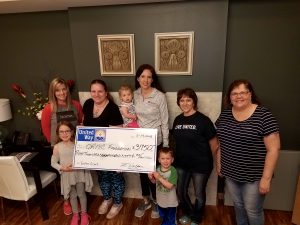 Jamestown Regional Medical Center was presented an award of $3,750 for assisting with the implementation of a successful infection control program. The goal of the JRMC Infection control program is to identify and reduce the risks of acquiring and transmitting infections among patients, employees, physicians and other licensed independent practitioners, contract service workers, volunteers, students and visitors. The XENEX LightStrike "Germ-Zapping" Robot project. The project will add an ultraviolet technology to treat patient rooms and other key areas in at JRMC to help keep patients healthy, prevent infection and save thousands in medical costs. Lisa Jackson, JRMC Foundation Director, wrote "the robot is proven to kill the scariest pathogens (like the Ebola virus and anthrax) as well as the more common (and dangerous) germs like MRSA, C. diff, VRE, CRE, norovirus and the flu virus. JRMC would be the only hospital in more than 100 miles radius that would have this technology."
The Venture Grant Program of the Jamestown United Way is an innovative funding approach developed to provide short-term financial support to emerging human service groups whose programs are responding to an established community need. The program makes funds available to nonprofit health or social welfare agencies or programs.
Venture grant recipients will be allowed to seek extended funding beyond the first year for stabilization purposes. If an agency receives a venture grant, it secures funding for the first year. The agency may apply the following year for the Venture grant for a total of two years' worth of award. This does not, however, oblige the Jamestown United Way to fund the re-applicant, but only to consider its request.
The United Way of Stutsman County is part of United Way Worldwide. Its mission is to improve lives by mobilizing the caring power of communities around the world to advance the common good. The current impact model emphasizes that 99% of all funds raised stays within in Stutsman County. For more information, please contact Executive Director Karla Bachmeier at jmstuway@gmail.com or call 701-952-UWAY.