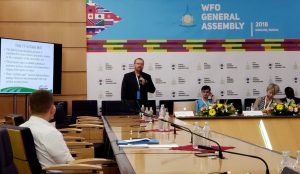 Jamestown  (NDFU)  – North Dakota Farmers Union (NDFU) President Mark Watne returned from Moscow, Russia, this week after speaking at a general assembly gathering of the World Farmers' Organization (WFO). He presented information on U.S. multi-peril crop insurance, and shared ideas on farmer-owned concepts.
Watne says, "Regardless of where we travel, farms and farmers' concerns are similar. We lack income to support our operations and it is time that farmers are paid for producing essential food."
Based in Rome, WFO is an international organization of farmers, who work to bring together producers and cooperative organizations to develop policies that favor and support farmer causes in developed and developing countries around the world.
Also representing the U.S. in Russia were Dave Velde, National Farmers Union general counsel, and Minnesota Farmers Union President Gary Wertish.
Velde said farmers from all over the world discussed weather-generated damage to crops, buildings and livestock, adding, "Whether you believe in climate change or not, the fact is, catastrophic weather events are on the rise."
Members of the assembly also appointed Wertish to chair their newly formed livestock working group. He will lead the developing dialogue on livestock issues around the world.
(Photo Courtesy NDFU)