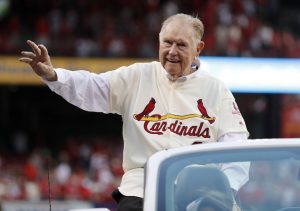 ST. LOUIS (AP) — Red Schoendienst (SHAYN'-deenst), the Hall of Fame second baseman who managed the St. Louis Cardinals to two pennants and a World Series championship died Wednesday.
He was 95.
Alfred Fred Schoendienst wore the Cardinals uniform for 45 seasons as a player, coach and manager and he remained involved as a special assistant to the general manager.
A 10-time All-Star with the Cardinals, Giants and Braves, Schoendienst was elected to the Hall of Fame in 1989 by the Veterans Committee.
He ranks second in Cardinals history with 1,041 managerial victories. His No. 2 jersey was retired in 1996.