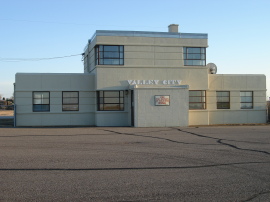 Bismarck  (NDAC) On June 7th, 2018, the North Dakota Aeronautics Commission awarded approximately $3.35 million in infrastructure grants to multiple public airports throughout the state.
These state infrastructure grants are used to help fund numerous high priority airport projects throughout the state of North Dakota.  The revenue source for these airport grants is derived primarily from state tax collections on aviation fuel and aircraft sales. A majority of the state grant allocations will also match federal grants that are anticipated to be received for 2018 airport projects.  These state grants are critical in maintaining the needed infrastructure to support the aviation industry, which is a major contributor to the state's economy.
In 2015, the North Dakota Aeronautics Commission completed a research project to estimate the annual economic impact that the 89 public-use airports provide to North Dakota.  The research concluded that the airports have an estimated annual economic impact of $1.6 billion dollars on the state's overall economy while providing support for over 12,200 jobs. More information on the study is available from the Aeronautics Commission website at www.aero.nd.gov.
North Dakota Aeronautics Commission Director, Kyle Wanner says, "The directive that the state legislature has provided to the North Dakota Aeronautics Commission is to encourage and assist in the development of airports in the state.  One of the primary ways that our organization accomplishes that mission is by working to direct federal and state funds to North Dakota communities for the continued development of their airports.  Airports are vital to the state's economic development and provide much needed services for our communities. We are excited to provide these grants and to help be a part of the infrastructure solutions that our communities require."
Jamestown Regional Airport received $179,000 five percent of the project cost of $3.59 million for runway and taxway rehab, and removal of a taxiway.
Other projects include:
Barnes County Airport:  $41,478, construction of a wildlife fence.
Carrington: $26,280 for hangar construction.
Edgeley:  $15,900, jet fuel system, and beacon.
Ellendale:  $5,036  crack sealing.
LaMoure:  $3,095 crack sealing.