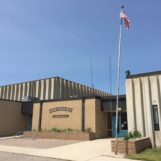 COLFAX, N.D. (AP) — A southeastern North Dakota school district where alleged hazing at the high school led to charges against five boys has hired a new principal.
Britney Gandhi will replace Bruce Anderson, who is retiring from the Richland 44 school in Colfax. She's been a principal in Colorado Springs, Colorado, and is the wife of Fargo's incoming school superintendent.
Authorities in mid-February referred five boys to juvenile court following alleged misconduct in the boys' locker room at the Colfax school of 160 students. The offenses allegedly committed against other boys included felonious restraint, terrorizing, hazing and sexual assault.
The school's superintendent resigned, and Anderson retired. The athletic director also departed, though it's unclear whether he was fired or resigned.