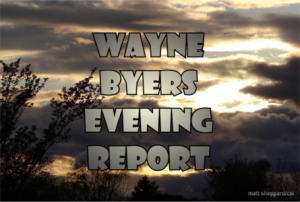 CSi Weather…
SUNDAY…Mostly sunny. Highs in the mid 80s. Southeast winds
10 to 15 mph increasing to around 20 mph in the afternoon.
.SUNDAY NIGHT…Mostly cloudy. Chance of showers and
thunderstorms in the evening, then showers likely and chance of
thunderstorms after midnight. Lows in the lower 60s. Chance of
precipitation 60 percent.
.MONDAY…Partly sunny. A 30 percent chance of showers in the
morning. Highs in the lower 70s.
.MONDAY NIGHT…Partly cloudy. Lows in the lower 50s.
.TUESDAY…Mostly sunny. Highs in the lower 70s.
.TUESDAY NIGHT…Mostly clear. Lows in the lower 50s.
.WEDNESDAY…Sunny. Highs in the mid 70s.
.WEDNESDAY NIGHT…Partly cloudy. Lows in the mid 50s.
.THURSDAY…Mostly sunny. Highs in the mid 70s.
Scattered thunderstorms are possible Friday evening. A few could be
severe with hail up to quarter size and damaging wind gusts up to
60 mph.
Thunderstorms appear likely Sunday night into Monday. Some of
these thunderstorms could become severe Sunday night with
damaging wind gusts the main threat. A few locations could also
see heavy rain and localized flooding.
Jamestown  (CSi)  Jamestown Regional Medical Center and Central Valley Health, have announced that the No Excuses Event is set for June 11th and 12th, at JRMC.
Register by calling 701-952-4163, or on line at jrmcnd.com
Because of No Excuses, women receive cancer screening services that they otherwise could not afford, including 3-D mammograms.
Jamestown  (CSi)  Jamestown Parks and Recreation Director Doug Hogan announces that the public is invited to a retirement open house for Larry Knoblich, who is stepping down from the Park Board.
The open house will be Monday June 11th at 5:15-p.m., at the Jamestown Elks 995 Lodge.
Jamestown  (CSi)  Jamestown Public Works reports that due to the NW Water Main construction work upstream, the Ice House Dam gates will be opened on Tuesday, June 12, 2018.
It is anticipated they will remain open until the construction work is completed.
MANDAN, N.D. (AP) — Students and friends in North Dakota are planning a memorial and auction to mark the life of a longtime art teacher who died last year.
The Bismarck Tribune reports that 70-year-old Diane Boschee died in November after battling cancer for several years. Nicknamed "The Queen of Flash and Trash," Boschee taught art education at Mandan High School from 1974 to 2001.
Loved ones will hold a memorial and art sale for Boschee at the school Saturday. Pieces of her own artwork and personal collections will be sold at the school and online, with half the proceeds going to the school's art department.
John Gieser is the current art teacher and a 1998 graduate of the school. He says Boschee is "pretty much legend status around here."
MINOT, N.D. (AP) — The North Dakota Supreme Court has upheld the conviction of Minot man who admitted killing his brother two years ago.
The Minot Daily News reports that 28-year-old Adolfo Contreras-Castillo appealed to the Supreme Court and asked to withdraw his guilty plea on the basis that his defense attorney did not adequately inform him regarding the implications a guilty plea would have to his immigration status.
The state argued that Contreras-Castillo was told at his initial appearance that a guilty plea could result in deportation.
Contreras-Castillo pleaded guilty in August 2016 to killing 28-year-old Ignacio Contreras-Castillo during an argument in March of that year. He was sentenced to 35 years in prison.
WATFORD CITY, N.D. (AP) — A North Dakota sheriff who once faced a criminal charge and was suspended by the governor has apologized for some recent text messages.
Conservative blogger Rob Port obtained texts in which McKenzie County Sheriff Gary Schwartzenberger joked about the weight of his opponent in the upcoming election and also violence against immigrants.
Schwartzenberger in a Facebook apology said the texts he made to a then-friend were "inappropriate" and he regrets sending them. He didn't immediately respond to an Associated Press request for comment.
Then-Gov. Jack Dalrymple suspended Schwartzenberger in 2016. Gov. Doug Burgum reinstated him last year after a special commissioner ruled there wasn't enough evidence to support his removal.
A judge in January threw out a misdemeanor charge against Schwartzenberger related to his use of a county credit card.
BISMARCK, N.D. (AP) — U.S. and Canadian officials are negotiating an end to a 16-year legal battle over a Missouri River water project in North Dakota, though the state of Missouri also has a stake and isn't part of the discussions.
Court documents filed May 3 show the Canadian province of Manitoba proposed a settlement in the dispute over the Northwest Area Water Supply project, and the U.S. Bureau of Reclamation countered with an alternative.
"Manitoba, the Bureau and North Dakota are hopeful that within the next several weeks they will be able to agree to final settlement terms," Manitoba attorney Scott DuBoff wrote.
NAWS aims to bring Missouri River water to tens of thousands of people in northwestern North Dakota, giving them a reliable source of quality water. Congress first authorized its construction in 1986, but it's been tied up in the courts since Manitoba sued in 2002 over concerns about the possible transfer of harmful bacteria or other agents from the Missouri River Basin to the Hudson Bay Basin.
U.S. District Judge Rosemary Collyer in Washington, D.C., ruled last August that the project complies with federal environmental law, clearing the way for completion of the $244 million water system. Manitoba appealed.
In world and national news…
WASHINGTON (AP) — Special counsel Robert Mueller has brought additional charges against President Donald Trump's campaign chairman and a longtime associate, accusing them of obstructing justice. The new charges were unsealed Friday against Paul Manafort and Konstantin Kilimnik. They come just days after prosecutors accused the two men of attempting to tamper with witnesses as Manafort awaits trial of felony charges related to his work on behalf of Ukrainian interests.
PARIS (AP) — A shopkeeper in a village of red rooftops in France's Alsace region where Anthony Bourdain apparently hanged himself says he saw a lot of coming and going outside the luxury Le Chambard hotel. Forty-one-year-old Christophe Jolin says the Friday morning activity was unusual for Kaysersberg, a scenic ancient village with a population of less than 3,000 residents. The village is a well-known spot on the famed wine route of Alsace.
LA MALBAIE, Quebec (AP) — The Group of Seven leaders have posed for a "family photo" on the first day of the international summit of industrialized nations in Canada. President Donald Trump stood between German Chancellor Angela Merkel and Canadian Prime Minister Justin Trudeau for the ceremonial G-7 photo. The president then paused to speak with Merkel as the other leaders exited the spot overlooking the St. Lawrence River at the summit in Quebec.
GAZA CITY, Gaza Strip (AP) — French news agency AFP says one of its photographers was wounded at a mass rally in Gaza by what appeared to be Israeli gunfire. AFP said Mohammed Abed al-Baba was wearing a press vest and helmet about 200 meters (yards) from the border when hurt. Israel's military had no immediate comment on the incident.
WASHINGTON (AP) — House Democrats are asking the Justice Department to investigate Environmental Protection Agency Administrator Scott Pruitt for any potential criminal conduct. They allege he repeatedly violated federal anti-corruption laws by seeking to leverage his government position for personal gain. The request for an investigation was made in a letter sent Friday to FBI Director Chris Wray and Justice's criminal division chief by six Democratic lawmakers with oversight of Pruitt's agency.