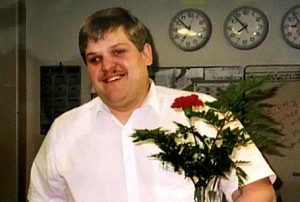 Nathan Stangeland, 48, Jamestown, died Thurs  June 7, 2018 at his home in Jamestown.
Nathan was born January 17, 1970 at Carrington, ND, the son of Lawrence and Theone (Bakken) Stangeland. He attended school at Carrington and later graduated from New Rockford High School in 1989.
Nathan was a member of the Bethany Free Lutheran Church in Binford. He enjoyed watching movies whether it be on VHS or DVD. He also enjoyed camping and spending time with his dog Buddy.
He is survived by his parents, Lawrence and Theone Stangeland, McVille, ND; 1 brother and 2 sisters, David (Lori) Stangeland, Sioux Falls, SD; Ruth (Stuart) Smith, Bismarck, ND and Esther (Mark) Roehl, Hutchinson, MN; 1 nephew, Christian Smith 3 nieces, Jenna Smith, Serena Roehl and Madelyn Roehl.
Visitation – 4:00 – 7:00 PM Wednesday June 13, 2018 at the Haut Funeral Home, Jamestown
Funeral Services – 11:00- AM Thursday June 14, 2018 at the Bethany Free Lutheran Church in Binford, ND
Burial – James River Lutheran Cemetery, East of Carrington, ND