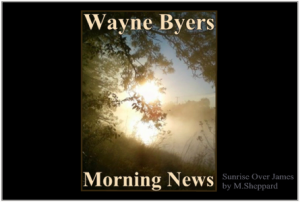 CSi Weather….
.REST OF TODAY.. Becoming mostly sunny in the afternoon.
Cooler. Highs in the upper 60s. Northeast winds 10 to 15 mph shifting to the northwest around 20 mph in the afternoon.
.TONIGHT…Partly cloudy. Lows around 50. Southwest winds 5 to
10 mph.
.TUESDAY…Sunny. Highs in the lower 70s. West winds 10 to
15 mph.
.TUESDAY NIGHT…Clear. Lows in the upper 40s. Southwest winds
5 to 10 mph.
.WEDNESDAY…Sunny. Highs in the upper 70s. South winds 5 to
10 mph.
.WEDNESDAY NIGHT…Partly cloudy. Lows in the upper 50s.
.THURSDAY…Mostly sunny. Highs in the mid 80s.
.THURSDAY NIGHT…Mostly cloudy with a 40 percent chance of
showers and thunderstorms. Lows in the mid 60s.
.FRIDAY…Partly sunny. A 20 percent chance of showers and
thunderstorms in the morning. Highs in the lower 80s.
.FRIDAY NIGHT…Mostly cloudy with a 30 percent chance of showers
and thunderstorms. Lows in the lower 60s.
.SATURDAY…Partly sunny. A 20 percent chance of showers and
thunderstorms in the morning. Highs in the lower 80s.
.SATURDAY NIGHT…Mostly cloudy with chance of rain showers and
slight chance of thunderstorms. Lows in the upper 50s. Chance of
precipitation 40 percent.
.SUNDAY…Mostly cloudy with chance of rain showers and slight
chance of thunderstorms. Highs in the mid 70s. Chance of
precipitation 30 percent.
Strong to severe thunderstorms are possible Thursday night.
Jamestown  (CSi)  Jamestown Regional Medical Center and Central Valley Health, have announced that the No Excuses Event is set for June 11th and 12th, at JRMC.
Register by calling 701-952-4163, or on line at jrmcnd.com
Because of No Excuses, women receive cancer screening services that they otherwise could not afford, including 3-D mammograms.
Jamestown  (CSi)  Jamestown Parks and Recreation Director Doug Hogan announces that the public is invited to a retirement open house for Larry Knoblich, who is stepping down from the Park Board.
The open house will be Monday June 11th at 5:15-p.m., at the Jamestown Elks 995 Lodge.
BISMARCK, N.D. (AP) — John Erickson breezed into downtown Bismarck's government building, flashed his ID and picked up a primary ballot.
A few minutes later, the early voting ballot complete, Erickson traded pleasantries with friends and familiar poll workers and headed back to tend the cows and crops on his farm north of the state's capital city.
Erickson, 86, the proud non-owner of a neither a television nor computer, relishes the fact that he has never had to register to vote in his native state.
"I like life simple," he said.
In an era when hacking has raised concerns about the security of America's elections and President Donald Trump rages about voter fraud, North Dakota stands out as the only state that doesn't require voter registration.
WILLISTON, N.D. (AP) — Authorities believe a body pulled from the Little Muddy River is that of a Williston man who was reported missing.
Twenty-nine-year-old Brandon Barnes was last seen at his residence early Wednesday.
KXMC-TV reports that authorities searched the river Thursday after finding tire tracks in the area, and found the body and a pickup truck that appears to belong to Barnes.
The state medical examiner is working to officially identify the body and determine the cause of death.
MANDAN, N.D. (AP) — A Mandan man is facing allegations of child sex abuse involving boys younger than 15 dating back a decade.
The Bismarck Tribune reports that 33-year-old Kyle Kennedy is facing charges in federal court relating to attempted sexual exploitation and child pornography.
He also faces sex crime and indecent exposure charges in state court.
Kennedy is in federal custody pending trial. He's scheduled to enter pleas Tuesday.
BISMARCK, N.D. (AP) — Some buildings from a World War II internment camp in Bismarck have been saved from demolition and will be reassembled into a lasting piece of history.
The Bismarck Tribune reports that 78-year-old Mike Beck for the past year has been reassembling a Fort Lincoln internment camp building at Buckstop Junction, a pioneer village east of Bismarck.
The structure was set for demolition in 2011 after serving for more than 40 years as the maintenance building at Bismarck State College. Beck and others rescued the barracks building and brought the pieces to Buckstop Junction.
The Fort Lincoln camp housed more than 4,000 German and Japanese prisoners of war from 1941-1946. The area is now United Tribes Technical College.
Beck says the camp was "part of a history in the United States that no one wants to talk about."
SPEARFISH, S.D. (AP) — The city of Spearfish is leasing space at its airport for Black Hills Life Flight.
The Spearfish City Council recently approved a lease agreement between the city and Air Methods Corporation. The agreement says Air Methods would locate a doublewide trailer or modular building to the airport, which would be used by the Life Flight crew. It also says that the use and occupancy of the property would comply with the airport rules, regulations, and minimum standards.
The Black Hills Pioneer reports that the base, which previously operated from Rapid City, will provide emergency air medical services 24 hours a day to Spearfish. The base will also provide medical services to Northern Black Hills, eastern Wyoming and Montana, and to the southern part of North Dakota.
The agreement will be in effect until May 10, 2023.
MINNEAPOLIS (AP) — A North Dakota newspaper columnist says she's grateful Anthony Bourdain stood up for her when she was being criticized online for her glowing review of the Grand Forks Olive Garden.
Marilyn Hagerty's 2012 review of the town's hottest new Italian restaurant marveled at the chicken Alfredo and the warm breadsticks and went viral. Bourdain defended her on Twitter and ended up publishing a book of her work.
The celebrity chef and TV host wrote in the foreword anyone who wasn't charmed by Hagerty had a "heart of stone."
Hagerty says she's sad Bourdain died. She says she enjoyed meeting with him and he was very personable. She said Saturday he was a warm person and talking with him was like talking to a friend.
Bourdain died Friday in France in an apparent suicide.
In sports…
MLB— Jake Cave had a career-high three hits, including a home run, and the Minnesota Twins held on to beat the Los Angeles Angels 7-5. Los Angeles had the go-ahead run at the plate against closer Fernando Rodney, but Zack Cozart popped out.— Seth Lugo pitched six dominant innings in a stellar spot start, Todd Frazier hit a two-run homer off Luis Severino, and the New York Mets beat the Yankees 2-0 on Sunday night to snap an eight-game skid.

Frazier went deep for the second consecutive night to help the Mets prevent a Subway Series sweep at Citi Field. They ended a 10-game home losing streak and avoided an 0-9 homestand that would have matched the worst in team history.

Despite losing another important player to injury when second baseman Asdrubal Cabrera exited with a tight left hamstring, the Mets broke a six-game slide against their New York rivals. The crosstown foes meet again at Yankee Stadium from July 20-22, right after the All-Star break.

Elsewhere in the majors:

— Clayton Richard became the latest pitcher to flirt with the first no-hitter in San Diego Padres' history. He lost his bid with two outs in the seventh inning during a 3-1 win over the Miami Marlins. The Padres are the only team in the majors that has never thrown a no-hitter. They have played 7,881 games since starting out in 1969.

— Max Muncy homered in his third straight game, Logan Forsythe and Enrique Hernandez also connected, and the Los Angeles Dodgers beat the Atlanta Braves 7-2. The Dodgers took the series from Atlanta and have won seven of their last nine games.

— George Springer scored the tiebreaking run in the ninth inning on a balk, and the Houston Astros swept their Texas rivals in a four-game series for the first time with an 8-7 win over the Rangers. Springer also had his major league-leading fifth leadoff home run.

— Brandon Crawford went 4 for 4 with a two-run homer, and the San Francisco Giants dealt Max Scherzer his first loss in more than two months, defeating the Washington Nationals 2-0. After Pablo Sandoval walked leading off the third, Crawford homered into the second deck in right for his eighth of the season. Since May 1, Crawford is hitting an MLB-best .439. Scherzer had won nine straight decisions since his last loss on April 4.

— Paul Goldschmidt doubled and tripled and had two RBIs to finish off a dominating series and the Arizona Diamondbacks earned an 8-3 victory over the Colorado Rockies. Goldschmidt homered twice in each of the first two games against the Rockies. He was 8 of 13 with four home runs and nine RBIs in the three-game sweep.

— Matt Chapman homered leading off the eighth, moments after shortstop Marcus Semien's defensive gem, and the Oakland Athletics beat the Kansas City Royals 3-2. Stephen Piscotty and Jonathan Lucroy both drove in runs for the A's, who squandered numerous scoring chances before Chapman came through with a solo home run off Royals reliever Jason Adam.

— Reynaldo Lopez pitched into the seventh inning, Daniel Palka had a two-run double and the Chicago White Sox beat the Boston Red Sox 5-2. Lopez gave up two runs and six hits while striking out six with three walks in 6 1/3 innings to improve to 1-3 in eight road starts this season.

— Right fielder Mitch Haniger threw out Johnny Field at the plate to end the game, and the Seattle Mariners held off the Tampa Bay Rays 5-4 for their 17th win in 22 games. Field tried to score from first on a two-out, bloop single by Carlos Gomez. James Paxton struck out 10 and Kyle Seager hit a go-ahead home run for Seattle. Nelson Cruz and Mike Zunino also homered for the Mariners.

— Corey Kluber continued his dominance of the American League Central, allowing two runs in eight innings as the Cleveland Indians beat the Detroit Tigers 9-2. Kluber (10-2) is 5-0 with a 0.76 ERA in five starts against division rivals this season and has won his last 11 decisions against teams from the AL Central. Melky Cabrera and Erik Gonzalez each drove in three runs for Cleveland, which expanded its divisional lead to five games over the Tigers.

— Curtis Granderson had four hits and a career-high six RBIs, Marco Estrada pitched six innings to snap an eight-start winless streak and the Toronto Blue Jays routed the struggling Baltimore Orioles 13-3 to complete a four-game sweep.

— Zach Eflin tied his career high with nine strikeouts over six innings and the Philadelphia Phillies snapped a four-game losing streak by holding off the Milwaukee Brewers 4-3. Eflin had his second strong start after two subpar outings. He allowed two runs and three hits with one walk. It was the Phillies' fourth victory in 14 games.

— Josh Harrison led off the game with a home run and Gregory Polanco hit a bases-loaded triple, leading Ivan Nova and the Pittsburgh Pirates over the Chicago Cubs 7-1. Pittsburgh ended its losing streak at three. Anthony Rizzo drove in the lone run for Chicago, which had won four in a row.

— Center fielder Billy Hamilton made a bunch of key defensive plays and the Cincinnati Reds ended their 13-game losing streak to St. Louis, beating the Cardinals 6-3. Hamilton threw out two runners, then made outstanding catches against the wall in the eighth and ninth innings. He also tripled and scored twice.

MLB NEWS

WASHINGTON (AP) — The Washington Nationals placed right-handed pitchers Stephen Strasburg and Brandon Kintzler on the 10-day disabled list Sunday.

Second baseman Daniel Murphy (right knee surgery) could be close to returning to the lineup. He rejoined the team Sunday, taking batting practice and fielding grounders.

Manager Dave Martinez said Murphy will accompany the team to New York, where they open a two-game series against the Yankees on Tuesday. The Nationals will play five straight games in American League parks where they'll need a designated hitter.

In other MLB news:

— Aaron Judge was held out of the closer of the Subway Series against the Mets because of a jammed left thumb. With an off day coming up Monday, manager Aaron Boone says he's just playing "the long game" and simply wants to take the opportunity to give Judge consecutive days off. The slugger hurt his thumb sliding into second base during the first inning of Friday night's series opener.

— Yoenis Cespedes' rehab assignment has been cut short after a setback, and the plummeting New York Mets have also lost Asdrubal Cabrera due to a tight left hamstring. The Mets aren't sure when they might get Cespedes back from a nagging hip injury. The slugging left fielder was removed from his second rehab game for Double-A Binghamton with tightness in his right quadriceps. Cabrera left a game against the Yankees after stumbling out of the batter's box.

— The Toronto Blue Jays say prospect Vladimir Guerrero Jr. will miss at least four weeks because of a strained patellar tendon in his left knee. The son of Hall of Fame outfielder Vladimir Guerrero and one of baseball's highest-ranked prospects left a game for Double-A New Hampshire after going 2 for 2 with two singles. He was placed on the seven-day disabled list and traveled to Toronto's spring training facility in Florida for tests. Guerrero is batting .407.

NFL NEWS

UNDATED (AP) — Earl Thomas is putting the pressure on the Seattle Seahawks for a new contract, saying he will not participate in any team activities until his contract situation is resolved.

That includes the upcoming mandatory minicamp.

The three-time All-Pro safety posted a lengthy statement on social media Sunday, saying he wants "certainty in regards to the upcoming years of my career," before he takes part in any Seahawks related activities. Thomas is entering the final year of his current deal signed before the 2014 season. He is scheduled to make $8.5 million in base salary in 2018.

TENNIS-FRENCH OPEN

PARIS (AP) — Rafael Nadal (rah-fay-ehl nah-DAHL') has defeated Dominic Thiem (teem) 6-4, 6-3, 6-2 to win a record-extending 11th title at the French Open.

Nadal briefly interrupted the final in the third set because of a cramp in his left wrist on his racket-holding hand.

Nadal becomes the second player in tennis history to win 11 singles titles at any Grand Slam tournament after Margaret Court, who claimed 11 Australian Open titles.

Nadal will remain at the top of the ATP rankings ahead of Roger Federer. Nadal and Federer have won the past six Grand Slam tournaments between them.

Earlier Sunday at the Open, Barbora Krejcikova (bahr-BOHR'-ah krah-CHEE'-koh-vah) and Katerina Siniakova (sih-NEE'-koh-vah) of the Czech Republic won their first Grand Slam title in women's doubles.

PGA- ST JUDE CLASSIC

MEMPHIS, Tenn. (AP) — Dustin Johnson emphatically reclaimed the No. 1 ranking Sunday, holing out for eagle from 170 yards on the final hole for a six-stroke victory in the St. Jude Classic.

Johnson shot a 4-under 66 for his second PGA Tour victory this year and 18th of his career to reclaim the No. 1 ranking he held for 64 straight weeks before dropping down a month ago. He won the event for the second time, finishing with the eagle, three birdies and a bogey for a 19-under 261 total.

Andrew Putnam started the final round with a share of the lead for the first time in his career. He shot 72 and finished at 13 under.

LPGA

GALLOWAY, N.J. (AP) — Annie Park won the ShopRite LPGA Classic for her first LPGA Tour victory, closing with an 8-under 63 on Sunday for a one-stroke victory over Sakura Yokomine.

The 23-year-old Park, from Levittown, New York, had an eagle and six birdies on a cloudy day over the Bay Course at Stockton Seaview to complete 54 holes at 16-under 197, a stroke off the tournament record.

Yokomine, the winner of 23 events on the Japan LPGA Tour, flirted with a 59 but parred the par-5 18th for a 61 to tie the course record.

PGA TOUR CHAMPIONS

DES MOINES, Iowa (AP) — Second-round leader Tom Lehman has been declared the winner of the PGA Tour Champions event in Iowa after weather washed out Sunday's final round.

Principal Charity Classic officials had delayed the start of the third round by nearly five hours because of bands of lightning and persistent rain in central Iowa before calling the event.

Lehman shot a 7-under 65 on Saturday to take a two-shot lead over Bernhard Langer, Glen Day, Woody Austin and Scott Parel.

NASCAR-MICHIGAN

BROOKLYN, Mich. (AP) — Clint Bowyer raced to his second NASCAR Cup Series victory of the season when Sunday's event at Michigan was called early because of rain.

Bowyer beat out Kevin Harvick on a restart to begin the third stage, and then the race went under caution when Ricky Stenhouse Jr. went into the wall. The rain put a stop to the race after 133 of the planned 200 laps on the 2-mile track.

Harvick was second, and pole winner Kurt Busch finished third, completing a sweep of the top three for Stewart-Haas Racing. Kyle Busch was fourth, the lone Toyota near the top in a race dominated by Ford. Four more Fords — Paul Menard, Brad Keselowski, Joey Logano and Ryan Blaney — rounded out the top eight.

TRIPLE CROWN-JUSTIFY

NEW YORK (AP) — Triple Crown winner Justify will get a well-deserved break and then race again this year, although no date or location has been targeted yet after the colt came out of his Belmont Stakes victory in good condition.

Elliott Walden of WinStar Farm said Sunday the multi-owner group that controls Justify wants to share the horse with the public by racing him. A plan will be formulated once the chestnut colt recovers from a compressed schedule that saw him win six races over 111 days since his debut on Feb. 18.

Justify became the 13th Triple Crown winner and second in four years with a victory Saturday in the Belmont.
In world and national news…
SINGAPORE (AP) — Iran says North Korea should be wary of negotiating with President Donald Trump following his withdrawal from the landmark 2015 nuclear agreement. Foreign Ministry spokesman Bahram Ghasemi said Monday that North Korea should approach this week's summit with Trump with "awareness." He says Iran views Trump and the United States with "great pessimism," saying they are known for "quitting treaties and violating their commitments."PYONGYANG, North Korea (AP) — The first news that Kim Jong Un's summit with President Donald Trump is imminent has arrived in North Korea. This week's summit was the only story in much of the state-run media Monday. People crowded around poster stands at subway stations around the capital to read the news and gathered at noon in front of the city's main train station to watch a big screen display of images of Kim arriving in Singapore. The reports follow months of only the scantest of coverage of the summit plans.ROME (AP) — The German government is calling on all involved with the fate of a migrant rescue ship in the Mediterranean Sea to "do justice to their humanitarian responsibility." Italy and Malta were both refusing Monday to let the ship with 629 people aboard dock, leaving the migrants at sea as a diplomatic standoff escalated under Italy's new anti-immigrant populist government.VATICAN CITY (AP) — Pope Francis has accepted the resignation of the bishop at the center of Chile's clerical sex abuse scandal and two others as he launches the purge of a church that has lost its credibility under an avalanche of accusations of abuse and cover-up. A Vatican statement Monday said Francis had accepted the resignations of Bishop Juan Barros of Osorno, Bishop Gonzalo Duarte of Valparaiso and Bishop Cristian Caro of Puerto Montt.

PAHRUMP, Nev. (AP) — Nevada is a state marketed as a place where people can indulge in all manner of sins. Now it's confronting its status as the only place in America where you can legally pay someone for sex. A coalition of religious groups and anti-sex trafficking activists has launched referendums to ban brothels in two of Nevada's seven counties where they legally operate. And on Tuesday, the state's most famous pimp is running for the state Legislature.