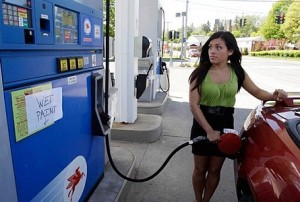 North Dakota, June 11, 2018 – Gasoline prices in North Dakota have fallen 2.5 cents per gallon in the past week, averaging $2.92/g Sunday, according to GasBuddy's daily survey of 493 stations in North Dakota. This compares with the national average that has fallen 3.1 cents per gallon versus last week to $2.91/g, according to GasBuddy.
Average gasoline prices on June 11 in North Dakota have ranged widely over the last five years:
$2.35/g in 2017, $2.27/g in 2016, $2.63/g in 2015, $3.54/g in 2014 and $3.92/g in 2013.
Including the change locally during the past week, prices Sunday were 56.4 cents per gallon higher than a year ago and are 16.0 cents per gallon higher than a month ago. The national average has increased 4.8 cents per gallon during the last month and stands 58.5 cents per gallon higher than a year ago.
Areas near North Dakota and their current gas price climate:
Sioux Falls- $2.86/g, unchanged  from last week's $2.86/g.
Fargo- $2.68/g, down 0.5 cents per gallon from last week's $2.69/g.
South Dakota- $2.85/g, up 2.1 cents per gallon from last week's $2.82/g.
"Gasoline prices continue to fade after peaking just ahead of Memorial Day, largely in part due to previous discussion that OPEC may lift output, pushing oil prices back down to the mid-$60s," said Patrick DeHaan, head of petroleum analysis for GasBuddy. "As we've been expecting for months, gas prices will likely decline in the month of June as summer gasoline inventories continue to build and refiners continue to crank out fuels like gasoline and diesel. A solid majority of states saw average gas prices decline last week, and I expect we'll hold that trajectory again this week."
For LIVE fuel price averages, visit http://FuelInsights.GasBuddy.com.