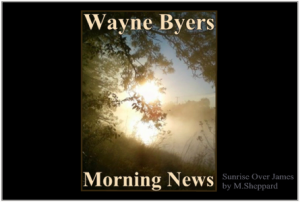 CSi Weather…
.REST OF TODAY…Sunny. Highs in the lower 70s. West winds 10 to 15 mph.
.TONIGHT…Clear. Lows in the upper 40s. West winds 5 to 10 mph.
.WEDNESDAY…Sunny. Highs in the upper 70s. Southwest winds 5 to 10 mph.
.WEDNESDAY NIGHT…Partly cloudy. Lows in the upper 50s.
Southeast winds around 10 mph.
.THURSDAY…Mostly sunny. Highs in the mid 80s. Southeast winds
10 to 15 mph increasing to 20 to 25 mph in the afternoon.
.THURSDAY NIGHT…Mostly cloudy with a 40 percent chance of
showers and thunderstorms. Lows in the mid 60s.
.FRIDAY…Partly sunny. Highs in the lower 80s.
.FRIDAY NIGHT…Mostly cloudy. A 20 percent chance of showers and
thunderstorms after midnight. Lows in the lower 60s.
.SATURDAY…Mostly cloudy. A 20 percent chance of showers and
thunderstorms in the afternoon. Highs in the upper 70s.
.SATURDAY NIGHT…Mostly cloudy with chance of rain showers and
slight chance of thunderstorms. Lows in the upper 50s. Chance of
precipitation 40 percent.
.SUNDAY…Mostly cloudy with chance of showers and slight chance
of thunderstorms. Highs in the lower 70s. Chance of precipitation
40 percent.
.SUNDAY NIGHT…Mostly cloudy with chance of rain showers and
slight chance of thunderstorms. Lows in the mid 50s. Chance of
precipitation 30 percent.
.MONDAY…Partly sunny. A 20 percent chance of rain showers and
thunderstorms in the morning. Highs in the upper 70s.
Isolated to widely scattered thunderstorms are possible this
afternoon and early this evening. Severe thunderstorms are not
expected at this time.
Severe thunderstorms are expected to develop over western North
Dakota Thursday afternoon. This activity may develop into a large
complex that could spread into eastern North Dakota and northwest
Minnesota Thursday night. Hail to one inch and winds to 75 mph are
the most likely threats at this time for this area.
Jamestown  (CSi)  Jamestown and Stutsman County voters cast ballots today, in the local elections, and primary elections for county and statewide candidates.
Polls open at 7 a.m. Tuesday at the Jamestown Civic Center, and close at 7-p.m. Rural polling places are at the Pingree Community Center, Kensal Memorial Hall and Medina City Hall.
Polls at the Barnes County Courthouse open to city and county residents from 7-a.m. to 7-p.m.
Election results after the polls close on CSi Cable 10…and on line at CSiNewsNow.com
Jamestown  (CSi)  The Stutsman County Sheriff's Office reports a 63-year-old Jamestown man ended his  life early Monday morning following negotiations with law enforcement  that ended at  5-a.m.
The call came into the Law Enforcement Center, Dispatch at 12:39-a.m.
Major Jason Falk tells CSiNewsNow.com that the call alerted officers who negotiated with the man in the in the area of the Anchor Bar north of Jamestown.
The man's name was not released by authorities.
Falk says the  sheriff's office was assisted by the Jamestown Police Department and the North Dakota Highway Patrol.
Falk confirmed that the man's death will be investigated by the North Dakota Bureau of Criminal Investigation, adding that is the procedure because the man's death  occurred in the presence of sheriff's deputies and police officers.
He says no shots were fired by officers as they negotiated his surrender, which was unsuccessful.
Jamestown  (KVLY)  Jamestown Police is looking for information from the public as  it investigates a string of car thefts from Don Wilhelm Chevrolet, Buick, GMC on Business Loop West in Jamestown.
KVLY reports that since May 3rd, the dealership had five vehicles stolen directly off the lot, with the most recent theft last Friday night.
Four out of the five vehicles have been tracked down by police. One was found in Fort Totten, another in Devils Lake and another in Grand Forks.
Rod Wilhelm reported that a vehicle recovered had a number of personal items in it, including meth pipes.
Wilhelm said one of the stolen vehicles was recovered on a high speed chase, while another was found because of the GPS inside.
He said one vehicle was a newer model equipped with OnStar, enabling to call and finding the  vehicle in Devils Lake Park and it was shut down.
Wilhelm believes the thieves are associated with drugs, and that the vehicle is just an avenue to go get the drugs.
Jamestown (CSi) Interstate Engineering informs motorists that the closure of 20th St. SW – JRMC to Menards 20th St. SW from the Jamestown Regional Medical Center (JRMC) to Menards will be from Tuesday, June 12 until Thursday, June 14 to allow for the final lift of asphalt to be placed and the final pavement markings to be completed.
Please plan to use alternative routes during this final construction phase
FOR MORE INFORMATION, PLEASE CALL STEVE ALDINGER, PE, AT
INTERSTATE ENGINEERING, INC. – (701) 252-0234.
Jamestown  (CSi)  The Jamestown Tourism Grant/ Executive Advisory Board met Monday at The CSi Technology Center, at Historic Franklin School.  Members present included: Board President Matt Woods, Janna Bergstedt, Mitzi Hager, Tena Lawrence, Taylor Barnes, and Frank Balak.
Ex Officio Members, Pam Phillip Jamestown City Council, Pam Fosse Jamestown Civic Center.
Tourism Director, Searle Swedlund.
GRANT BOARD MEETING REQUESTS WERE HEARD FROM:
Big Guns of the Big West, Fort Seward
Disc Golf at Jamestown Reservoir repairs, Stutsman County Parks
Mowing Maintenance, Frontier Village
Trader Building, Frontier Village
The Arts Center Staffing, Jamestown Fine Arts Association
With the Big Guns of the Big West, Fort Seward requested $1,050 for the Gatling Gun, and Cannon Demonstrations, to be held at Fort Seward on Saturday September 8, 2018.
The board granted the full amount requested.
With the Disc Golf at Jamestown Reservoir repairs, Ryan Pfau, representing the Stutsman County Park Board requested, $1,125 for flood damage repair re-design, to the Disc Golf Course at Jamestown Reservoir, including baskets, and signs replacement with labor proved by  North Dakota Disc Golf Association.  Parts of the project are being covered with in-kind donations, along with $282.20 provided by Jamestown Parks and Recreation, and Pfau contributing $220 for items.
The board voted to fund the full amount requested.
With the Mowing Maintenance at Frontier Village, Tina Busche requested $4,000 for the Frontier Village Association.
After a lengthy discussion relative to responsibility of the mowing, and providing the associated costs  at the Frontier Village, either on the Frontier Village Board, or Tourism, the board voted unanimously, that at this point in the mowing season, to have Tourism temporarily allocate $2,500, the estimated cost, to hire a licensed, certified, and bonded contractor, who will provide their own equipment, contingent upon the Frontier Village Association board providing its approved bid request.
The Frontier Village Board had received three bids on the project.
Pam Phillips said she would approach the city, on assistance with hiring a contractor.
Also requested by the Frontier Village Association was $9,233.42, for the Village Trader Building shingling and Painting.
The Tourism Board voted to fund the entire amount requested.
With the Jamestown Arts Center Staffing, The Jamestown Fine Arts Association, represented by Arts Center Director, Larry Kopp requested, $2,500, with $899 coming from the organization's Operating Fund.  He said a maximum of two employees will be hired for Saturday and weekend staffing at the Arts Center, on a part-time basis, paid at an hourly rate, of $10 per hour.  Downtown Arts Market employees, will be full and part-time Arts Center, hourly employees, paid  being paid for overtime work.
The Tourism Board voted to fund $1,300 for Saturday staffing, with $1,200 available for Arts Park staffing at Art Market events.
AT THE EXECUTIVE BOARD MEETING
Declaration of Conflict of Interest:  None was indicated
The Financial Report was  given by Treasurer, Mitzi Hager
Tourism Report – Searle Swedlund, said the Office Manage Emily Bivens has returned on a part-time basis following a health issue.
Ex-Officio Reports:
City Council Member, Pam Phillps reported on the recent city, police department and Frontier Village meeting to discuss issues of concern.  She again indicated that the Frontier Village gates will remain permanently opened, and that the Frontier Village Board needs to continue to address security issues, along with the Buffalo Museum.
Civic Center, Director, Pam Fosse said the replacing of the lower level seating is set to begin, with the expected completion date this fall.
She added that the Civic Center is booked every weekend, adding that coming up in March of 2019 the facility is booked every day.
NEW BUSINESS
Discussion was held on  adding Emergency Planning to Staffing Grant application.
Jamestown (CSi)  The Republican District 12 and 29 will host a noon luncheon on Thursday June 14th at the Gladstone Inn & Suites in Jamestown.
On Monday's Wayne Byers Show on CSi Cable 2, Delores Rath said the speaker will be Republican U.S. House of Representative candidate, Kelly Armstrong.
Reservation are  required by calling Delores at 701-952-7170.
Washington (Sen. Heitkamp's Office)   – U.S. Senator Heidi Heitkamp has announced that she successfully secured $3.5 million for the city of Medina for water infrastructure improvements. Heitkamp had been pressing the U.S. Army Corps of Engineers to include this funding in its FY 2018 work plan, which was released today.
Heitkamp worked with Medina community leaders and pressed the Army Corps for this funding on multiple occasions, including outreach to the Assistant Secretary of the Army and Army Corps Chief of Engineers in April, and in a phone call with the Assistant Secretary of the Army last month.
The news release says, Medina's sewer and water infrastructure was originally installed in the 1940s, and the aging pipes are undersized and severely corroded. Infiltration of groundwater and sediment into the system is resulting in numerous challenges, including sewer backups. A proposed project to rehabilitate the system consists of 50 blocks of sanitary sewer replacement and 60 blocks of water main replacement, and the funding secured by Heitkamp would support completion of the first phase of the project.
WASHBURN, N.D. (AP) — A 10-year-old girl has died and another has been injured in a weekend accident on a lake in McLean County.Sheriff's officials say the victim along with another 10-year-old girl were on an inner tube that was being pulled by a boat on Strawberry Lake Saturday.Their inner tube was struck by an uncontrolled Jet Ski whose operator had been thrown from the watercraft a short time earlier.Both girls were transferred from a Minot hospital to Gillette Children's Specialty Healthcare Hospital in St Paul, Minnesota where one of the girls died. The other remains hospitalized. Her condition was not available.
LARIMORE, N.D. (AP) — A Larimore man has been sentenced to about a year in jail for driving drunk last fall and causing a crash that killed another man.
Authorities say 58-year-old Allen Miller of Petersburg was killed last September when Paul Lilja's pickup truck turned in front of his motorcycle on a county road east of Larimore and the two vehicles collided.
WDAZ-TV reports that Lilja pleaded guilty Monday to negligent homicide in a deal with prosecutors under which he will still be eligible for work release.
The judge also ordered Lilja to spend 20 hours speaking to high school students about the dangers of drunken driving.
BISMARCK, N.D. (AP) — The U.S. Army Corps of Engineers expects to wrap up an environmental study of the $3.8 billion Dakota Access oil pipeline within the next two months.
Federal Judge James Boasberg last year ordered the additional study due to lingering concerns about the pipeline's potential impact on the water rights of four American Indian tribes suing to shut it down.
The Corps says that between May 22 and June 1 it met with representatives of each tribe, and expects to finish its work by Aug. 10.
Tribal officials have bemoaned a lack of involvement in the study. Standing Rock Sioux attorney Jan (yahn) Hasselman says the tribe still isn't satisfied and isn't giving up the fight — even though it's been two years since the lawsuit was filed and a year since oil began flowing.
WILLISTON, N.D. (AP) — Williston native Katie Olson is the new Miss North Dakota.The North Dakota State University elementary education major won the crown over the weekend in Williston. She succeeds Fargo's Lizzie Jensen.Jensen assumed the crown when 2017 winner Cara Mund won the Miss America pageant last September. Mund was the first winner from North Dakota in the history of the nearly century-old scholarship pageant.Olson will compete in this year's Miss America pageant in the fall.
MINOT, N.D. (AP) — The Family Motor Coach Association is planning to hold its 100th International Convention and RV Expo in Minot.
The Minot Daily News reports the group last visited the city in 2005. Association Events Director Doug Uhlenbrock calls the August 2019 event "a long overdue return."
The gathering will be held at the North Dakota State Fairgrounds.
The association for recreational vehicle enthusiasts has about 500 chapters across the U.S. and Canada.
In sports…
American Association…
Fargo-Moorhead 5, St. Paul 4
MLBUNDATED (AP) — The Boston Red Sox are back in a virtual tie with the New York Yankees for first place in the American League East after outlasting the Orioles in the opener of a series in Baltimore.Brock Holt and Jackie Bradley Jr. lifted sacrifice flies in the 12th inning to give the Bosox a 2-0 win over the Birds. Rafael Devers (DEH'-vurz) doubled in the 12th to put runners on second and third before Mychal Givens hit Eduardo Nunez to load the bases with nobody out.Boston's bullpen allowed just one hit while striking out nine over 5 1/3 innings after Steven Wright scattered four hits.Red Sox outfielder Mookie Betts was 1-for-5 just hours after coming off the disabled list. Betts was leading the majors with a .359 batting average, a .437 on-base percentage and a .750 slugging average before missing 14 straight games with an abdominal strain.In Monday's other major league action:— Nelson Cruz homered twice and the Mariners regained sole possession of the AL West lead by downing the Angels, 5-3. Ryon Healy's two-run blast put the Mariners ahead 5-2 in the fourth inning. Angels outfielder Mike Trout sandwiched a pair of solo shots around Albert Pujols' (POO'-hohlz) 624th career home run.— Cleveland's 4-0 shutout of the White Sox puts the AL Central leaders 5 ½ games ahead of the Tigers. Carlos Carrasco struck out 11 and limited Chicago to two hits over seven innings. Yan Gomes provided a two-run double and Michael Brantley belted a solo homer in the Indians' fifth victory in six games.

— Jake Bauer's first big league home run put the Rays ahead to stay in the fourth inning of an 8-4 thumping of the Blue Jays. The two-run blast off Sam Gaviglia after Matt Duffy's single erased a 4-3 Toronto lead. Winning pitcher Ryan Yarbrough gave up four runs over six frames after entering the game leading the majors with 44 relief innings.

— The Cubs took over first place in the NL Central by scoring five times in the 11th to beat the Brewers, 7-2. Anthony Rizzo untied the game with a solo blast and Jason Heyward capped Chicago's 11th-inning rally with a two-run double after his RBI single knotted the score in the eighth. The Brewers are a half-game behind Chicago after wasting homers by Eric Kratz and Jonathan Villar.

— The Cardinals were 5-2 winners over the Padres behind home runs by Jose Martinez, Marcell Ozuna (oh-ZOO'-nuh) and Jedd Gyorko (JUR'-koh). Martinez and Ozuna hit two-run shots to put the Redbirds ahead 4-1 in the fifth. Jack Flaherty was sharp over 6 1/3 innings, allowing a run and four hits as St. Louis stayed 2 ½ games behind the NL Central-leading Cubs.

— The Diamondbacks scored nine times over their final two at-bats to turn a 5-0 deficit into a 9-5 win against the Pirates. Jake Lamb tied it with a three-run blast in the seventh before Arizona scored twice on wild pitches in a four-run eighth. Daniel Descalso laced a two-run triple for the DBacks, who now pace the NL West by three games over the Dodgers following their fourth straight win.

— J.T. Realmuto (ree-al-MOO'-toh) slammed a tiebreaking, two-run homer in the seventh inning to send the Marlins past the Giants, 7-5. The Giants led 5-4 until Brian Anderson delivered an RBI double and scored on Realmuto's seventh home run of the season. Giants ace Madison Bumgarner was lifted in the sixth inning and ejected for arguing with plate umpire Jeremie Rehak while heading to the dugout.

MLB NEWS

UNDATED (AP) — The Brewers have reinstated first baseman Eric Thames, who had been on the 10-day disabled list after tearing a ligament in his left thumb on April 25.

Jesus Aguilar has played well at first in Thames' absence, hitting .290 with 11 homers and 37 RBIs.

The Brewers made roster space by optioning right-hander Brandon Woodruff to Triple-A Colorado Springs.

Elsewhere in the majors:

— Orioles left-hander Zach Britton has been activated from the disabled list, six months after undergoing surgery to repair a ruptured Achilles tendon. Britton made the AL All-Star team in 2016, when he converted all 47 of his save opportunities and compiled a 0.54 ERA in 69 appearances. He is scheduled to become a free agent this fall and could be among several players dealt by the Orioles before the summer trade deadlines.

— The Rays have recalled 22-year-old shortstop prospect Willy Adames (ah-DAH'-mehs) from Triple-A Durham after placing infielder Daniel Robertson on the 10-day disabled list with a strained left hamstring. Adames played three games last month with Tampa Bay and hit his first major league homer off Boston ace Chris Sale in his debut on May 22. The ballclub also announced that Chris Archer will not pitch in a simulated game on Tuesday, as planned as he continues to recover from an abdominal strain.

— The Cardinals have purchased the contract of 26-year-old right-hander Daniel Poncedeleon from Triple-A Memphis. Poncedeleon was 5-2 with a Pacific Coast League-leading 2.41 ERA in 12 games, winning each of his last four decisions and striking out 71 over 59 2/3 innings. The promotion comes 13 months since a line drive struck Poncedeleon in the right temple during a game, fracturing his skull and creating bleeding from his brain.

— The Supreme Court is leaving in place a court decision dismissing a lawsuit filed against the Cubs by the owners of rooftop clubs adjacent to Wrigley Field. Skybox on Sheffield and Lakeview Baseball Club sued the Cubs in 2015, arguing in part that a right-field video board the team was adding would block their views of the ballpark and violate terms of a 2004 revenue-sharing agreement. Judge Virginia Kendall said the board was allowed because the agreement allowed "any expansion of Wrigley Field approved by governmental authorities."

NBA-PISTONS-CASEY

UNDATED (AP) — The Detroit Pistons have found their next head coach.

Dwane Casey a former Timberwolves coach has accepted a five-year contract with the Pistons, one month after he was let go by the Toronto Raptors. Casey was 320-238 in seven seasons with the Raptors, winning four Atlantic Division titles and advancing to the playoffs each of the last five years. But the team was eliminated from the Eastern Conference playoffs by the Cleveland Cavaliers the last three seasons, including a four-game sweep by the Cavs last month.

Casey accepted a five-year contract to replace Stan Van Gundy, who was fired after the Pistons missed the playoffs for the eighth time in nine seasons.

Checking out other NBA news:

— Warriors general manager Bob Myers expects no trouble re-signing Kevin Durant, saying he's prepared to give the All-Star forward "whatever he wants." Durant could sign for as long as four years and about $160 million, although Myers says he'd love to have him 10 years. Myers also anticipates swift negotiations with head coach Steve Kerr, who has led to the team to three NBA championships during his four seasons at the helm.

NFL-FALCONS-JONES

ATLANTA (AP) — Atlanta Falcons general manager Thomas Dimitroff says the team has been informed that receiver Julio Jones will not be present when the three-day minicamp opens on Tuesday.

The Falcons issued a statement in which Dimitroff described the contract situation with one of their top playmakers as "not ideal."

Jones still has three seasons remaining on his five-year, $71.3 million deal with $47 million in guaranteed money. However, his average salary now ranks behind several wideouts.

COLLEGE FOOTBALL-NORTHWESTERN-JOHNSON TRANSFER

EVANSTON, Ill. (AP) — Former Clemson quarterback and highly touted recruit Hunter Johnson is transferring to Northwestern and will have three years of eligibility remaining once he sits out the upcoming season.

Johnson played in seven games last season and completed 77.8 percent of his passes for 234 yards and two touchdowns. Stuck between returning starter Kelly Bryant and heralded 2018 recruit Trevor Lawrence, Johnson decided to transfer after spring practice.

SPORTS BETTING

TRENTON, N.J. (AP) — New Jersey has become the second state to allow sports betting since a Supreme Court decision cleared the way for such gambling.

Gov. Phil Murphy signed the bill four days after the Democrat-led Legislature sent him the legislation. The operator of Monmouth Park Racetrack says Murphy will place the first bet on Thursday.

Three weeks ago, New Jersey prevailed in a Supreme Court case that struck down a federal law limiting sports betting to just four states.

Delaware was the first state to allow sports betting since the Supreme Court decision.

NHL-OBIT-McKENZIE

BOSTON (AP) — The Boston Bruins say former NHL forward Johnny "Pie" McKenzie died Saturday at age 80.

McKenzie won two Stanley Cups while playing with the Bruins from 1965-72, providing 169 goals and 396 points with 710 penalty minutes in 454 games. His time in Boston followed stops with the Blackhawks, Red Wings and Rangers.

McKenzie was among the first players to jump from the NHL to the rival WHA in the summer of '72, signing as player/head coach with the Philadelphia Blazers. He scored 369 goals and 887 points in 1,169 NHL and WHA games, including 206 goals and 474 points in 692 NHL games.
In world and national news…
SINGAPORE (AP) — President Donald Trump is telling reporters that North Korea's denuclearization will have to be total and verifiable as he prepares to head home from his historic summit with Kim Jong Un. Trump spoke with reporters Tuesday before Air Force One left Singapore. Trump says the U.S. will have to check North Korea's denuclearization. He says: "We're going to have to check it. We will check it. Total and complete." He says everything he set out to do regarding Kim had been accomplished.SINGAPORE (AP) — Thirteen seconds. That's how long the American and North Korean leaders shook hands at the start of their summit Tuesday. Kim Jong Un may have best summed up the surreal quality of what was happening when he said that many of those watching would think it's a scene from a "science fiction movie." The summit, which seemed unthinkable just months ago, was the first meeting between leaders of the two nations since they fought the 1950-53 Korean War.UNDATED (AP) — President Donald Trump figures to be a factor in Republican elections in South Carolina, one of five states holding primaries. Republican Gov. Henry McMaster has the president's backing but faces challenges from four other candidates. McMaster endorsed the New York businessman in the state's early presidential primary in 2016. Primary elections are also scheduled Tuesday in Maine, Nevada, North Dakota and Virginia.ATLANTA (AP) — Ohio plans to resume its process for removing inactive voters from its voter rolls. On Monday, the U.S. Supreme Court ruled 5-4 that states can target registered voters who haven't cast ballots in a while. Civil rights groups and some Democrats argued that more Republican-led states could enact voter purges.TOKYO (AP) — Around Asia and the world, many have welcomed the unprecedented summit between President Donald Trump and North Korean leader Kim Jong Un, after a year of mounting tension and threats. Hopes for peace on the long-divided Korean Peninsula, however, remain tempered by the many failed attempts in the past. The leaders of South Korea, Japan and Malaysia were among those wishing for a successful summit. Iran's spokesman warned Kim not to trust Trump.